Five Ways Test Scores Matter and Don't Matter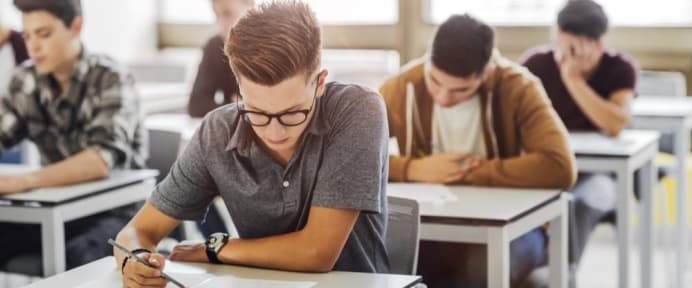 Whether you like them or not, standardized tests -- defined by the Association for Supervision and Curriculum Development (ASCD) as "any examination that's administered and scored in a predetermined, standard manner" -- are ubiquitous in 21st-century classrooms. But just because they serve many purposes as part of the modern education system doesn't mean they are without their share of criticism. If you are like many students, you may be wondering just important standardized tests really are. Here's a closer look at five things all students should know about their standardized test scores.
1. They can lead to scholarships.
We all know most colleges rely on standardized test scores as part of the admissions process. But their impact does not end there. Standardized test scores also factor into many scholarships, such as the National Merit Scholarship Program, which awards funding to high school students based on their PSAT/NMSQT results.
Individual universities also offer score-dependent scholarships of their own. This does not mean you can't get scholarships if your test scores aren't top-notch, but it does mean you will have more funding possibilities.
2. They can be used for college credit.
But standardized test scores don't just have the potential to reduce tuition costs through access to more scholarships. They also open the door to earning college credit thanks to academic course options like AP, IB, and dual enrollments, as well as the College Level Examination Program (CLEP) and UExcel. Students who attain high enough scores can bypass these subjects in college, thereby lessening both the cost and duration of college.
3. They can help identify areas of weakness.
While some standardized tests measure aptitude, others measure achievement. The former are intended to be predictive of how students will perform in certain educational settings. The latter, meanwhile, seek to determine schools' effectiveness in teaching to students. In this sense, they can be used as a metric for learning aimed at determining the quality of curricula. To that end, they can also be used to provide structure and prevent subjective grading. They can also be used to identify struggling students, as well as specific areas for improvement.
4. They don't define you.
Unfortunately, standardized tests can become so built up that some people think of them as the main judgment of a student's abilities and potential. This is problematic for several reasons, not the least of being that some students aren't as skilled at taking multiple choice tests as others. (And then there are questions of inherent bias, with a growing body of evidence suggesting they advantage certain students.) At the end of the day, standardized tests are just one small part of your student profile, and no reflection of who you are as a person.
College student Haley Hershenson says of her journey to accepting that her SAT scores don't define her, "Every student is wired differently, with our own unique aptitudes that may not have a place to shine in standardized testing. There are other factors that make a student successful, and extracurricular involvement outside of the classroom that tell the stories of who we are outside of the number percentiles. When I got to college, I finally put aside my (nonmechanical) number 2 pencils and started the journey of finding out what success means to me."
5. Bad scores aren't the end of the world.
While high standardized test scores can certainly help you impress college admissions officers, poor standardized test scores aren't a deal breaker.
For starters, test taking is in itself a skill. If you did not get the scores you wanted the first time out, test prep courses can help you boost your score. Additionally, options like Score Choice and "superscoring" can help you put your best foot forward.
And then there's the fact that many schools -- more than 1,000 of them in the US -- have stopped using test scores when admitting applicants. College VP Eric Nichols told Teen Vogue of his school's test-optional approach, "The fact that we are test optional in the first place means we recognize that testing is not the best predictor of success in college. So if a student doesn't submit, we assume the student doesn't think their scores are the best reflection of their work. We will focus on what IS the best reflection of your work: what you've done in school both in and out of the classroom."
Learn about where you can get a bachelor's degree.

Joanna worked in higher education administration for many years at a leading research institution before becoming a full-time freelance writer. She lives in the beautiful White Mountains region of New Hampshire with her family.
Find a program in these categories