Five Tips for Getting Your Bachelor's as a Non-Traditional Student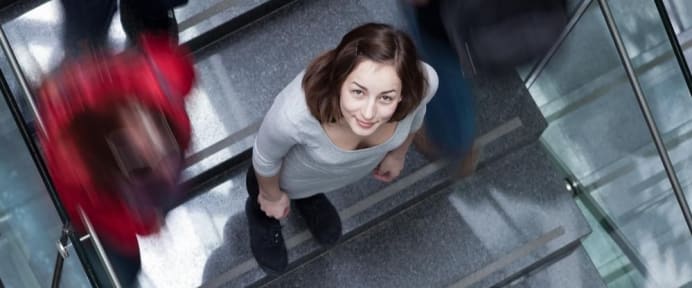 Forty percent of undergraduate students are over the age of 25, according to data from the Center for Postsecondary and Economic Success (CLASP). If you're among this growing group of non-traditional students, you may be wondering whether you've got what it takes. We're here to tell you that you do -- particularly if you used these five tips designed to help non-traditional college students survive and thrive during the undergraduate years.
1. Do part-time the right way.
Part-time studies sometimes get a bad rap. After all, widely-touted research does indicate that not only are full-time studies the fastest route to a degree, but they're also the best chance college students have of completing their degrees. However, this doesn't mean full-time studies are right for you. After all, people aren't statistics.
Not only that, but according to analysis from Civitas Learning, part-time community college students who take one class a semester saw larger median persistence rate increases than their peers taking two classes a semester. As a result, Civitas Learning is calling for heightened awareness among colleges of how best to support the needs of part-time students. Understanding your own needs is the first step in understanding and creating your unique optimal part-time path.
2. Find non-traditional student-friendly programs.
Not all schools and programs are created equal. By seeking out environments which offer support for non-traditional students and leveraging the available options to your advantage, you can enjoy the best of both worlds: A reasonable workload that doesn't compromise your completion chances.
Take child care, for example. Millions of college students have dependent children, and yet many colleges fail to acknowledge this with reliable and accessible on-campus childcare options. Meanwhile, programs like the Child Care Access Means Parents in School Program and the Quality Care for Children's Boost Child Care Initiative, aim to increase access to child care for college students.
3. Don't rule out night school.
Today's flexible online programs mean part-time students have many options when it comes to earning degree credits. While night school may seem old-fashioned in light of the many other alternatives, it still makes sense for many part-time students. Whether you need your days free for family and/or professional commitments, you're looking to build a face-to-face support system, or you're considering taking on an internship, night school can uniquely support these goals.
Conversely, don't overlook the value of taking some or all of your coursework online. Benefits of doing so include a more flexible schedule and less time commuting to and from a conventional "bricks and mortar" campus.
4. Don't forget: it's a marathon, not a sprint.
You wouldn't start out running a marathon at top speed -- especially if you'd taken some time off from training -- so why would you start your studies the same way? Sure, there are requirements to be met, but think of the first semester as a warmup. Not only will this make reentry less stressful, but it will also help you get acclimated and build confidence to succeed in more rigorous coursework in the future.
5. Put your needs first -- and encourage others to do the same.
Many non-traditional students are used to putting others ahead of themselves. However, letting this carry over to your schoolwork can be a recipe for disaster. There's nothing wrong with helping a classmate in need. However, carrying your own load -- and allowing others to do the same -- is part of being a mature student. Working as part of a team is one thing, but if you feel like others are coasting because they know you'll pick up the slack, advocating for yourself is a must.
At the same time, your own friends and family members may need to start taking on more of the workload at home. Remember: they're your biggest fans and best support network, but they can't read your mind. The easiest way to get the backup you need? Ask for it. More likely than not, they'll be happy to pitch in to help you reach your goals.
"Yesterday's non-traditional student is today's traditional student," proposes CLASP. But just because you're in good company doesn't mean it's business (or school, as the case may be) as usual. These five tips can help you set yourself up for success as a non-traditional student.

Joanna worked in higher education administration for many years at a leading research institution before becoming a full-time freelance writer. She lives in the beautiful White Mountains region of New Hampshire with her family.