Five Things to Know About Studying in New Zealand
Feb 1, 2019
Education

Study Abroad

Student Tips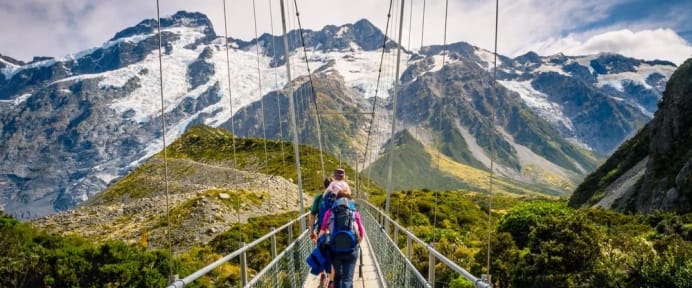 Have a thirst for adventure? Looking for an off-the-beaten-track study abroad destination with top-notch schools, unparalleled natural beauty, and countless opportunities to explore? Want to embrace Kiwi life? Look no further than New Zealand. Here are five things you should know about studying there.
1. Great universities
New Zealand boasts eight universities. Auckland University of Technology, University of Auckland, Massey University, University of Otago, and Victoria University of Wellington all have large student bodies, ranging in size from 17,000-33,000 students. For a smaller feel, check out Lincoln University, University of Waikato, or University of Canterbury.
For a small country, New Zealand holds its own in worldwide rankings. According to Universities New Zealand, all eight universities are ranked in the world's top 500 -- or top three percent.
2. Cost of living and strong economy
It's not hard to save money in New Zealand. Exchange rates are generally strong, and things don't cost a lot. You can go out for a decent meal for less than $15 and many study abroad options include meals with host families or on-campus.
While many outdoor adventures and trips cost reasonable sums, they are affordable, and many national park passes are free for the day.
While the cities tend to be more expensive, you can often apply student discounts to enjoy cultural events, festivals, and museums.
Be sure to check out student discounts wherever you go!
If you are careful with how you spend your money in New Zealand, you can make a little go a long way.
New Zealand is also in the middle of a robust period of economic growth. And as the economy is good, so are the job opportunities available to you!
3. Taste for adventure
If adventure calls your name, New Zealand is your game.
New Zealand offers one of the planet's largest natural playgrounds. Nowhere in New Zealand is further than 60 miles from the ocean, and the country is full of rivers and lakes, all perfect for kayaking, swimming, windsurfing, kiteboarding, canoeing, diving, fishing... or any other water sport you can think of.
If the mountains are more your thing, head inland to the Southern Alps, where there's great winter skiing, summer climbing, and plenty of opportunities to hike one of the Great Walks. The Great Walks are ten fantastic hiking trips, multi-day backpacking and hut-to-hut trips, which offer truly magnificent views of the mountains, fjords, and other natural wonders in the country.
And don't forget about bungee jumping, white water rafting, mountain biking, sailing, or other activities that New Zealand offers!
4. Rich culture
Kiwi life is rich in Māori history. Māori, the tangata whenua, or the indigenous people, of New Zealand arrived about 1,000 years ago from a mythical Polynesian homeland of Hawaiki. They comprise about 14 percent of New Zealand's population and their history, language, culture, and traditions play a central role in New Zealand's identity.
As an international student, you will have the opportunity to learn more about the Māori by going on an organized tour, learning from Māori guides, and hearing first-hand how Māori life exists today.
You may even have the opportunity to work with a Māori student on your campus, as New Zealand is working hard to ensure the success of its indigenous population.
5. Rugby!
We'd be remiss if we didn't at least mention Rugby.
The New Zealand National Rugby Team, the All Blacks, have nearly mythic status. Go catch a match while you're there!
Use our websites to find out more about studying in this fantastic country.
Find a program in these categories