Five Things Students Should Know About Martin Luther King, Jr.
Jan 21, 2019
Education

International News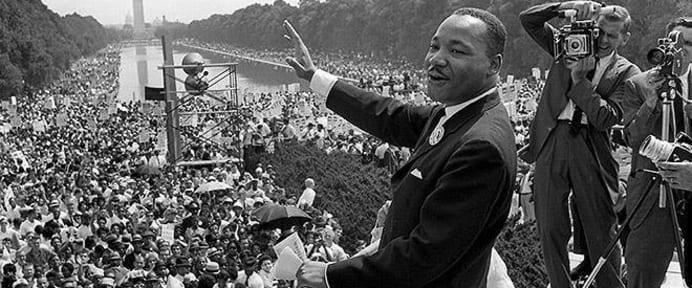 Today, the United States celebrates Martin Luther King, Jr. Day. Observed on the third Monday of January every year in honor of his January 15 birthday, this federal holiday celebrates the life and legacy of this American civil rights leader. In advocating for the use of non-violent means to end discrimination, Martin Luther King, Jr. was inspiring and influential. In honor of his contributions, here are five things students should know about this visionary man.
1. King started college at the age of 15.
King skipped both ninth and 12th grade, leading to his enrollment in college at just 15. According to History.com, while he did not intend to follow his father, grandfather, and great-grandfather into theology (they were all Baptist ministers), the president of his college urged him to do so, and he was ordained before graduating college and receiving his degree in sociology at the age of 19.
King went on to receive a degree in divinity as well as a PhD in systematic theology. His thesis was entitled, 'A Comparison of the Conceptions of God in the Thinking of Paul Tillich and Henry Nelson Wieman.'
King also boasts an extensive list of honorary degrees from higher education institutions around the world.
2. His grades were just okay.
While King's academic pedigree is impressive, he was mostly a B student. In fact, as an undergraduate he received only one A, according to Blavity. Meanwhile, he received a D in intermediate French during his junior year.
3. His mother was also assassinated.
King was assassinated by career criminal James Earl Ray, who pled guilty to the crime, but later recanted. King's family believed Ray was a fall guy and did not act alone. Six years after King's death, his mother, Alberta Williams King, was shot while playing the organ during a Sunday church service. Her killer, Marcus Wayne Chenault, Jr., claimed that he'd received "divine instruction" to kill King's father, but his mother was closer. Chenault was originally sentenced to death, but the penalty was changed to life imprisonment due in part to the King family's stance on capital punishment.
4. King was one of the youngest recipients of the Nobel Peace Prize.
King received the Nobel Peace Prize in 1964 at the age of 35. Other under-40 recipients of this prestigious prize have included 25-year-old physicist William Lawrence Bragg in 1915 and 17-year-old educational activist Malala Yousafzai in 2014.
In 1963, King also earned the distinction of becoming Time magazine's first African-American Man of the Year.
According to geography professor and "street specialist" Derek Alderman, meanwhile, there are more than 900 streets in 40 states named after King. Alderman said of this growing trend of naming streets in King's honor, "These streets are points of pride but they're also points of struggle. These streets are arenas for debating race. They have power to ensure King's legacy will not be bypassed."
5. "I Have a Dream" has been ranked as the best speech of the 20th century.
Some pretty amazing words were uttered over the course of the 1900s. In compiling a list of the best American speeches of the century, researchers awarded King's iconic 1963 'I Have a Dream' speech the top spot, ahead of pivotal speeches by luminaries including John F. Kennedy, Franklin D. Roosevelt, and Barbara Jordan.
King also came in 15th and 43rd for 'I've Been to the Mountaintop' and his speech at Riverside Church ('A Time to Break Silence'), respectively. Kennedy's statement on King's assassination finished in 17th.
We can think of no better way to close this commemoration of King than with his own unforgettable words. "No, no, we are not satisfied, and we will not be satisfied until justice rolls down like waters and righteousness like a mighty stream," he urged. "When we allow freedom to ring -- when we let it ring from every city and every hamlet, from every state and every city, we will be able to speed up that day when all of God's children, black men and white men, Jews and Gentiles, Protestants and Catholics, will be able to join hands and sing in the words of the old Negro spiritual, 'Free at last, Free at last, Great God a-mighty, We are free at last.'"

Joanna worked in higher education administration for many years at a leading research institution before becoming a full-time freelance writer. She lives in the beautiful White Mountains region of New Hampshire with her family.
Find a program in these categories