Become an International Expert in Automation in One of the Best Schools in Finland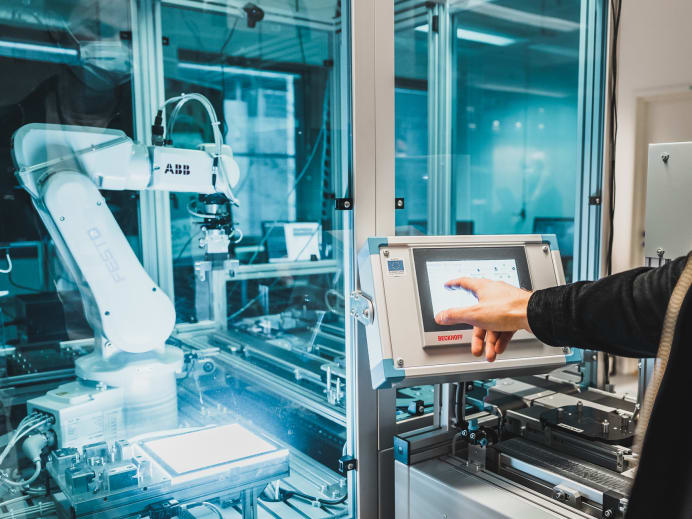 What is automation engineering?
Automation is nothing new to the manufacturing industry. But the power and sophistication of 21st-century automation are set to revolutionize manufacturing and the wider world of business, healthcare, and other industries.
Automation streamlines processes by automatically monitoring, controlling, and actuating the operational elements of a system. An automated system like this – usually computer- or AI-controlled – is often cheaper and more efficient than manual human labor. The computer is programmed to manipulate and manage robotic processes. Robotics like this may be faster, more precise (less waste), and have lower set-up and running costs than hired workers. This kind of system may compute at a scale that is unimaginable for humans.
But skilled (human!) professionals are central to automation's success. The automation engineer operates at the heart and brain of the system. An automation engineer may develop, design, install, test, and fine-tune an automated system. They need to understand the system and processes, monitoring, adjusting, and maintaining it as required.
Why study automation?
The world is moving in the direction of automation - and studying in this area can position graduates to lead the way.
Automation is changing. The traditional image of automation is of robotic arms building cars on an assembly line. More recently, images of warehouse robots sorting and fetching goods for delivery have "defined the expectations for the modern consumer," according to Scott Gravelle, the CEO of automation firm, Attabotics.
But it's not just factories and warehouses. One California robot is hard at work flipping burgers at a fast-food joint. 'Flippy' uses thermal imaging and 3D optics to judge when each of 150 burgers/hour is ready (although a human is needed to add the cheese while Flippy cleans the grill). Flippy's cousins are finding work in doctor's surgeries, banks, and the military.
There were 1.79 robots per thousand workers by 2017 – up from 0.49 per thousand in 1995. But the number of skilled automation engineers has not kept up. Engineering generally pays better than average with lower unemployment rates – which means it is tougher for employees to find the automation engineers they need. Meanwhile, the discipline continues to be misunderstood, and many engineering talents gravitate towards other areas of engineering instead.
In other words, the demand for automation engineers is high and rising.
A cutting-edge degree in automation engineering
Automation is on the cutting-edge of engineering. A cutting-edge degree is a natural fit. Enter Seinäjoki University of Applied Sciences (SeAMK)'s Bachelor Degree Programme in Engineering, Automation Engineering.
The School of Technology at SeAMK has ranked among the top three in student satisfaction in Finland for several years in a row. The school's professional staff and state-of-the-art laboratories create the ideal environment to learn, innovate, and progress as an automation engineer.
Heikki Rasku, Dean of the School of Technology at SeAMK, says, "Automation is increasing everywhere, whether we talk about traditional production automation, robotics or software automation. Automation engineering also provides great skillsets to a broad set of roles, as it incorporates elements from mechanical engineering, computer science and software engineering."
Seinäjoki's professors teach the four-year Automation Engineering program in English. The first year provides the foundations of the profession through the introduction of essential STEM, study, and professional skills. The second-year brings the start of project studies, with electives such as production simulation or computer-aided manufacturing on offer.
By the third year of the degree, students are busy in the school's extraordinary laboratories, working on assignments for local businesses, giving invaluable work experience sought-after by employers. And in the fourth year, professors deliver deeper professional instruction as you complete your practical and thesis work. The thesis often involves a placement at a pertinent company eager to challenge you with a real-life automation engineering assignment.
"SeAMK is known for its research in the field of industrial internet and digital manufacturing," adds Rasku. "This experience is fully utilized in the development of our automation engineering degree program which combines the elements of traditional automation engineering with cutting edge technologies in industrial internet and digitalization. On top of this, education is conducted in state-of-the-art laboratories with strong collaboration with local industry making sure the graduates truly know their field of technology hands on."
"Automation engineering provides great job opportunities due to the high demand both in automation and IT sectors, and both locally and globally. For example, in 2019 Finnish SeAMK automation engineering students had above 95% employment rate already as they graduated. Like mentioned, this is also due to the fact that automation engineering students gain great skillsets also in computer science and software development, so they are versatile within the job market."
SeAMK students are invited to follow common studies in communication, entrepreneurship, language, math, and computer science throughout the course. You will pepper these studies with focused modules ranging from Software Engineering to Digital Signal Processing to Virtual Environments.
And while the School of Technology is firmly embedded in Seinäjoki and Finland's business landscape, the institution's international outlook means that fresh ideas and fresh faces are a constant source of inspiration.
"I have met a lot of new people here," says Joaquin, a SeAMK student from Barcelona, "internationals and Finnish. There's a really nice atmosphere, and we all hang around together. I really enjoy it here."
Automation engineering takes care of the heavy lifting so that humans can excel at being humans. Will you make your way to Seinäjoki and SeAMK to usher in a new future?
Article written in association with Seinäjoki University of Applied Sciences (SeAMK).
Find a program in these categories