An Admissions Officer's Top Tips For Applying to University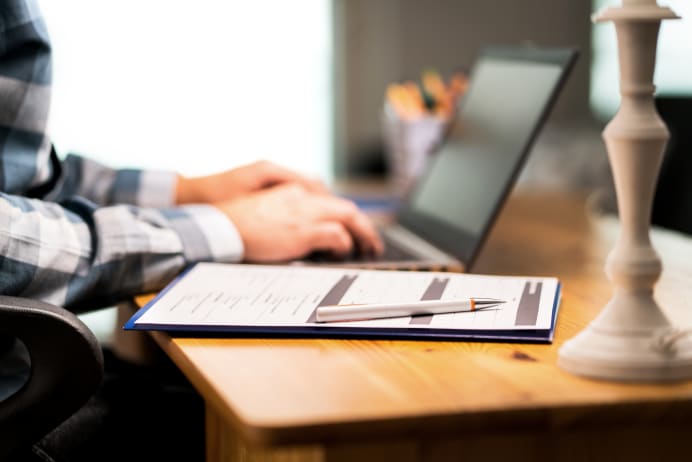 What's your name, and what's your experience with student recruitment and student admissions?
My name is Joshua Stanhope and I served as a graduate assistant in New Student Programs and as an admissions counselor at the University of Maine for several years. As an admissions counselor I traveled for the university attending college fairs and doing high school visits to chat with potential students. I also planned large-scale recruitment events on campus such as Open Houses, Accepted Student Days, New Student Orientation, and reviewed application materials. I also worked with admitted students and their families to help get them the resources they needed to be successful at the University of Maine.
How would you recommend prospective students gather information about universities and colleges?
I would recommend attending local college fairs to learn more about universities and colleges you might be interested in. Even if there aren't any locally in person, there are likely to be some online, which allows you to look more broadly for schools. Review the list of which schools will be in attendance, do some research, and decide which schools you're interested in. At the fair, make it a point to talk with as many admissions counselors as possible, and gather information about their schools.
After the college fair, spend time narrowing down your choices by reviewing the school's website to get a feel about the programs they offer, as well as what life is like on campus. Once that's completed, reach out to the admissions office to see if you can take a tour of the university (either remotely or in-person). A lot of schools now have the ability to communicate with prospective students via email and text on a regular basis, so you shouldn't have to wait long for a response.
What are the important factors for aspiring students to consider about universities and degrees they want to apply to?
The main focus should be on whether or not the university has the major you're looking for. Also, keep in mind that it's ok if you don't have an idea of what you want your major to be. Many students change their majors throughout their undergraduate careers. If you're not entirely sure what your degree path will be, find a school that will fit your lifestyle and budget. You want to make sure you can spend time focusing on your academic degree progress, so making sure the school is a good fit is key. You'll want to consider how far you want to be from home, if you want a rural or urban campus, public, or private, or even if you'd like to study abroad. All of these factors should be kept in mind when thinking about where you want to get your higher education.
What funding options are available to students?
First and foremost, you should fill out a FAFSA (Free Application for Federal Student Aid) to see if you're eligible for federal student aid. This resource is for citizens of the United States, so international students should reach out to their prospective school's international affairs office to see what funding they may qualify for.
If you are eligible and receive some form of financial assistance it's important to understand the type of financial assistance it is. For example, scholarships and grants don't need to be repaid, but loans do. Universities have a Financial Aid office and those folks should be able to help you better understand what type of funding you may be receiving.
Also, there are many scholarships out there. I would recommend checking out this resource to find out more information. It may take some work on the front end with scholarship applications, but it can really pay off in the long run.
How can students correspond with universities?
As I mentioned before, many universities are communicating with prospective students, by email, phone, and text. Following the COVID-19 pandemic, campus professionals are also interacting with prospective students via social media groups on Facebook and via Instagram. You can get started by using the contact information on an admissions website, or by using the admission counselor's information on their card.
What are some of the pros and cons of on-campus learning and online learning?
On-campus learning: some of the pros of on-campus learning include living and learning in the academic environment. You have the ability to be part of a larger community, participate in student organizations, sports, campus-based events, and clubs. This is a great way to learn, as well as grow personally and professionally. There's something electrifying about being on campus during the academic year, and it's a great opportunity to connect with others. The major con of on-campus learning would be affordability and access, which not every student has. If the campus you're accepted to is far away from home, that may take a toll on a new student financially and/or emotionally.
Online learning: the pro of online learning would be affordability and access. You can lower costs by taking online courses. You won't have to pay for on-campus living expenses, or commuting to school. It's also more flexible for students who might have families, or are working while in school/ The major con would be that you might miss out on in-person campus life.
What are some of the common issues you see with university applications?
The most common issue that I saw in my work as an admissions counselor was that students wouldn't take the time to make their application stand out, or be unique. Writing your college admissions essay should help paint a picture of who you are, and why you would fit into the community at the university you are applying to. Tell the admissions counselor the story about you, and what makes you set apart from other applicants. Avoid being too general, or writing what you think the admissions team wants to hear. Instead, let them get to know who you are as a person, and why you'd be a good member of the next incoming class.
What advice would you give to students about their university applications?
Provide as much information about you as possible. An application isn't just about your GPA and test scores. It can feel awkward sometimes, but spend time talking yourself up. You are unique, and university officials want to hear about your experience so far.
Do you have anything else to add?
Always reach out to the admissions office. Build a relationship with them so they remember you, especially when it comes time to read applications. Once you're on campus, don't be afraid to talk with someone new, and get to know them. Your university is the next major step in your life. It's going to be where you spend a lot of time over the next four years, so it's up to you to make the most of it. Whether you're in person or online, don't hesitate to get involved, ask questions, and try new things. Everything you do at university is setting you up for the next steps after graduation, whether you go to graduate school or start your career.
Find your perfect program
Use our search to find and compare programs from universities all over the world!
Bachelorstudies

Chelsea is a Student Affairs expatriate, who now works as a freelance writer and editor. She homesteads in a small town in rural Maine, USA. She enjoys hiking, fishing, cooking, reading, all things Laura Ingalls Wilder, spending time with her family, and chasing her black lab puppy, Cash.
Find a program in these categories