7 Reasons You Should Choose Munich to Study Abroad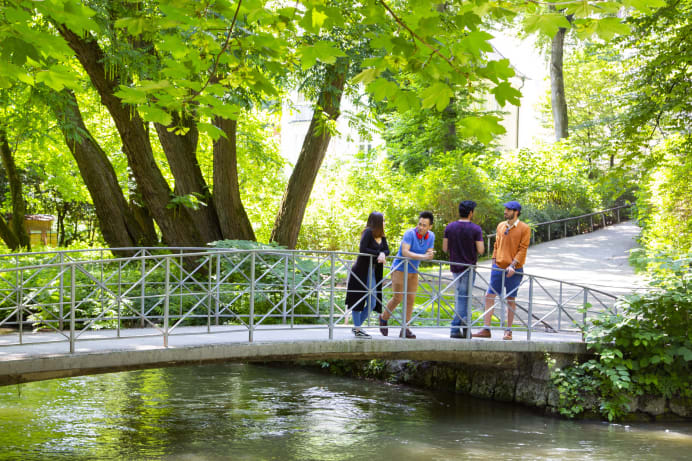 If you have been thinking of studying abroad but have some concerns about doing so in these challenging times, there's no reason to let your fears derail your dreams. Read on for seven reasons why Munich is the perfect place to make your international study dreams a reality.
1. It's an economic hub
The Mayor.eu recently heralded Munich as the "top economic hub in the world" thanks to its combination of well-established homegrown corporations, new startups, high-quality infrastructure, and world-class universities. For these and other reasons, many international companies have chosen to locate here.
With travel restrictions easing up throughout Europe, increasing activity at Munich Airport also demonstrates Munich's growing prominence on the global stage. As of earlier in August, 45 airlines were connecting the city with 140 non-stop destinations and 1,100 takeoffs weekly.
2, Munich has a strong startup community
Munich is making a name for itself as a startup city. According to Muenchen.de, "Munich's robust support and proven structures cover all three of the startup phases that experts identify. Startups in Munich are quick off the blocks, can grow healthily and become firmly established." Estonian entrepreneur Ardo Reinsalu said of his decision to base his new startup in Munich in 2018, "It's where a lot of business-related decisions are made."
Tech companies, in particular, are drawn to Munich due in no small part to its status as an IT hub, streaks ahead of the likes of Paris and London. Bits co-founder Felix Haas told VentureBeat, "Munich has really evolved over the last couple of years. We used to think we had to go to Silicon Valley. And then Berlin. And now it's all happening in Munich." There's no better example of this than MUST -- The Munich Summit, which brings together startups, industry leaders, and investors to promote innovation.
3. It's one of the world's safest cities
Munich is well known as one of the world's safest cities, ranked for example as one of the ten safest cities in the world by Numbeo and app SafeAround, due to a number of factors, including low risks related to mugging, scams, terrorism, natural disasters, and transport. Travel Safe concludes, "When you take into consideration the whole of Germany, [Munich] is one of the safest cities where violent crime is extremely rare and it can even be said that it does not exist at all."
In addition to being a safe city, Munich is also a green city with a commitment to sustainability issues. With the goal of becoming a world leader in renewable energy, Munich aims to be using 100 percent clean energy by 2025.
4. The quality of life is exceptional
Munich is a perennial pick on lists of the world's best cities. In awarding it the second place spot on its ranking of the 20 greatest cities to live in, The Telegraph praised its sophistication and refinement. And luxury urban lifestyle magazine Monocle named Munich the most livable city in the world based on its Quality of Life Survey. "Munich strikes a strong balance between a city that's fun to live in yet runs like a well-oiled machine," said Forbes of the findings. Munich also scored top marks for internationalism thanks to its 18 universities and high percentage of foreign residents.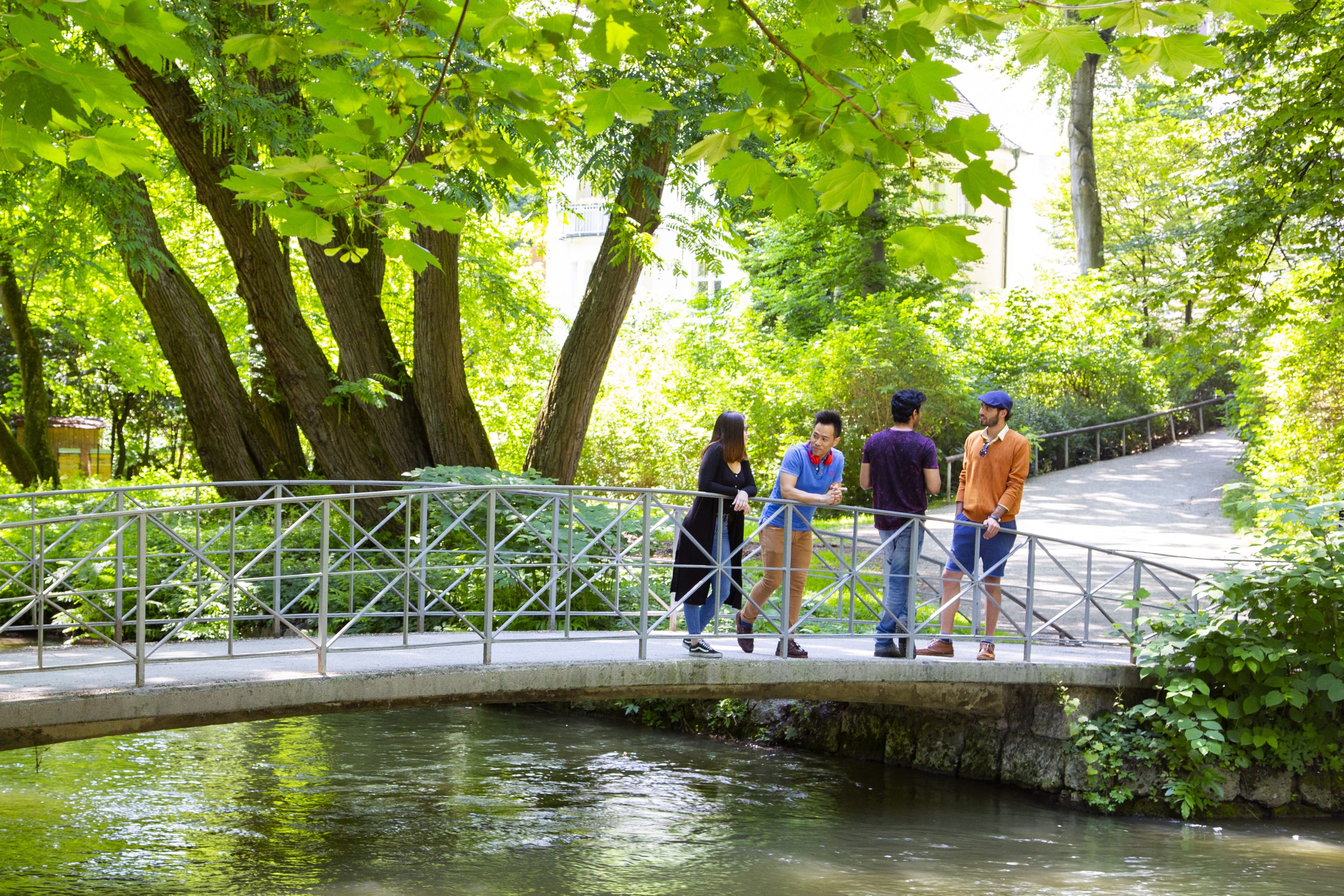 5. It's a magnificent city to explore and experience
Munich is much more than the home of Oktoberfest (although the beer gardens can't be beaten). There's an abundance of things to do in Munich, which Culture Trip hailed as "the ultimate blend of old and new both in terms of architecture and attitude." A cultural hotspot, Munich lays claim to more than 80 museums, breathtaking castles, endless festivals, and rich history. Bavaria is known for its extraordinary beauty, and lovers of the great outdoors will enjoy taking in all the splendors of the region, including everything from Alpine views to pristine lakes. And did we mention the surfing?!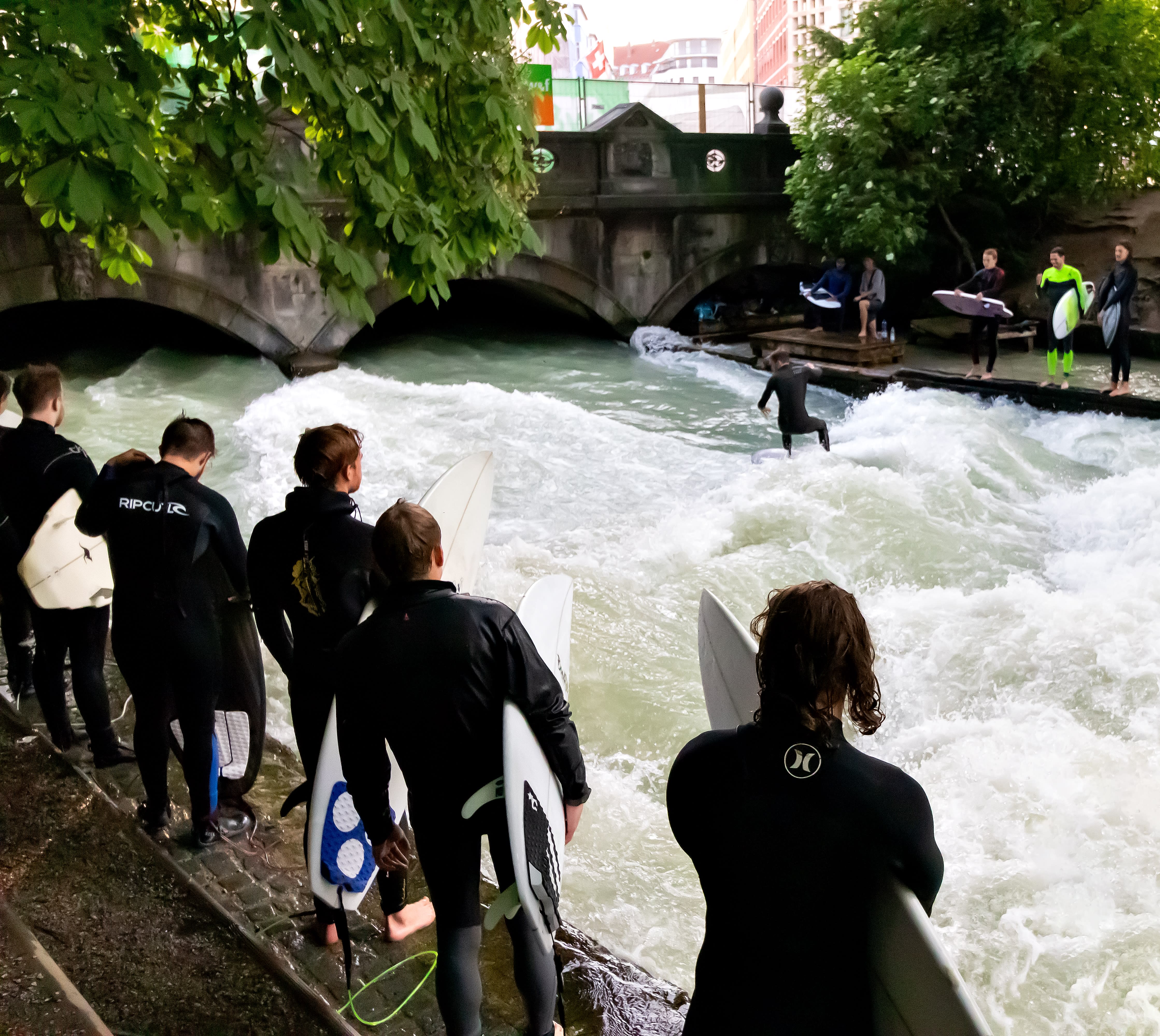 Of course, you will need sustenance to power through all of your studying and sightseeing, and Munich more than delivers here, too. "From freshly baked pretzels to giant roast pork knuckle, it's the home of hearty traditional German food," adds Culture Trip. One must-do stop for foodies is the bustling Viktualienmarkt food market.
6. It's a mecca for international students
More than 15,000 international students are enrolled at Munich's higher education institutions, according to a study by the Department of Labor and Economic Development. Not only did the study reveal international students are satisfied with their experiences in Munich, but also the majority of them are so happy in Munich they hope to stay and find work after completing their study abroad programs. Factors influencing their happiness include the positive image of German and Munich universities, and low study fees compared to other international destinations. Because of its thriving economy, Munich also draws talent from all over the world. As such, international students in Munich are surrounded by cultural diversity, especially if studying at EU Business School.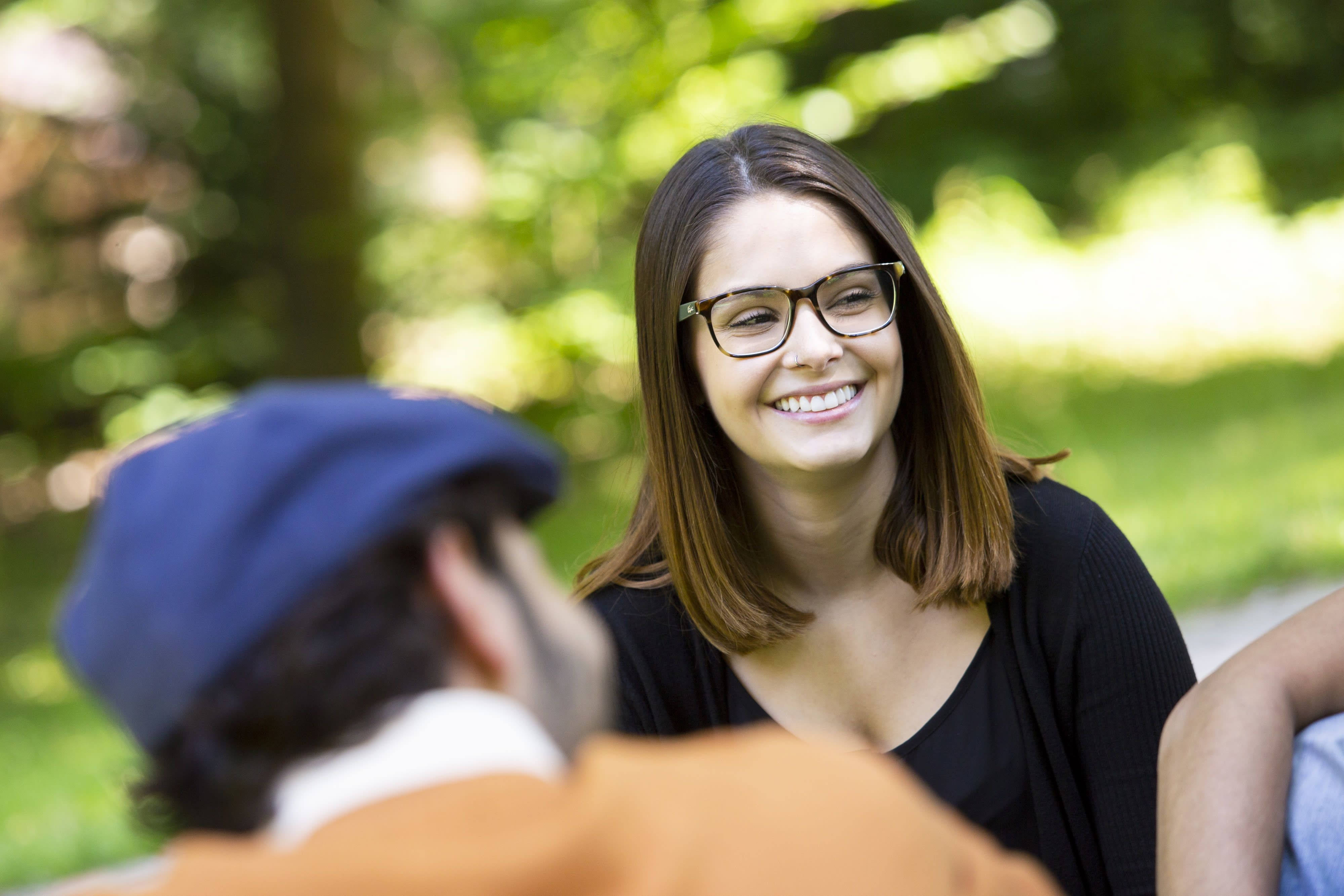 7. EU Business School
Munich's top-notch universities are a recurring theme in discussions about international studies in this cosmopolitan capital. A standout among them? Professionally accredited and high-ranking business school EU Munich.
Here, students receive an English-taught international business education with a pragmatic, experiential approach. They study in the flourishing metropolis of Munich, at the bright and modern EU Munich campus, centrally located in Schwanthalerhöhe, also known as Westend. The city's rare blend of culture, education, innovation, and economic prosperity offer students a premier home base in which to live and study.
Comprising a multicultural student body of more than 700 students, representing more than 100 nationalities, an esteemed international faculty, and high-profile business leaders, EU Munich delivers a rich experience full of opportunities for real-world learning, information exchange, and networking. Offering Bachelor of Science (Hons) degrees and Bachelor's of Arts (Hons) degrees, EU Munich's unique advantages include small classes, the opportunity to transfer between its campuses in Switzerland, Spain, Germany and online, and an active network of more than 27,000 alumni.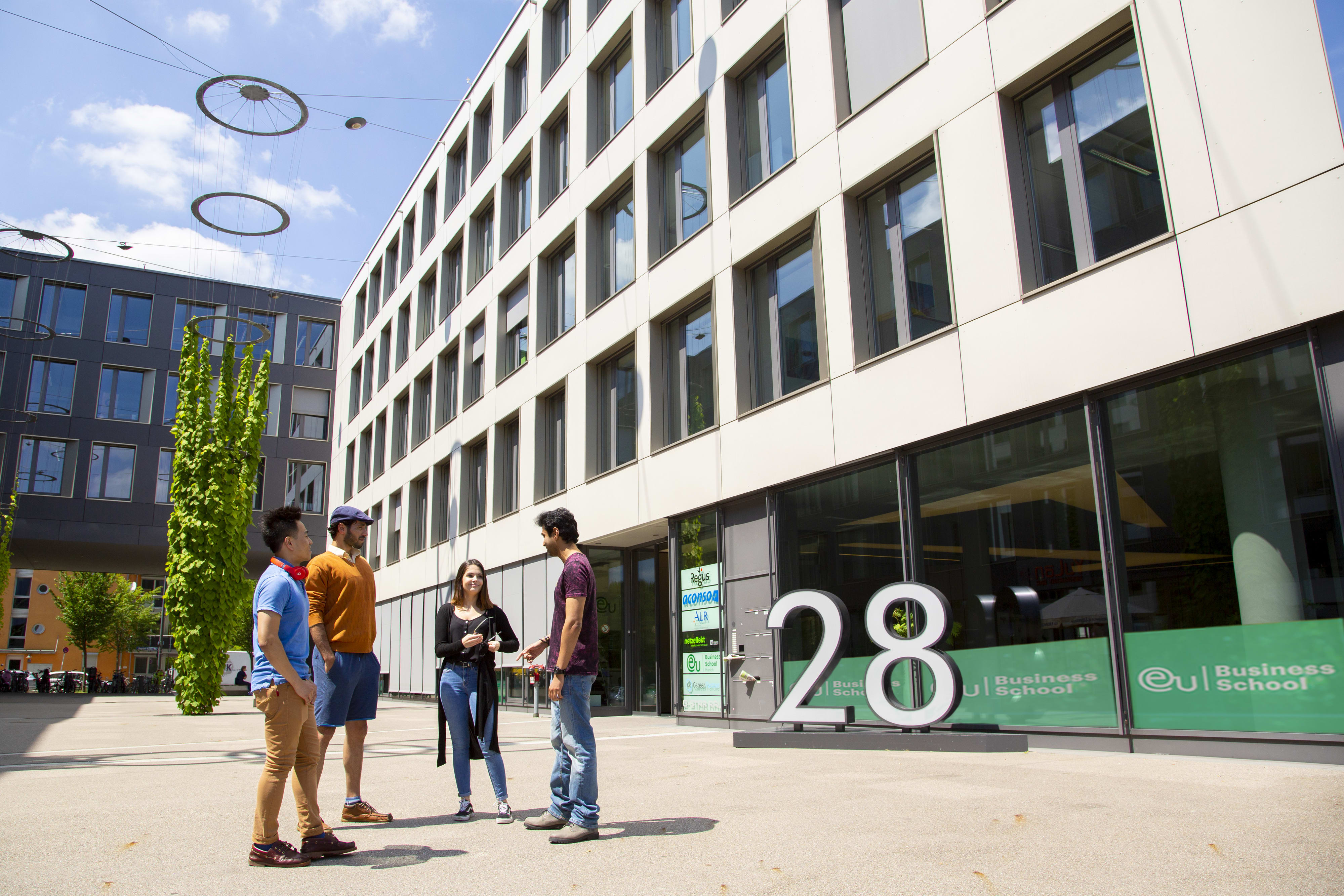 But why take our word for it when you can hear it from the students themselves? BSc in International Business student Windy, from Taiwan, says, "I fell in love with Munich the first time I came here! It's such an international city, you meet a lot of people and get to see a lot of companies, there are so many possibilities here."
Meanwhile, Johanna Nevalainen, a Bachelor in Business Administration student, explains, "The reason I chose to come to EU Business School was the hands-on experience and international environment the school provides, as well as the fast-track option to complete my studies in a faster pace. The classes are very engaging and our professors have quite a unique experience working with what they are teaching."
Obviously, COVID-19 is a significant hurdle for studying abroad now. The good news for prospective international students is that EU Business School is preparing to welcome students onto campus this academic year with extensive safety measures in place. These include disinfection and rigorous cleaning of facilities, new temperature cameras at campus entrances, safety signage, safety screens, further reduced class sizes to ensure safe distancing, reduced lift occupancy and hand sanitizer dispensers placed throughout campus.
There's a reason Munich earned its nickname as the land of "laptops and lederhosen". If you are looking for an international study experience which offers immersion in one of the world's greatest cities, look no further than EU Munich. In addition to walking away with a prestigious degree, you'll also walk away with a global perspective that employers all over the world hold in the highest regard!
Article written in association with EU Business School.
Find your perfect program
Use our search to find and compare programs from universities all over the world!
EU Business School

Joanna worked in higher education administration for many years at a leading research institution before becoming a full-time freelance writer. She lives in the beautiful White Mountains region of New Hampshire with her family.
Find a program in these categories