6 Things to Expect When You Study in Russia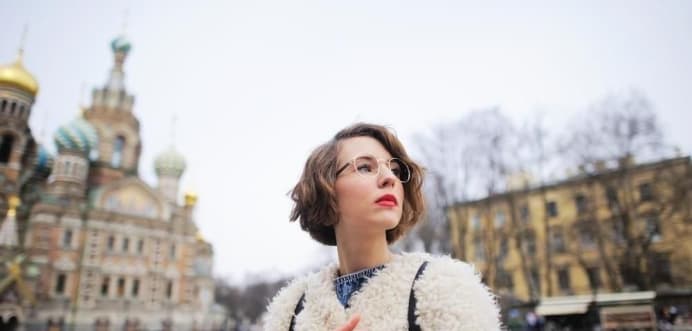 More and more young people from all over the globe come to Russia to explore this mysterious, but attractive country. We've put together a list of things international students can expect when they study in Russia.
1. Adapting to Life in Russia is Easy
Russia is a multinational country with people from all over the globe. Students come from many countries to study in Russia and the number of international students is growing. At one Russian university, Peter the Great St. Petersburg Polytechnic University (SPbPU) the number of international students has grown to nearly 6 000 students from all over the world. Lindsey Collier, an American international student at SPbPU, explains that living in a Russian student dorm helped her integrate, make friends and changed her perspective on Russian people. "Initially, I thought that Russian people are gloomy…But when I had Russian friends, things settled down. They are always with me, take me for a walk. As soon as you overcome the emotional detachment, you understand that Russians are the best friends."
2. Great Opportunities to Travel
Traditionally people come to Russia and visit Moscow and St. Petersburg. But more people are planning new journeys around Russia, and discovering fascinating tourist routes. Studying in Saint Petersburg allows students to visit incredible places that are situated nearby. The Republic of Karelia is considered a favorite tourist destination in the northwest of Russia. Known as the 'Land of Thousands of Lakes' because there are more than 60,000 lakes in the region, Karelia is a pleasant place to relax and keep calm, to enjoy incredible nature and find new ideas and inspiration. St. Petersburg also offers easy access to Russia's diverse cultural heritage. Students can visit petroglyphs, Kizhi Island or Valaam monastery. Other popular attractions include Staraya Ladoga, an ancient village with a stone fortress; Shlisselburg's island fortress of Oreshek; medieval castles of Vyborg; magnificent palaces of Pushkin; monasteries, monuments, churches and the museums of cities like Priozersk, Tikhvin, Ivangorod, Gatchina and many others.
3. Opportunities to learn foreign languages
About 400 million people in the world speak Russian and learning Russian as a second language is becoming more popular. Many international students prefer to come to Russia to study Russian and the challenge of Russian-language promotion has become a federal priority. Russian universities, like SPbPU work to promote Russian-language studies and Russian language programs are very popular with international students. At SPbPU, language studies through the department of English as a Foreign Language, has a proud 50-year history. Today the traditions of the department are carried on by the Center of Russian as a Foreign Language affiliated with the High School of International Education Programs.
International students can start their studies in Russia without Russian-language proficiency, and universities like SPbPU offer both degree programs and short-term programs in English. However, Russian proficiency is essential in areas like nuclear physics, energy engineering, space research and many students choose to complete pre-degree language courses and programs. Learning Russian also gives international students access to a wide range of elective courses in Russian Studies.
4. Great Student Benefits
Russia places a high value on its students, and being a student at a Russian university comes with a lot of benefits. Full-time students of state-accredited Russian universities are entitled to reduced tariffs on public transport. Full-time students of Russian universities also have the right to a 50 percent discount for travel on suburban trains (within a single region) during academic terms.
And student perks aren't limited to travel discounts. Students in Russia are offered a number of discounts at museums, businesses and service providers. These range from reduced ticket prices at attractions like the Tretyakov Gallery and the Pushkin Museum to free passes to sites like the Hermitage and the Kolomenskoye Museum.
5. Interesting Student Life
With all the discounts and benefits for students, it's no surprise that young people enjoy their time at Russia's universities. Life in St. Petersburg is full of attractions: museums, theatres, exhibitions; lots of cafes, restaurants, and nightclubs.
SPbPU student Lindsay Collier recommends "boat trip[s] on rivers and canals of St. Petersburg." According to Collier, St. Petersburg "looks much more wonderful" from the water. Collier also attends concerts and sporting events with her Russian and international friends, as well as enjoying campus life where the students "play games, watch movies…[and] enjoy cooking together."
Russian universities often promote student life and events. At SPbPU the Students' Club of the Polytechnic University is open to all students. The Club aims to enable social adjustment and effective self-fulfillment and bolster the creative potential of SPbPU students, who will go on to become scientific and engineering elite.
6. A Wide Range of Fields of Study and Educational Programs
Russian universities offer a great variety of fields of study and educational programs. For instance, SPbPU offers a University Foundation Program, Degree Programs in Russian, Degree Programs in English, and Short-term Programs. International students also have the opportunity to attend Summer and Winter schools.
In addition to a wide range of individual programs, SPbPU also offers Double Degree Programs in cooperation with prestigious universities from all over the world. These dual programs give students the chance to explore new opportunities and gain double success. Double degree programs are designed so that students can customize their education based on a specific interests or field of study and improve their career prospects. All the students enrolled in double degree programs take studies at both SPbPU and a relevant partner university. Students who fulfill the requirements of both universities and successfully complete the double degree graduate with two degrees simultaneously. Dual degrees confer comprehensive knowledge and practical skills, making graduates highly competitive on the global market!
Still not convinced? Check out these great reasons to study in Russia and read more about studying at Peter the Great St. Petersburg Polytechnic University.