6 Reasons to Study in Norway
Norwegian nature is amazing - and Norwegians want to keep it that way
From the crystal-clear fjords to the icy peaks to the Northern Lights, Norway's natural environment is nothing short of epic. It's no wonder city folk depart en masse to cabins and ski resorts at the weekend – with a population of just 5.4 million people, there is always space to explore and air to breathe. Cross-country skiing is a national specialty, combining exercise, thrills, and sightseeing in one.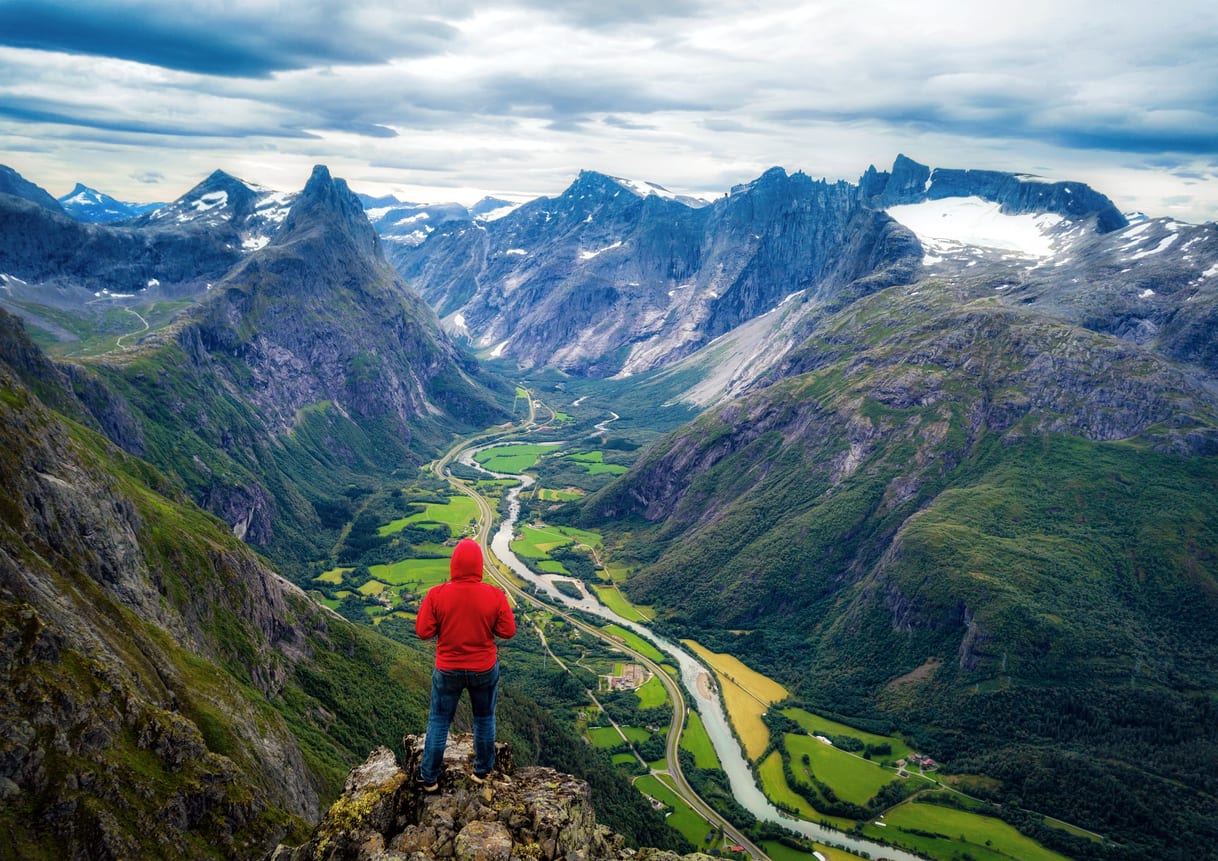 Norway has become renowned for its progressive attitudes towards protecting the environment. The country is a world leader in electric car use, and more than 95% of the country's electricity comes from hydropower. Many businesses and universities maintain admirable principles of sustainability. However, much of this good work only offsets the environmental toll of the country's oil, gas, and fishing industries, so graduating engineers and entrepreneurs have plenty of challenges left to embrace.
A safe place to study
The crime rate in Norway is low. Very low. Allowing for the massive difference in population size, the US has ten times more prisoners and eight times as many murders per year. The reasons are complex, but you can trace them to the point where culture meets politics: Norway is run as a social democracy.
Apart from anything else, this means that the distribution of wealth -- and Norway is a wealthy nation -- is much fairer than in some other nations. More importantly, social responsibility is collective, so a crime is, for many people, understood as a responsibility of the community rather than the failing of an individual. The aim is to rehabilitate prisoners rather than punish them – albeit that the nature of that rehabilitation is sometime contentious, even among Norway's benevolent populace. In short, your student days in Norway are relatively likely to go unmarked by crime or police harassment.
Free education
Another benefit of a country that is run for people rather than profit is that the Ministry of Education and Research funds most higher education institutions. Students -- including international students -- don't have to pay fees unless they study at a private university. Even then, the fees are low and cost no more if you come from abroad. You will have to pay a fee to the student union each semester (around the price of a textbook) to cover access to certain facilities, but it's nothing compared to regular tuition fees.
The big caveat here is that Norway is an expensive place to live. Food and alcohol are pricey, and unexpected costs such as an emergency taxi ride can put a serious dent in your weekly budget. The flipside to this, for graduates in Norway and if you have the time and energy to work while you study, is that Norwegian wages are very high.
If you are on a budget, it is worth doing some serious thought about whether you wouldd benefit more from studying in a country with higher fees and a low cost of living, or whether you think you can reign in your expenses and enjoy a Norwegian education for what it has to offer.
Excellent English
When in Norway, if you ask somebody if they speak English then you may get a confused look in response – before they say, "of course!" Most Norwegians, especially younger generations, speak fluent English, and Norway recently rose to become the third-placed country on the EF English Proficiency Index.
Of course, it helps to learn Norwegian, especially if you intend to work in Norway or socialize with groups of Norwegians. Luckily, the language is relatively easy to pick up, especially if you have English or another Germanic language as your mother tongue.
Tolerant society
Norwegian people tend to be laid-back, tolerant towards foreigners, and LGBTQ+ friendly. In fact, the UCLA School of Law Williams Institute ranks Norway as one of the five countries in the world most tolerant of LGBTQ+ individuals. The nordic culture of 'keeping yourself to yourself' can take a while to get used to for newcomers who are used to nodding hello to their neighbors and it is rare to make small talk with strangers. When you get to know some Norwegian people, however, you will find an intelligent sense of humor and, of course, the aforementioned caring sense of community welfare. Indeed, the Norwegian word 'dugnad' means essentially this - the community, local or national, mucking in together for the common good.
Norway enjoys a stable economy, founded on its natural riches, the benefits of which are enjoyed in most areas of society. Unemployment is low, wages are high, and the welfare system is generous. The krone may be weak at the moment, but the economy is expanding well relative to other advanced economies. As a result, the standard of living is high and the outlook for graduates is promising.
Startups
The Norwegian economy has long been far from the stereotype of gas and salmon. Norwegians have that Scandinavian passion for design, and today that means finding technological solutions for making life better. Entrepreneurs consider Oslo to be a major European hub for start-ups. From fingerprinting to solar panels, Norwegians are looking for a better way to do just about everything – and they're raising millions of krone to figure out how. This multiplicity of ideas means you don't need to be into business or tech to find an exciting job at a Norwegian start-up; whatever your expertise, you should be able to find a Norwegian company who appreciates what you can bring to the table.
If you're looking for a study destination packed with nature, history, big ideas, and firm principles, why not make your way to Norway...
Find your perfect program
Use our search to find and compare programs from universities all over the world!
Norway
Find a program in these categories