6 Reasons to Study Fashion Now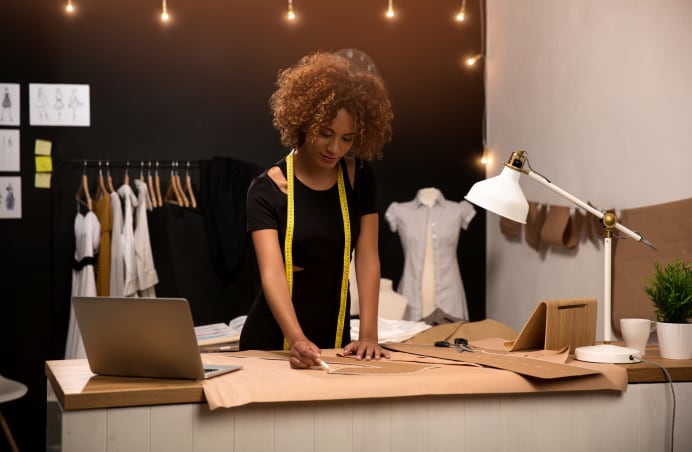 According to Statista.com, the global apparel and footwear market is worth a whopping $1.9 trillion! And amid COVID the industry is undergoing many exciting changes, which fashion students can be part of. Who knows, you might find yourself in the room where next year's major trends and color schemes are being decided upon. Maybe your dream job isn't like being Miranda Priestly's assistant, Anne Hathaway's Andy, in The Devil Wears Prada, but you never know where a degree in fashion will take you. Highlighted here are six reasons why you'll want to seriously consider studying fashion and one school which can teach you the skills needed for an international fashion career.
1. Move sustainable fashion forward
If you're passionate about fashion and also the environment, then you can help move the sustainable fashion trend forward into the mainstream. Consumers are not just looking to spend their money on the next new thing. They want to look great, but also feel like their purchases are doing some good in the world. Conscientious shoppers consider how their purchases encourage sustainability in a field that is traditionally seen as excessive and wasteful. Consumers play "a crucial role and must change their consumption habits and be ready to pay higher prices that account for the environmental impact of fashion," reports 7News, and it seems like more and more customers are willing to make the shift to paying a higher price for fashion that is environmentally friendly.
It seems like the trend towards making fashion more sustainable isn't going away. As a student enrolled in a fashion degree, you'll learn about different techniques and systems that can make this industry more sustainable. For example, "Recent innovations in the materials industry have led to the use of natural proteins to create fibres and fabrics. Mylo is produced from fungal threads and can be made into a durable (and biodegradable) leather-like fabric. Because it can be manufactured so quickly, there is less environmental impact than with traditional materials," reports Katherine Rooney for WeForum.org.
2. Never get bored in a rapidly changing and exciting field
The world of fashion is never boring -- as a student of fashion, you can rest assured you're getting the training you'll need to succeed in a rapidly changing, dynamic, and exciting field. Trends rise and fall in the fashion industry and you'll need to stay current. For example, online fashion shopping has boomed amid COVID, meaning shoppers can increasingly engage with the brands they love whenever and wherever they want.
"It all began with the launch of online luxury retailer Net-a-Porter in London in June 2000. Part magazine, part virtual store, Net-a-Porter was just the first of many multi-brand online players [...] The same year in Milan, Yoox, an online outlet store, opened its doors, selling second-season designer clothes to a group of consumers who had never been able to access them before," writes Lauren Sherman for Business of Fashion.
3. Represent and participate in (re)defining culture
So you want to be a trendsetter, send a message, or create change through fashion? Consider Wild Fang, an exemplary apparel company founded and run by women with a motto "Wild Feminist", which is also their main t-shirt logo. Dressing can be one's daily form of self-empowerment and companies like Wild Fang are among a growing trend towards fashion taking a stance and re-defining culture through clothes.
Culture is intimately shown (or sewn) in clothes and fashion trends. For example, National Geographic's incredible photos demonstrate the powerful symbiosis of culture and fashion. As a fashion student you'll gain a deeper understanding of cultural influences on fashion trends and learn how to design and market and advertise your own.
The fashion industry encourages creative thinking, experimentation, and making statements. As a fashion student you'll learn, for yourself, what it means to be different, stylish, and edgy, as trends and what's hot changes from season to season and year to year. You'll learn ways to make the industry clean up its act and move towards sustainable models. You'll find ways to express your creative genius through clothing and accessories. Studying fashion means the possibilities are endless!
4. Join the "slow" fashion wave
Want to learn how to make fashion even more sustainable? One case study you might learn in fashion school is the upswing in the "slow" fashion trend. Some in the industry are making the effort to move away from the "fast" fashion---quick turnaround times for production, churning out "throwaway" or one-season only designs, the phenomenon of buying more and wearing less---which is a good thing. According to Dimitris Mavrokefalidis for Energy Live News, the second largest world polluter is "fast fashion", which generates "10% of global pollution, generating 92 million tonnes of textile waste per year, consuming 1.5 trillion litres of water annually and contributing to approximately 190,000 tonnes of oceanic microplastic pollution." You'll learn more about the ins and outs of this industry and you'll be able to think about new ways to make this industry more sustainable.
Today's fashion students will likely be encouraged to consider how they can push forward "slow fashion" and find ways to make it the new and lasting industry standard. This requires slowing down manufacturing volumes, introducing sustainability throughout the supply chain, and changing consumer behaviour to reduce new clothing being purchased and increase garment lifetimes.
5. Encourage innovations in fabrics
Silk, wool, cotton, polyester, rayon, nylon, spandex. If you're considering fashion school, then it's very likely you've got a thing for fabrics of all types. In fashion school you'll learn all about the various types of fabrics, their properties and production and manufacturing details. For example, did you know that to produce velvet there is a special loom process? This is what makes velvet so special -- the soft, plush fibers are piled, woven, and cut to make this lush effect.
You'll likely get down to a discussion on microfibers. Alex Welsh for the NYTimes.com reports that microfibers are a problem in the air and the water we drink. Cleaning up the fashion industry means understanding the compositions of different fabrics, their wear and tear, and how to minimize and even eliminate their environmental impact with microfibers.
6. Merge activism with fashion
As an aspiring fashion designer or influencer, you'll want to pay attention to how you can merge activism with fashion. Top designers like Stella McCartney and brands like TOMS are just a few examples of those doing fashion with a conscience.
Stella McCartney's fashion line is devoted to being an agent of change by committing to sustainable business practices; TOMS donates a pair of shoes to someone in need for every pair that is sold; Patagonia.com donates 1% of sales to environmental nonprofits and causes and they have been one of the leaders in developing sustainable practices in fabrics, production, and more.
If you're going to study fashion, then you should know about child labor laws. The International Labour Organization (ILO) reports that around 260 million children are in employment around the world and, according to The Guardian, the ILO "estimates that 170 million are engaged in child labour, with many making textiles and garments to satisfy the demand of consumers in Europe, the US, and beyond." Studying fashion doesn't just mean understanding textiles and their production, you'll also need to understand how your field of study can do better and prevent child labor.
Accademia del Lusso
Accademia del Lusso School of Fashion & Design is the ideal place to launch your career in the fashion world. Founded in 2005, Accademia del Lusso turns passions into professions through its wide range of undergraduate, postgraduate, preparatory, and summer courses, for which scholarships are available. Programs include fully accredited bachelor's degrees in Fashion Design and Fashion Styling & Communication and master's degrees in Fashion Brand Management, Fashion Communication Management, and Fashion Collection Management. The academy also offers a one-year master's degree in Sustainable Fashion Design. With modules on sustainable fabrics and eco-friendly production, this innovative course will shape you into a future fashion designer with a strong ethical awareness.
All programs at Accademia del Lusso are taught by industry experts with years of fashion design and business experience. Each program combines classroom-based lectures, seminars, practical workshops, and regular field trips to trade fairs and fashion industry events. This gives you the chance to enhance your natural creativity while also developing some essential practical skills, such as commercial awareness and how to run a successful business.
And here's the best part. You'll be learning all of this in one of the world's four fashion capitals, Milan. The school's main campus is on Via Montenapoleone, which is right in the center of Milan's fashion district. Milan is a trendsetting city that lives and breathes fashion. It's home to several highly prestigious shopping districts, world-famous boutiques, and many of the biggest names in fashion have workshops in Milan.
Then there's Milan fashion week, a bi-annual event that attracts models, designers, journalists, and celebrities from all over the globe. Accademia del Lusso students and alumni have worked as models, dressers, and backstage assistants at many of the shows during Milan Fashion Week.
Following graduation, students from Accademia del Lusso can work in fashion design, textile manufacturing, marketing, product management, collection management, or footwear and accessory design. Other potential career options include talent manager, art director, or public relations officer.
Grace Venanzetti graduated from Accademia del Lusso in 2017 with a Master's in Fashion Communication Management. She then found a role as a Press Office Intern at Dolce & Gabbana. And assistant Fashion Designer Paolo Furini credits Accademia del Lusso for helping him land his dream job. "Now that I'm an actual fashion designer, I'm continuing to realize how essential and relevant the skills learned during the course are in preparing students for the work environment," says Paolo. "Looking back, I can say that I feel delighted with the course, both in terms of the contents and teaching. I particularly appreciated the helpfulness demonstrated by the teachers, who supported me both during lesson time and – even more importantly – out of school time."
Now it's time to start your own journey toward a career in fashion -- and the perfect place to do it is Accademia del Lusso.
Article written in association with Accademia del Lusso.
Find your perfect program
Use our search to find and compare programs from universities all over the world!
Accademia del Lusso

S. M. Audsley is a freelance writer and poet who lives and works in Vermont, a small but mighty state in the United States. She is an avid outdoor enthusiast and a lover of potlucks.
Find a program in these categories