5 Benefits of Being an International Student in Prague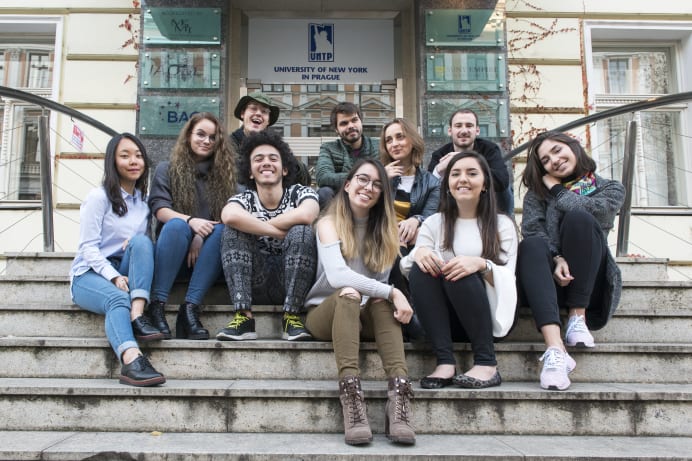 The question is, where should you go? Well, there's one European city that has everything an international student wants or needs - Prague! With its world-class schools, low cost of living, and rich cultural history, the Czech capital is widely regarded as one of the top student cities. So here are 5 benefits to being an international student in Prague. And we'll look at one innovative school in Prague committed to producing graduates with the skills and knowledge to meet the challenges of a truly globalized world.
Get outside of your comfort zone
A university education is about more than what you learn in the classroom. It also offers the chance to become more independent, experience life in a new environment, and meet people from different walks of life. Essentially, going to university is about getting out of your comfort zone, developing essential life skills that will set you up to succeed in your future career and personal life.
And if you're really ready to test yourself, studying abroad could be the challenge you're looking for. You Hyun Kim from South Korea, for example, wanted to study somewhere completely new, so he chose the University of New York In Prague (UNYP). Life in the Czech Republic's capital was very different to back home, but that's precisely what You Hyub was looking for.
"The University of New York widened my view of the world," says You. "I went to Prague with great expectations for a beautiful city where the past coexists with the present. It was an excellent opportunity to understand a different and unique culture, especially when doing team projects. I visited many amazing places in Prague, met many new friends, and made memories that will stay with me forever."
Expand your cultural horizons
Originally from the USA, UNYP student Sara Crutcher was also looking to experience university life in a new country. For Sara, studying abroad was about getting an excellent education and broadening her cultural horizons.
"When choosing a city to go to, there were so many options. But one stood out above the rest - Prague!" says Sara. "It offered the opportunity to continue my classes at a top school, but I knew I'd also be immersing myself in one of the richest cultures in Europe."
Prague is a real cultural hotspot. This beautiful city is home to cathedrals, museums, art galleries, bohemian hang-outs, and epic architecture dating back centuries. Prague is also famous for its stunning views (best enjoyed from the riverside bars and cafes) and a full calendar of festivals and parades. It's a city where you can experience something new and exciting every day of the week.
Boost your career chances
A report by the Institute of International Education (IIE) found studying abroad can significantly impact the development of 21st-century skills and the ability to secure employment. "Long and short periods of study abroad have a high impact on subsequent job offers and the development of most skills, including teamwork, communication, tolerance, and interpersonal management," IIE explains. In other words, international students often have a competitive edge when entering the job market or setting up their own business ventures.
Albert Ballardini moved to Prague from London to study for an MBA at UNYP. It was Albert's first big step towards fulfilling his ambition of starting his own business. Today, Albert is the founder and CEO of Go Fit, an online platform that lets users book fitness classes and activities. "Studying in Prague was a real challenge, but it was a good challenge," says Albert. "It gave me a whole new perspective. All the ideas for my business came to me when doing the MBA. If UNYP hadn't been there, I don't know if I would have done it. Or it might just have taken a lot longer!"
Become a citizen of the world
The future of work is global. Our increasingly interconnected world requires highly skilled graduates who can work across borders, navigate cultural idiosyncrasies, and provide new perspectives on how we can all achieve together.
Studying abroad is one of the best ways to improve the intercultural skills required for this new way of working. As an international student, you'll be collaborating with and learning from people all over the world. And you'll make friends with those you would never have met if you'd stayed at home.
This is something UNYP student Nicole Severinova is currently experiencing. "Studying in a school with students from over 65 different nationalities allows for an amazing cultural mix," says Nicole. "We all learn a lot about other cultures during interactions in and out of class. My best friend is from the Seychelles, and my professors are from the States, Ireland, and Britain!"
Travel Europe
Prague can be your base to explore many more exciting cities or countries. The Czech Republic is a small, landlocked country bordered by Austria, Germany, Poland, and Slovakia. You can reach any of these countries by car, plane, or train in just a few hours. It means you spend your weekends and study breaks soaking up the sights of Vienna, Berlin, or Krakow. Or you could venture out a little further for a mini-break in Slovenia or Switzerland. And how many students can say they got to see the Alps or the fairy-tale city of Ljubljana during spring break vacation?
The University of New York in Prague (UNYP)
The University of New York in Prague (UNYP) is the largest and most prominent English-language higher education institution in the Czech Republic. Its 800 students come from over 60 countries, creating a lively and diverse learning environment geared towards preparing students for the 21st-century global marketplace.
UNYP offers world-class, accredited Bachelor's degrees in Business Administration, International Relations, Communication and Media, Child Development, Psychology, Digital Media Arts, and Political Science. All courses are taught by experienced lecturers, with over 60% of faculty members holding doctoral degrees. Postgraduates can study for a Master's degree in Psychology and IACBE-accredited MBA programs.
The UNYP campus is located on Londýnská 41 in Vinohrady. This trendy district is renowned for its beautiful art deco buildings, hip cafes, and LGBTQ-friendly nightclubs. There's also Riegrovy Sady's famous beer garden and the bustling outdoor markets overlooked by the neo-Gothic Church of St. Ludmila.
Vinohrady is one just one of the many reasons why Prague is regularly named as one of the best student cities in the world. It scores highly in all the key student lifestyle rankings, including arts and culture, nightlife, affordability, employment opportunities, and diversity.
"Prague is a beautiful and fascinating city. I truly enjoyed living somewhere so different from what I am used to," says Steven Trottier, UNYP MSc in International Management graduate. "I befriended people from all over the world. I loved the fact that when you walked down the halls of UNYP, you would hear every language and every accent that you could imagine."
If you'd like to find out more about life as a UNYP student, then book your spot on the school's upcoming virtual open day. The one-hour event will run from 16:00 to 17:00 on the 15th of December via Zoom. You'll get a chance to speak to Admissions Officers about your study options. You can ask specific questions about the course structure, the enrolment process, and internship and scholarship opportunities. You'll also learn about the UNYP campus, including student accommodation, learning facilities, and what to expect during the first few weeks in your new home.
Book your place on UNYP's virtual open day by clicking on this registration link.
Article written in association with UNYP.

After graduating with a degree in English literature and creative writing, Ashley worked as a bartender, insurance broker, and teacher. He became a full-time freelance writer in 2016. He lives and writes in Manchester, England.
Find a program in these categories