10 Tips to Make Friends at College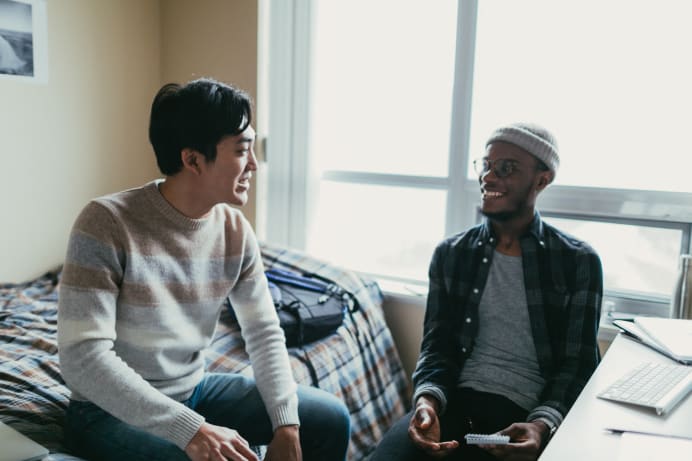 1. Start up a conversation with a new person every day
Remember, you won't be the only one hoping to make new friends when school starts. As a result, it's important to try to find ways to reach out to new people. Challenge yourself to start up a conversation with a new person every day. This can be as simple as sitting down near someone eating solo in the dining commons, asking someone in your residence hall where they are from, or attending a program, and chatting with someone new in class. Not only may you make a friend, someone else is sure to appreciate you reaching out.
2. Get an on-campus job
One of the best ways to meet new people is to snag an on-campus job. A lot of these jobs are in places where you'll meet and interact with people, such as in the dining halls, working as a Resident Assistant in the residence halls, or even in the library. Tons of people will come to you looking for help or assistance, or even just to strike up a conversation.
3. Do your homework in the public area
It can be really tempting to hole up in your room to do your homework, but you aren't likely to meet anyone that way. If you do end up hanging out in your room, try leaving your door propped open to encourage others to stop by. When you can, move your books down to your residence hall's common room, visit your major's study areas, grab a table in the library, or find a place in the student union. All of these areas are more visible, and will give you a chance to chat with others and let other students approach you.
4. Join a student organization
There are a lot of great opportunities at university, and one of the best ones for meeting others are student organizations. Most universities offer plenty of clubs, fraternities, sororities, and sports for students to participate in. If you're not sure where to start, consider reaching out to your school's student activities department. They can help you find a group of like-minded students to connect with.
5. Volunteer
Not only is volunteering a great way to meet people, it also allows you to contribute to the community your university is in, and gain new skills for your resume. Seriously, it's a win-win.
6. Participate in a campus event
There are entire departments of people on campus devoted to putting on events and programs These professionals, graduate students, student workers, and volunteers spend a lot of time and money putting on events for the purpose of bringing students together. The events are usually shared online, posted in dorms, at the student union, or in class buildings. Check them out, and make sure to attend regularly. You might even find opportunities to volunteer or find an on-campus job.
7. Join online groups
For the introverts among us, it can be overwhelming to attend all of the social events offered at college. Therefore, it might be worthwhile to explore more low-impact options. Before you even get to campus, reach out to your fellow students online. After registration, many universities start Facebook groups with the intention of connecting incoming students. Join a few, check out the local social media, and find your people. That way when you do arrive on campus, you're sure to find a few familiar faces to help ease the transition.
8. Go to your classes
Skipping classes can be really tempting, especially when no one is there to tell you to go. However, it's pretty quickly noticed who goes to class and who doesn't. Regularly attending class helps others get to know you, and lets your professors see you're a dedicated student. This will help you meet people who also are dedicated to their studies, and professors can help connect you with other exciting opportunities as well.
9. Hang out in the student center
For most universities, the hub of all the activity is the student center or union. There, you will usually find the location for student services, including student engagement offices, offices for clubs, as well as groups and organizations. Spending time in the student center is a great way to get the pulse of what's happening on campus, as well as to get involved in activities and events.
10. Embrace life in the dorms
Whether you call them dorms or residence halls, one of the best places to meet people are those living right across the hall from you. Get involved in your residence hall, and invest time in your community. Join your residence hall association, spend time helping the Resident Assistants with programs, and participate in events put on in the halls. Spend time in the lobby, do your homework in the common rooms, and play games in the lounge. Visit your neighbors, and invite them to hang out with you. Out of all the people living in your residence hall, you're sure to find a few who will become part of your group. In US universities, you also have a built-in friend living right across the room from you. Get to know your roommate, invite them to eat with you, and include them in your plans. You might find yourself with a life-long friend, as Boston University student Anna Malygin says...
Going to university is one of the most exciting times in your life. Having friends will make the experience that much sweeter, so don't be afraid to put yourself out there, and get to know your fellow students!
Find your perfect program
Use our search to find and compare programs from universities all over the world!
Bachelorstudies

Chelsea is a Student Affairs expatriate, who now works as a freelance writer and editor. She homesteads in a small town in rural Maine, USA. She enjoys hiking, fishing, cooking, reading, all things Laura Ingalls Wilder, spending time with her family, and chasing her black lab puppy, Cash.
Find a program in these categories