10 Reasons to Study in Switzerland
Innovation
Switzerland was named the most innovative country in the word eight years running by the Global Innovation Index. Much of its ongoing success can be attributed to three things: excellent universities, large investments in research and development, and world-class infrastructure.
Switzerland is also becoming a European hub for cryptocurrency and blockchain technology. Zug, a small town south of Zurich, is often referred to as 'Crypto Valley' by industry insiders and is a European base for Ethereum, one of the major players in the blockchain sphere. In fact, many experts believe the decentralized Ethereum platform will fundamentally transform the internet, and the people who use it. Joseph Lubin, part of the team that created Ethereum, says, "We are going to be more in control of our identity and our agency on these different decentralized networks. I think that's going to create more wealth. It will also create more interest in expressing ourselves."
Sustainability
In 2015, while many nations were still debating the Paris climate deal, Switzerland was the first country in the world to submit a climate plan to the UN for cutting carbon emissions until 2030. Then earlier this year, the nation made a renewed commitment to reversing climate change, making it a go-to destination for students and graduates who want to help build a greener future.
Switzerland is now aiming for net-zero carbon emissions by 2050. It is currently revising key pieces of legislation to help put new measures in place. This includes an increased carbon levy, and additional funding for the renewable energy sector and other green initiatives. The Swiss government hopes this will incentivize more environmentally-conscious entrepreneurs like Christoph Gebald and Jan Wurzbacher, the duo behind Climeworks, an engineering firm which designs and creates machines which literally suck carbon out of the air.
Diversity
As a global hub for finance, technology, and innovation, Switzerland draws people from all over the world, creating a distinctly cosmopolitan vibe within its major cities.
It has four official languages; German, French, Italian, and Romansh. What's more, all are spoken slightly differently throughout Switzerland's 26 regions. You will also hear plenty of English, especially in businesses, on university campuses, and in cities such as Zurich, Geneva, and Bern.
University degrees are primarily taught in French and German, although most universities also offer programs taught in English. Attracting thousands of international students every year, Swiss campuses are renowned for being exciting and vibrant melting pots of cultures. For example, of the 16,000 University of Geneva students, around 40% are international students.
Learn a language
As a multilingual country, Switzerland is a great place to learn a different language, giving your post-graduation career options a significant boost. Germany has one of the strongest economies in Europe, full of leading technology, banking, and manufacturing companies that offer excellent graduate training programs. French is another very useful language for those who want to pursue a career in international business. It's the second most widely spoken language in the EU, and is the official language of 29 countries. Parts of the French-speaking world include Canada, Belgium, and several emerging economic powerhouses in Africa, such as Tanzania, Rwanda, and Mozambique.
Research shows learning a new language can also increase your brain power, boost creativity, and inspire novel ways of thinking. One study, published in the New York Times, suggests that acquiring additional language skills can even protect your brain from the degenerative effects of aging.
Amazing scenery and winter sports
When they are not on campus, international students in Switzerland have the chance to explore one of the world's most beautiful countries. They can enjoy boat trips across Lake Geneva or visit Rhine Falls, Europe's most powerful waterfall. Alternatively, they can spend a weekend visiting the natural wonders of the Alpine mountain ranges. Top attractions include the 4,478-meter-high Matterhorn mountain; prehistoric glaciers such as the Eiger Glacier, visible from the spectacular Piz Gloria observatory (which some will know as the mountain-top hideout of Bond villain Blofeld; various network of caves and underground lakes; and the Jungfrau Railway, an amazing nine-kilometer railway which rises from 2,061-meter-high Kleine Scheidegg over mountain ridges and then right through the heart of mountains themselves in a tunnel to the highest railway station in Europe, Jungfraujoch, at 3,466 meters!
The Alps is an excellent destination for winter sports fans. As well as skiing and snowboarding, adrenaline seekers can also try tobogganing and ski-gliding. Meanwhile, ice-walking treks are perfect for more adventurous types who aren't afraid to venture off the beaten tracks and there is a plethora of brilliant hiking trails manageable for most people.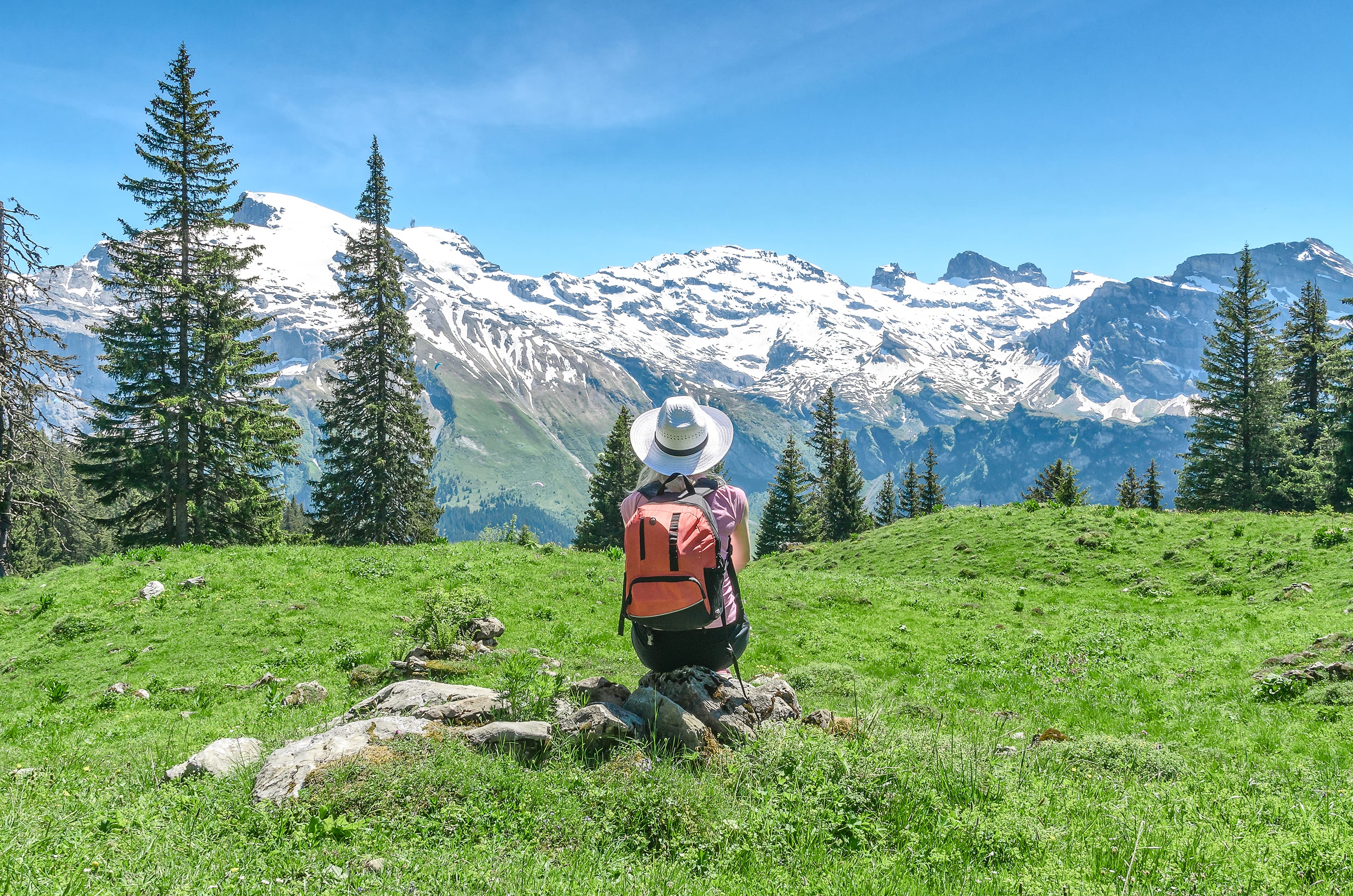 Tourism and hospitality
Given the amazing scenery and activities for travelers, it is no surprise the nation is also a leader in terms of tourism and hospitality -- and studies in this area. In fact, Switzerland is regarded to be the birthplace of hospitality, its long and rich history in the area dating around 150 years, when grand hotels were built across the Montreux Riviera, heralding the start of luxury tourism in the country. Drawn by the healthy climate and the lure of adventure, royalty traveled to the country -- and the hospitality industry responded to their exacting demands, laying the groundwork for Switzerland's hospitality industry as it is today, which is worth around $17 billion every year!
James Osmond from Triptease explains, "Historically speaking Switzerland has been a longstanding leader on the travel and tourism platform, beginning with the classical hotel model as early as the 1800s. [...] Being well known worldwide for these seasonal holidays in idyllic mountain and lakeside settings, the country earned itself a reputation as a traditional, go-to destination."
A place to build a career
Around 25% of Switzerland's workforce are foreign nationals, including a large number of former international students who stayed following graduation. So, why do so many of them decide to build their careers in Switzerland?
Firstly, 14 of the top Fortune 500 businesses are headquartered in Switzerland; that's the highest concentration of Fortune 500 head offices anywhere in the world. Moreover, companies like Nestlé, the Adecco Group, and Glencore International have a close working relationship with Switzerland's best universities. Winfried Ruigrok, the Dean of the St Gallen Executive School of Management, says, "They come to us for recruiting. They are keen to work with us, perhaps because we have a strong practice orientation."
Practice orientation looks at the methods, systems, and professional practice through real-world examples and scenarios. It's a popular approach in many Swiss business schools, and is certainly paying dividends for St. Gallen graduates. Around 80% of the executive boards of the largest Swiss companies include at least one St. Gallen graduate.
...And a very well paid one!
Those considering studying and working in Switzerland will doubtless be happy to hear the country has one of the highest average salaries in the world. The minimum wage is also relatively high, meaning that students working in typical student jobs such as retail and restaurant jobs also benefit financially, even before graduating.
Networking
Networking is an essential part of fostering a culture of collaboration and innovation. That's why organizations like Geneva Women in International Trade (GWIT) host regular events to bring the best business minds together. GWIT is a vibrant, diverse collection of 300 female professionals from private start-ups, multinationals, the public sector, and NGOs.
Members gather together once a month for an hour of informal mingling, followed by presentations from guest speakers, activities to inspire more meaningful conversations, and potential business partnerships. Crissy Muller attended one GWIT event shortly after arriving in Geneva. She'd been involved in similar groups before, but she quickly realized that GWIT offered something completely different. "The difference with GWIT is that it not only facilitates networking among professional women," she says. "It also provides some guidelines along the way, taking the mystery out of it.
Safety and stability
There are many practical benefits to studying in Switzerland. It has a low crime rate, and violent crime is very rare. It's also one of the cleanest countries globally, with excellent public transport networks, and a world-class health system.
The Swiss enjoy a high standard of living, reporting well-being levels that are well above the global average. The government is open, transparent, and fully accountable. A Swiss citizen can challenge any new law providing they gather 50,000 signatures within ten days of it being passed. More than 50,000 signatures trigger a national vote, where the new law will be accepted or rejected by a simple majority.
Switzerland is an open, exciting, and forward-thinking nation that understands the value of investing in young talent. It's a place where you can get a world-class education, meet amazing people, and maybe even kickstart your career.
Find your perfect program
Use our search to find and compare programs from universities all over the world!
Switzerland

After graduating with a degree in English literature and creative writing, Ashley worked as a bartender, insurance broker, and teacher. He became a full-time freelance writer in 2016. He lives and writes in Manchester, England.
Find a program in these categories