10 Part-Time Jobs for Students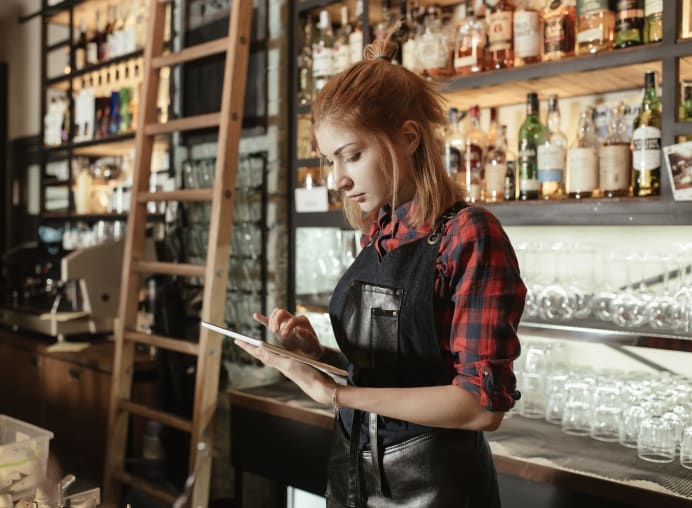 First of all, you'll need to find out if you are permitted to work part-time as a student. For example, many countries restrict the number of hours you can work as an international student. Some won't let you work at all, especially if you're on a paid scholarship or receive a stipend. What's more, the number of hours you could work often depends on whether it's term-time or the summer holidays. You may need to apply for a separate work visa in some countries.
If you can work, start by browsing online job boards or popular job websites, like Monster or Indeed. You could do it the old-fashioned way by dropping off your CV or resume at local bars and restaurants. This is time-consuming, but speaking to potential employers face-to-face can show initiative, personality, and dedication -- and therefore increase your chances of nabbing that job. You might even get a job offer, interview, or trial shift there and then. Registering with job agencies or speaking to your school's career services are two more avenues to explore.
1. Pet sitting
Pet sitting and dog walking are fun ways to earn some extra cash while at university. Rover.com, for example, brings together pet owners and sitters. Just set up a profile to start looking for jobs. Rover.com is available in some European countries, including the UK, Spain, and France. You can earn rates from $10-$25 an hour.
2. Nannying
Nanny and babysitting roles can be flexible, fun, and well-paid. Plus, they're excellent experiences for students who want to work in teaching, healthcare, or social care. You can apply for jobs directly, but you may need to pass certain background checks or provide references. Alternatively, you can find work through a childcare agency like Worldwide Nanny or Care.com.
3. Bars and pubs
Many students find part-time jobs in pubs. The weekend and evening shifts won't get in the way of your lectures, and it's a fun, social environment where you get to meet lots of new people, often fellow students, especially if you find a job at a campus bar.
4. Restaurants/catering
Restaurants and catering work is ideal for full-time students. The hours and shifts are flexible, and there's a chance to earn some extra cash through tips. In the UK, servers working in London restaurants can take home around £50 ($69) on a busy shift. It's even better in the USA, where tipping is an expectation of customers.
5. Security
Security work is another option. It could include working in bars or clubs, although you'll probably need a license. Sports venues, concert halls, and festivals require security staff to direct and assist crowds. Many US universities provide crowd management training for student volunteers, which can boost your credibility when applying for jobs. Office blocks and apartment buildings usually have nighttime security guards. Just don't do too many night shifts per week, as a poor sleeping routine could interfere with your studies.
6. Tutoring
Why not put your academic skills to good use by doing some part-time tutoring? Tutors and freelance language teachers can earn up to $20 an hour, and apps like Zoom mean you can work remotely with people from all over the world. Preply is an online platform that connects language tutors to over 800,000 learners. And you can also set up a tutoring profile on Superprof, Europe's top tutoring hub.
7. Retail
Store assistant roles in well-known chains pay at least $15 an hour. With a few extra responsibilities, you could earn over $20 an hour. Many people who work in retail do so part-time, so it's perfect for studying. Working just 10 hours a week (or two shifts) will give your monthly budget a significant boost. You'll earn enough to cover daily expenses, eat quality food, and have some much-needed fun when exam season is finally over.
8. Copywriter
Freelance sites such as Upwork and the Pro Blogger list thousands of copywriting and content writing jobs. These are perfect for English Literature students, or aspiring journalists. You can do the work in your own time and earn between $12/$25 an hour.
9. Food delivery
Students are earning up to $200 a week in the USA, doing food delivery for popular apps such as Uber, DoorDash, and Deliveroo. These companies have attracted controversy for their zero-hour-contract business models. However, they offer flexible working hours and help students pay their way through college.
10. Student support jobs
You may wish to do some admin support work for university faculties or university departments. The work is generally well-paid and relatively stress-free. It's also one of the best ways to build up a network of contacts that could help you pursue an academic career after graduation.
The student perspective
Innocent Muhalia worked in student support services while studying to become an architect. The extra cash helped him through college, but he also gained valuable experience that has increased his long-term career prospects. "Being a student worker helped me delve into the world of professional etiquette and norms," says Innocent. "Learning how to use email as the main source of communication among colleagues is a valuable skill. It will directly apply in my future architect profession when working on projects in a team. This experience also helped me to manage my time wisely and prioritize what needs to be done first."
Kathleen Ly had a similar experience. She says, "I am constantly learning from my supervisor and colleagues. One of the most important things I learned being a student employee is communication. I have learned to effectively communicate via email and phone which are crucial skills needed to work in an office setting."
For students such as Mikayla Holland, a part-time job was a way to develop a more mature perspective on life. "I worked in a dining hall," says Mikayla. "I'm quite a privileged person, and sometimes I think working in dining services should be mandatory for all students like me. It was a humbling and gratifying experience. It provided me with great memories and has solidified my respect for everyone who has ever worked in a similar establishment. I look forward to the day when I can also tell someone, 'I had a gig like this in college.'"
Finding a part-time job post-COVID
The nature of work is changing. The outbreak of COVID-19 and the increasing move toward digital technologies means more people are working remotely. Moreover, automation and AI could reduce the number of service jobs over the next few decades, and these are often a lifeline for many students struggling to get by on a tight budget. Thankfully, there are, as mentioned, many ways students can do jobs and earn money online.
Unibeez is one company is ensuring students can still play a part in the 21st-century workplace. Set up by three young entrepreneurs from the UK, Unibeez is a free digital marketplace that lets students apply for remote work in data entry, graphic design, app testing, social media, and many other industries. The work is flexible, remote, and all employers must offer an £11 ($15) per hour minimum wage. "We're creating a platform specifically designed to connect students with hirers," says Unibeez CEO Chris Keenan. "It's about solving the lack of genuine work prospects for students by embracing the market trend towards flexible, on-demand work. We're unleashing talent, promoting diversity and equal access, and shaping the leaders of tomorrow.
Part-time work is a rewarding way to earn some extra cash while at college. You'll meet new people, develop life skills, and bolster your resume for when it's time to start applying for your dream job!
Find your perfect program
Use our search to find and compare programs from universities all over the world!
Bachelorstudies

After graduating with a degree in English literature and creative writing, Ashley worked as a bartender, insurance broker, and teacher. He became a full-time freelance writer in 2016. He lives and writes in Manchester, England.
Find a program in these categories