1. It is the financial hub of Europe.
Switzerland is one of the world's most important banking and financial centers, making it a premier destination for business studies students. Its diverse and highly developed banking landscape, which comprised 266 banks as of 2017, includes universal banks, private banks, cantonal banks and wealth and asset managers. Switzerland's status as a centre of local and international financial service providers also makes it attractive to companies from many industries seeking access to benefits such as its sophisticated liquid capital market and modern financial infrastructure. 
Economics & Commerce Data (ECD) recently included not one but two Swiss cities in its list of financial centers of the world: Geneva and Zurich.
EDC writes of Geneva, "Geneva benefits from a thriving economy and a low unemployment rate and many prestigious international organizations have offices in Geneva. The service industry is the chief economic driver and accounts for a large proportion of employment opportunities within Geneva. The finance sector and private banking are extremely well represented and the city is also an important center for both international trade and commodity trading."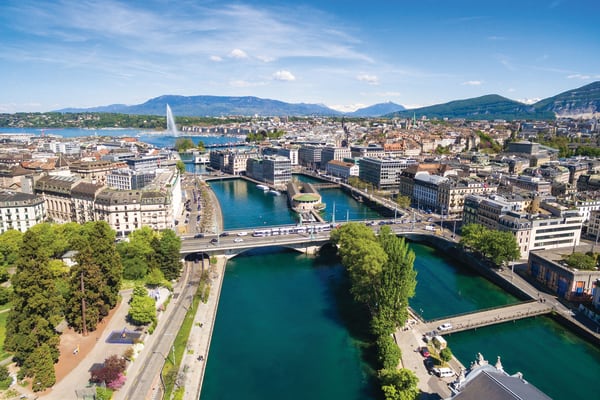 And EDC writes of Zurich, "Zurich is renowned as a financial center and is home to many of the world's banking giants as well as the Swiss Stock Exchange. The city of Zurich is an attractive destination for those looking for work and offers long term, professional career opportunities. Zurich's relatively low rate of tax also attracts large numbers of international companies who choose to set up offices in Zurich. The service industry is the most important economic sector in the city, accounting for more than four-fifths of all employment."
Being a world player in finance means there are a plethora of opportunities for business graduates not only in finance but also in industries including insurance, IT, and consulting. Various multinational companies are based in Switzerland, including Nestlé, Zurich Insurance, Glencore, Adecco, Roche, and Credit Suisse, meaning foreign and English-speaking job applicants are highly sought-after.
Whether you're hoping to work in Switzerland or to develop international connections that will come in handy throughout your career, attending business school can help you achieve your goals. 
2. It is the "historic home of humanitarianism."  
As Switzerland's second most populous city, Geneva is known as the birthplace of international cooperation, and has been nicknamed the world's "Peace Capital." A global center for diplomacy, Geneva plays host to the headquarters of the World Trade Organization (WTO), the International Committee of the Red Cross (ICRC), the International Organization for Migration (IOM) and the World Health Organization. The European headquarters of the United Nations is also located in Geneva. All of these leading political and diplomatic organizations and potentially vital connections can be very beneficial for business students as they break into the competitive world of business.
3. It has an amazing quality of life.
Life isn't just about studying (even if it seems like it sometimes). Studying business in Switzerland offers access to an unparalleled quality of life. Switzerland consistently top lists of best places in the world to live, earning especially high marks for natural beauty (crystal blue lakes and soaring Alpine peaks galore), infrastructure, earning potential, youth employment, and personal safety. It was ranked in the top five happiest countries in the world overall from 2015 to 2017 by the World Happiness Report. From its world-famous ski regions and winter sport options to its phenomenal dining, which combines the best of German, French and Italian cuisines, you'll find no shortage of opportunities to unwind from your business studies, by enjoying arts and culture, entertainment, and recreation in Switzerland. (And maybe even some networking opportunities…) 
When you feel like experiencing other countries and cultures, meanwhile, Switzerland's central European location and outstanding public transport network make travel easy and quick. 
4. You can learn in English, the lingua franca of the business world. 
"English is the most influential language of academia and the business world, occupying the top in the field of languages, and spoken by over three-quarters of the world's population. It is used in 94 countries by 339 million native speakers, and it is the de facto language of the United States and an official language of Australia, the United Kingdom, South Africa, and several other countries, making it an essential language for business owners," proclaimed a recent Medium piece which awarded English the first place spot on its ranking of the 10 Most Important Business Languages in Global Market. 
English is widely spoken in Switzerland, especially in its cities. Indeed, 40% of Geneva's residents are expats, hailing from nearly every country in the world (187 nations out of 195).  English may even become the main foreign language taught in schools in many regions -- so much so that the swissinfo.ch suggested it is the country's unofficial fifth language. 
So it is not surprising that the country has several international schools which, collectively, offer over 400 English-taught degree programs, including many in business or business-related fields. Studying abroad in an English-taught business program is a best-of-both-worlds solution for aspiring global business leaders.
5. It's renowned for its innovation. 
Switzerland has held the title of world's most innovative country for nine years running, according to the World Intellectual Property Organization's annual Global Innovation Index. It earned especially high marks in the areas of environmental performance, political environment, regulatory environment, and research partnership between industry and universities. Switzerland Innovation, a platform for domestic and international collaboration, says, "This exchange between science and the economy allows ideas to be developed further – to produce products and services that can be marketed successfully. At the same time, working together closely in a single space accelerates the development processes for all parties. This leads to successful innovation."
In addition to being innovation-friendly, Switzerland is also entrepreneur-friendly.  The 2018 Global Entrepreneurship Index ranked Switzerland second "due to the good conditions for start-ups and the high number of high-tech start-ups active in niche markets." All of this makes the nation the perfect fit for ambitious, entrepreneurial business students.
6. Its multicultural environment is a business asset. 
As the business world grows increasingly globalized, familiarity with multicultural environments is a must. Switzerland offers an ideal training ground. Kosovo native Tefit Maqkaj told SWI swissinfo.ch of his experiences in Switzerland, "If you go to school here and are in continual contact with various cultures, you become integrated very quickly. I mean not only the culture of German Switzerland but also the Italian and French regions. Our Switzerland is multicultural."
In addition to helping you learn to navigate the challenges of working with people from different backgrounds, learning in a multicultural environment also cultivates open-mindedness and promotes the development of new perspectives. 
Furthermore, the networking opportunities for students -- not only with fellow students and academics but also with some of the world's most successful and connected people -- are abundant. This can be especially helpful for those who have recently moved to the country. Women can find many opportunities with the Geneva Women in International Trade (GWIT) organization, which creates networking opportunities among professional women, as well as events with guest speakers and mentorship. Students can also network through learning one of the country's languages and getting involved in the local community. Geneva and Montreux, for example, are small cities, meaning that, when a student gets their foot in the door, connections can easily grow and they can build a successful career.
7. Its higher education system is top-notch. 
Switzerland is a popular higher education destination for international students, and with good reason: It boasts an extraordinary higher education system featuring many of the world's best universities. 
One university that offers unique appeal for international business students is EU Business School. With campuses in Geneva, Montreux, Barcelona, Munich, and Online, EU Business School offers foundation, bachelor's, master's, MBA, DBA, and further education programs focused on business administration, communication, tourism management, international business, marketing, finance, digital business and entrepreneurship, and many others. Classes are small, English-taught, and take an experiential and practical approach to business education aimed at preparing students for successful careers in the globalized business world. 
EU Business School also boasts a remarkably multicultural student body representing more than 100 nationalities. A global network of more than 27,000 alumni all over the world, campus exchange programs, and opportunities to interact with international business leaders through guest lectures and company visits, mean near-endless ways to grow your business network. 
For these and many other reasons, EU Business School comes out on top across many different international rankings. Additionally, EU Business School's Rankings include the following:
Its Online MBA was ranked #1 by CEO Magazine's Online Global Rankings for four years running

It received four stars for excellence in business education from QS Stars

Capital Magazine ranked it in the top ten among best business schools for female students

It is ranked in the Top Tier for Global and European MBA programs by CEO Magazine

It is listed as a top 20 business school by China Economic Review magazine

It's ranked in the Top 150 and Top 50 in the QS Global MBA and GQ European MBA rankings, respectively

Its MBA was recognized as #32 in the world by América Economía
Given the many benefits of an international business education, Switzerland's inimitable environment, and EU Business School's many unique offerings, you could say there is no better way to lay the foundation for an international business career than at EU Business School... 
Article written in association with EU Business School.