As an international student, the holidays can be a cozy, relaxing time, and an opportunity to learn about another country's traditions and customs, from friends or even a romantic partner met while studying abroad. Emily Liedel writes for The Abroad Guide of Christmas away from home as an international student, "Every city and country has different Christmas and New Year's traditions, and celebrating the holidays with your host family or some of your local friends can be a really cool cultural experience. You'll probably never get another opportunity to spend Christmas in a totally different culture!"
Observed on December 25th, Christmas is celebrated as a national holiday by billions of people around the world, and observes the Nativity of Jesus, who is believed to be and honored as God's son in the Christian religious tradition. Traditional practices surrounding Christmas include a feast, which is central to the Christian liturgical year, and the celebration is preceded by the season of Advent. The time culminates in the season of Christmastide, which lasts twelve days. Regional variations on traditions and practices have evolved over the centuries and are specific to each country...
1. United Kingdom
Festive holiday lights, a decorated fir tree, Nativity plays, and groups of carolers singing Christmas carols roaming the streets, are just some of the traditions which occur in the UK during the holiday season. The traditions of Wassailing and Boxing Day were originally started in the UK. Wassailing, a custom rarely practiced today, but with origins from the ancient Anglo-Saxon times, is a traditional sharing of a specially prepared drink made of mulled ale, curdled cream, roasted apples, eggs, cloves, ginger, nutmeg, and sugar. It was served from huge bowls, often made of silver or pewter. Boxing Day, the day after Christmas, on December 26th, has origins from 800 years ago when churches would open their doors and put out boxes to receive alms for the poor.
Joey, a student from the UK, says, "On Christmas Eve, the entire family travels to somebody's house, and on the morning of Christmas Day, everybody gets together in the living room (by the tree of course) to open presents. Since I have become a student, this is the time when I finally get new socks, which truly makes it one of the most wonderful times of the year. [...] In the afternoon, we have a gigantic Christmas dinner which puts most of the family into a coma [...] On Boxing Day there are big sales so a few crazy/brave family members head into the city centre to do some shopping, and the time before New Year's is spent watching more movies on TV and eating endless meals made up of the leftovers from Christmas dinner."
As a student in the UK it's very likely that your university will offer organized events such as festivals, parades, live music, and more, where you might get to try bread pudding for the first time, among much other fare reserved for the holidays.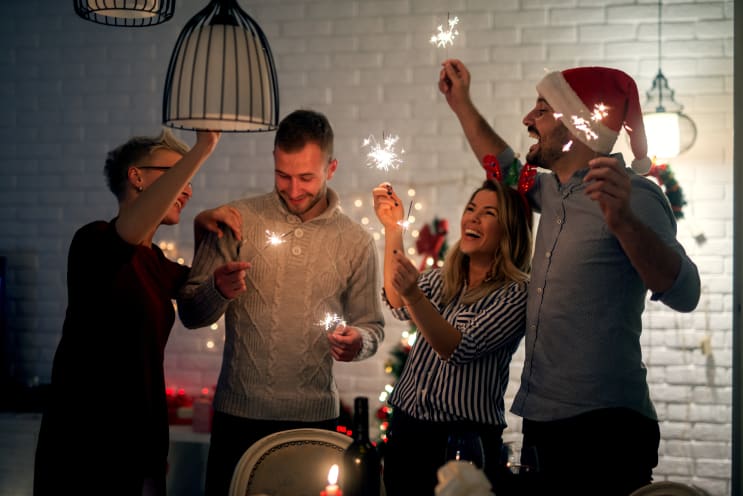 2. Germany
If you find yourself in Germany for Christmas time, then your day might include what this student, Asmo who is Finnish/German, has to say about his holiday plans: "We usually celebrate in a very small family circle, and in the days leading up to Christmas we will do some activities together such as visit a typical German Christmas market and bake Finnish 'piparikakkuja'. On Christmas eve we usually eat a classic Finnish meal called "Karjalanpaisti", a meat stew originally from Karelia, which is accompanied by 'Rosolli' salad and a potato, carrot or liver casserole. [...] On Christmas day then we switch to German cuisine, which means that for dinner we'll have a goose with red cabbage and dumplings. Christmas eve and day are always entirely reserved for family events, but on Boxing Day I will usually go out with some of my closest friends from high-school to relive some of the good old times and follow a southern German tradition called 'Christbaumloben'."
This special tradition is referred to as "praising the tree" and includes singing and proclaiming how excellent the Christmas tree is. Also, if you're an exchange student, your host family might serve you Stollen, a popular fruit yeasted bread.
3. The Netherlands
Students studying in the Netherlands will experience 'Sinterklaas', the original name for 'Santa Claus'. Dutch children expectantly await the arrival of Sinterklass. You might hear local church bells ringing in celebration and Sinterklaas, dressed in his red robes, leading a procession through the town, riding a white horse.
One student, Teresa writing for GapYear.com, says that during her year abroad in the Netherlands she'll, "be celebrating the Dutch Sinterklaas holiday with my boyfriend in The Netherlands. It's traditional to trade chocolate letters. I'll introduce him to Noche Buena, the Christmas Eve Spanish celebration where we'll have pernil (roasted pork) and lots of Coquito –- a Puerto Rican eggnog. It will be nice to spend the holidays celebrating our very different cultures under the same roof!" Of course, you'll not want to forget to put out your shoes to receive presents from Sinterklaas, too!
4. Denmark
"Glædelig jul!" and "Julemand" are "Merry Christmas!" and "Santa Claus" in Danish. You'll want to learn these words and more if you're studying abroad in Denmark over the holidays. Ellen, a student from Denmark says, "When we celebrate with my family in Denmark, we always celebrate on the 24th -- Christmas eve -- and start out by eating a lot of potatoes, roast pork with crackling, gravy and red cabbage. For dessert, we have risalamande (rice pudding and chopped almonds topped with cherry sauce) and we always play a game where whoever finds the one whole almond in the dessert, wins a gift. Afterwards, we dance around the Christmas tree singing songs and then the youngest person passes out gifts one at a time."
Unique to Denmark is the Julekalender (Christmas calendar), a television series with 24 episodes. One episode is shown each day in December with the last one being aired on Christmas Eve. The first Julekalender was shown on TV in Denmark in 1962. What a great way to practice your Danish and learn more about the culture!
5. Ireland
The Irish celebrate Christmas in much the same way as those in the UK and the US, but with some slight variations and regional differences. In Ireland, especially for Catholics, the celebrations last from Christmas eve until Epiphany, observed on January 6th, which some Irish refer to as "Little Christmas".
Due to an old tradition, you might see tall, thick candles placed in windows and burning all through the night to celebrate the welcoming of Mary and Joseph, the parents of baby Jesus. As a student in Ireland, you might want to learn the following phrases in Irish (or Gaelic), Christmas is 'Nollaig', Santa Claus is known as 'San Nioclás' (Saint Nicholas) or 'Daidí na Nollag' (Father Christmas) and Happy/Merry Christmas is 'Nollaig Shona Dhuit'.
Should you find yourself in Dublin, Galway, Cork, Belfast, Limerick, or Waterford, consider attending one of the many wonderful Christmas festive pop-up markets and fairs. You'll find traditional crafts, presents, and gift ideas to #shopIrish. Apparently, you won't want to miss the annual Dublin Flea Christmas Market, an event that attracts students and locals alike.
6. Finland
If you find yourself spending Christmas in Finland, then you're lucky. You've landed in the heart of the origins of many of the Christmas traditions! Many Finnish people believe Santa Claus lives in the northern, wild part of the country, Lapland or "Korvatunturi", north of the Arctic Circle. The traditional people of Lapland, the Sami, practice honoring the Winter Solstice. Danielle Prohom Olson writes for Gather Victoria, "For the Sami, the indigenous people of the Nordic countries, Beaivi is the name for the Sun Goddess associated with motherhood, the fertility of plants and the reindeer. At Winter Solstice, warm butter (a symbol of the sun) was smeared on doorposts as a sacrifice to Beaivi so that she could gain strength and fly higher and higher into the sky. Beaivi was often shown accompanied by her daughter in an enclosure of reindeer antlers and together they returned green and fertility to the land."
"Hyvää joulua!" is Finnish for Happy or Merry Christmas. Modern day Finnish celebrations for Christmas time include letter writing to Santa Claus, and if you're a student in Finland, you might want to take a trip to "Christmas Land", a big tourist theme park located in the northern part of the country. Or you might just have to take a trek to Rovaniemi, the "official hometown of Santa Claus," for a genuine Christmas experience. You'll be in the heart of Santa Land in Finland, quite literally, so take advantage of the cultural and regional delights surrounding this annual holiday season!
7. United States
As a self-proclaimed "melting pot" -- a country composed of people from around the world and from different cultural backgrounds -- the US hosts a hodgepodge of holiday seasonal offerings for the international student studying abroad. Often families will gather and have a Christmas meal of ham or turkey. You might find yourself stringing together a popcorn garland for the tree, building a gingerbread house, or drinking eggnog. The lighting of the tree is often a popular public gathering event in local towns, cities, and on college and university campuses. The Lincoln Center's holiday decorations in New York City are world-famous and attract thousands of annual visitors.
How do americans celebrate christmas? One example of holiday traditions on a US university campus is Seton Hall University's annual festivities. "Recognized for several years as Best College in America for "Holiday Events" for its impressive Christmas program, the university continues that tradition, starting with Tuesday's Mass at 5 p.m. at the Chapel of the Immaculate Conception, followed by the tree lighting at 5:30 p.m. on the University Green," reports Essex Daily News. "There will be hot chocolate and candy canes for all, donated by Gourmet Dining Services. Performances include the Seton Hall Sapphires, the Immaculate Conception Schola Cantorum, the Seton Hall University Gospel Choir, Concert Band, Pep Band, Seton Notes and the University Choir." Similar events organized by colleges and universities in the US happen around the country.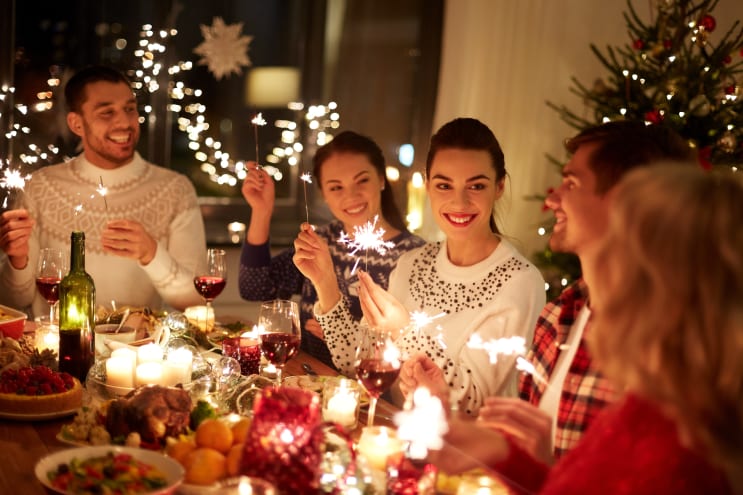 8. Australia
Are you going to be in the "Land Down Under" for Christmas? Studying abroad in Australia over the holidays offers a unique (and much warmer!) holiday experience. Sunny, sandy beaches, warm temperatures -- not necessarily your traditional Christmas scene, but it has its advantages, especially for those looking for something a little different.
Student Neil says, "I spent Christmas day on the sand eating BBQ and drinking beer with friends. It felt strange coating myself in factor 50 on Christmas Day, it didn't feel anything like what I would consider a normal Christmas to feel like. The shops were open, the buses were running, it felt like any other awesome gap year day and I kind of loved it for that reason. It was different from my usual Christmas and different was what I'd set out on my gap year looking for." Christmas in the summer might have its advantages. Barbeque? Pineapples? Swimming in the ocean? Sounds pretty nice!
9. Japan
According to WhyChristmas.com, "In Japan, Christmas is known as more of a time to spread happiness rather than a religious celebration. Christmas Eve is often celebrated more than Christmas Day. Christmas Eve is thought of as a romantic day, in which couples spend together and exchange presents."
You'll likely see couples out of romantic dates and spending a lot of money on gifts for each other on Christmas in Japan. If you find yourself in Kyoto as an international student at Doshisha University, you'll be lucky to see "a 23-meter-tall Himalayan Cedar, situated close to the West Gate on the Imadegawa Campus, [which] is decorated with Christmas lights every year. It's the second tallest living Christmas tree in Japan, and has in recent years become one of Kyoto's signature winter events." Or, if you're in Tokyo you definitely won't want to miss the light show! Donny Kimball, a Japanese resident and blogger, writes, "Popular "Illumination" sites include Tokyo Midtown (Roppongi), Shinjuku Southern Terrace, and Kobe's Illuminarie. No doubt, Kobe's Illuminarie is by far the most exquisite."
10. Philippines
Looking for another tropical oasis to spend your semester or year abroad? Want to drink out of a fresh cut coconut on the beach underneath a palm tree over Christmas? Perhaps you'll find yourself in the island country of the Philippines.
Most Filipinos are Christians with about 80% of people being Catholics. It's the only Asian country with so many Christians. Because of this, Christmas is the most important holiday in the Philippines. December is one of the 'cooler' months of the year in the Philippines, and is one of the months in between the wet and dry seasons.
If you're lucky enough to find yourself in the Philippines during the holidays, then you'll want to check out the light of the Ayala Avenue in Makati, signaled as the beginning of the festive holiday season. "The entire stretch, is illuminated by beautiful ornaments and installations, often highlighting Filipino craftsmanship and tradition, has captivated both local residents and visitors," reports Jan Milo Severo for PhilStar.com. You also might come across the 'paro', a bamboo pole or frame with a lighted star lantern on it. It's traditionally made from bamboo strips and colored Japanese paper or cellophane paper and represents the star that guided the Wise Men.
Wherever in the world you might find yourself this holiday season, at home or abroad, you'll be able to soak up some regional and country-specific Christmas time traditions, customs, and culinary delights. From light shows to craft fairs, to delicious desserts and traditional food, to gift-giving and spending time with family or new-found friends -- wherever you are, enjoy this season of joy and wonder!