Undergraduate Program of Architecture
Program Description
English-taught Undergraduate Program of Architecture

Among more than 1,800 higher-learning institutes in China, SEU is one of the oldest and top 20 for its more than a century's academic excellence and whole-person education. 34 of its schools and departments offer 64 Bachelor's, 210 Master's and 112 Ph. D programs. There are about 3000 full-time faculties and a current enrollment of 17,000 undergraduate students, 10,000 postgraduate students and nearly 1000 international students from 80 countries on 3 of its main campuses covering a total area of more than 400 hectares.

Features of the Program

The university's discipline of architecture takes the leading position home and abroad and keeps an increasing influence in the world. The graduates, including some prominent members of the Academy of Engineering of China and many noted experts, have contributed a lot to the development of architecture.

School of Architecture, SEU (formerly National Central University and Nanjing Institute of Technology) was founded in 1927 as the origin of China' modern architecture education. For the past 80 years, 3000 students graduated from School of Architecture, including 6 academicians of the Academy of Engineering and 10 Construction & Design Masters. 55% of the faculty in the school have doctor's degree and 70% have the experience of studying or working abroad. School of Architecture has academic cooperation and exchanges with many countries, such as U.S.A., U.K., France, Japan, Swiss, Sweden, Netherland, Germany, Australia, Korea, Austria and Singapore, and it has close contact with international organizations including UNESCO.


Qualification

Over 16 year's old, high school graduate or above, healthy foreigners

Language Requirements (The applicant should meet one of the following language equivalents.):

1. Graduate from high schools of English-speaking countries or where English is an official language.

2. IELTS: (Academic Level): 5.0

3. TOEFL: 61 (Computer-based) or 500 (Paper-based)


Application


Application Period: March 1 – June 30

Application Document:

1. SEU Application Form for International Students
2. Senior high school diploma (original or notarized version, in notarized Chinese or English translation)
3. High school transcripts (original or notarized version, in notarized Chinese or English translation)
4. Authorized Copy of TOEFL score 500 or above, or IELTS score 5.0 or above for those applicants whose mother tongue or official language is not English.
5. Valid passport copy

Application Procedure: The completed application form, together with the application fee and the required documents,should reach the Admission Office, College of International Students, SEU before June 30. Please keep the receipt of the application fee for the check.



Estimated Cost

Application Fee: RMB400

Annual Tuition: RMB26600

Annual Accommodation: RMB6000 (one occupancy in the room shared by two)

Duration of the Program: Architecture (5 years).



Last updated Feb 2018
About the School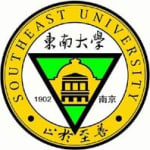 Southeast University (SEU) is one of the national key universities administered directly under the Ministry of Education of China. As a centennial prestigious university, it is located near the city c ... Read More
Southeast University (SEU) is one of the national key universities administered directly under the Ministry of Education of China. As a centennial prestigious university, it is located near the city center of Nanjing, to the west of the Purple Mountain and the south of Xuanwu Lake. Southeast University is one of the oldest institutions of higher learning in China, whose origin can be traced back to 1902 when it was founded as Sanjiang Normal College. In 2000 Nanjing Railway Medical College (which is listed by WHO), Nanjing College of Communication and Nanjing Geological School were incorporated into Southeast University. Now Southeast University has developed into a comprehensive university, boasting 30 schools or departments with 69 undergraduate disciplines in all. It also has 23 post-doctoral stations, and offers 96 Ph.D. programs and 210 Master's programs; it holds a national leader in architecture, civil engineering, electronics, information technology, energy, power engineering, and transportation technology, etc. Southeast University has the total number of faculty and staff of about 6000, including 2000 professors and associate professors, 10 academicians of the Chinese Academy of Sciences and Academy of Engineering. At present, the number of the full-time students is over 26000, of whom about 9000 are postgraduates. Southeast University places equal emphasis on research. It is one of the top 10 universities in scientific research and development in China,with over 20 national or provincial research institutes and a number of key research bases. Southeast University, with the principle of pursuing perfection, encourages the spirit of "rigor, truthfulness, unity, and diligence". In the development of Southeast University, international cooperation & exchanges play an important role. Since 1978, more than 4000 teachers or researchers have been sent abroad for academic activities or exchanges, and over 3500 foreign experts and teachers have been invited to our university for lecturing, cooperative research or academic exchanges. Up to now, more than 2039 international students from 60 countries have studied in this university. We have signed agreements of cooperation with more than 100 universities, research institutes or corporations in the countries such as Australia, Britain, Canada, France, Germany, Italy, Japan, Korea, Vietnam, India, Singapore, Switzerland, Sweden and the United States. We have built a new campus in Jiangning, situated in the development zone of Jiangning district in the south part of Nanjing, covering the total area of more than 246 hectares, with convenient transportation and beautiful natural scenery around it. The new campus was put into use in Sept. 2006, providing our teachers and students with better facilities and accommodation. We warmly welcome international students to study at Southeast University, where you'll enjoy a rich and rewarding academic experience.
Read less