Undergraduate Physical Education
Program Description
Entrance tests:
Biology

PI - physical. training

Russian language
Areas of professional activity:
sports clubs;

educational institutions of additional education (youth sports schools);

educational institutions of preschool, general and professional education (kindergartens, comprehensive schools, technical schools, colleges, universities);

committees on physical education and sport;

fitness centers and rehabilitation centers, medical institutions, sanatoriums, rest houses; sports and recreational structures of national parks and recreational lands, tourist clubs;
According to the actual monitoring of graduate employment published by the Ministry of Education and Science of the Russian Federation in the field of training on March 49, physical education employed 66.7% of graduates of ChSU, their average salary is 32,842 rubles.
The bachelor can continue his studies in the magistracy in related fields.
Graduating department: Department of Theory and Methods of Physical Culture and Sports.
Last updated Aug 2019
About the School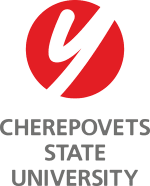 В июне 1996 года по Указу первого Президента Российской Федерации Бориса Николаевича Ельцина Череповецкий государственный индустриальный институт и Череповецкий государственный педагогический институт ... Read More
В июне 1996 года по Указу первого Президента Российской Федерации Бориса Николаевича Ельцина Череповецкий государственный индустриальный институт и Череповецкий государственный педагогический институт объединились. Так в Вологодской области появился единственный классический вуз – Череповецкий государственный университет. Сегодня это крупнейший научный, образовательный и культурный центр.
Read less