Program Description
Mechatronics is a new field of engineering that combines precision mechanics with intelligent control systems and modern information technologies. It is necessary for the design, manufacture and operation of brand new machines and systems.
Robotics is a field of science and technology focused on the creation of robots and robotic systems built on the basis of information-sensory, executive and control mechatronic modules.
A specialist in the field of mechatronics and robotics is able to:
apply the methods of computer-aided design of technical systems using appropriate software systems;
to develop algorithms and control systems for robots, robotic and mechatronic systems;
apply artificial intelligence methods, develop an intelligent interface, create knowledge systems and expert systems;
to ensure the implementation and operation of mechatronic and robotic devices;
own the skills of working in software packages: AutoCAD, VISIO, iFix <CoDeSys, SyAn, MathCAD, MatLAB, Simulinc;
Main academic courses
Courses in Programming: Programming and Computational Workshop, Computer Architecture and Operating Systems, Databases and Operating Systems, Applied Software Packages, Computational Programme Packages
Courses in Mechanics:Theoretical Mechanics, Fluid and Gas Mechanics, Solid Mechanics
In addition to general courses, students are provided with specialised courses in all major branches of Mechanics:
Computer Methods in Mechanics
Mechanics of Robots
Vibrations and Waves
Asymptotic Methods in Mechanics
Stability and Motion Control
Rarefied Gas Dynamics
Experimental Aerodynamics
Gas Dynamics
Stability of Plates and Shells
Problems of Structural Stability
Theory of Plasticity
Electromechanical Models of Solids
Functional Materials
Engineering Methods in Fracture Mechanics
Physical Mechanics of Continuous Media
Extremal Problems in Mechanics
Elements of Physical Mechanics
Last updated Jan 2020
About the School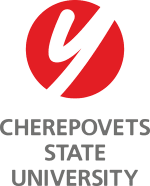 В июне 1996 года по Указу первого Президента Российской Федерации Бориса Николаевича Ельцина Череповецкий государственный индустриальный институт и Череповецкий государственный педагогический институт ... Read More
В июне 1996 года по Указу первого Президента Российской Федерации Бориса Николаевича Ельцина Череповецкий государственный индустриальный институт и Череповецкий государственный педагогический институт объединились. Так в Вологодской области появился единственный классический вуз – Череповецкий государственный университет. Сегодня это крупнейший научный, образовательный и культурный центр.
Read less