Undergraduate Architectural Design
Program Description
Cherepovets is one of the fastest growing cities in the North-West. More than 100 thousand square meters of housing are commissioned annually in the city, and business and industrial infrastructure is being actively built. Do you want your ideas to be embodied in the guise of the city? It is possible! Studying under the Architectural Environment Design program, you will not only be able to realize your artistic ideas, but you will also know everything about using innovative engineering solutions.
The training program allows you to reveal your creative abilities. It is up to you to solve the problems of creating urban, industrial, landscape gardening and interior ensembles. During the training, you will be able to practice in all the most significant enterprises and institutions of the construction complex of Cherepovets. Priceless skills in AutoCAD, 3DS MAX, ArchiCAD, Photoshop, coupled with the knowledge of a civil engineer, will help you successfully start in one of the most promising and highly paid industries.
Entrance tests:
Maths

PI - drawing, plotting

Russian language
The main disciplines:
modern architecture and design;

architectural and design design;

computer technology design;

landscape architecture and design;

architectural color;

history of architecture, design, art;

drawing, painting;

architectural graphics;

Fundamentals of the theory of urban planning and regional planning.
Places of future work:
enterprises of the construction complex;

design and engineering departments, workshops, bureaus;

trade salons, trade shows;

management of architecture of districts and cities.
Place of practical training and main places of work:
departments and departments of city architecture;

architectural workshops;

design bureaus and institutes;

home interiors;

commercial enterprises and organizations.
Graduating Department: Department of Design of the Architectural Environment
Bachelor in the direction of 03.03.03 - "Design of the architectural environment" prepared for continuing education in the master's program in related areas.
Last updated Aug 2019
About the School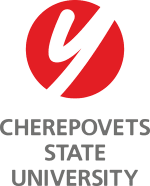 В июне 1996 года по Указу первого Президента Российской Федерации Бориса Николаевича Ельцина Череповецкий государственный индустриальный институт и Череповецкий государственный педагогический институт ... Read More
В июне 1996 года по Указу первого Президента Российской Федерации Бориса Николаевича Ельцина Череповецкий государственный индустриальный институт и Череповецкий государственный педагогический институт объединились. Так в Вологодской области появился единственный классический вуз – Череповецкий государственный университет. Сегодня это крупнейший научный, образовательный и культурный центр.
Read less