Three-year university course in science and culinary / art bachelor of science culinary art
Home ›
BSc ›
Three-year university course in science and culinary / art bachelor of science culinary art
Program Description
The first course of Italian university level "Bachelor of Science", dedicated to Science and Culinary Arts that combines the technical skills and scientific skills required to a level cook. The culinary arts and food science learned by the student make it a Chef prepared and creative able to realize savory dishes, healthy and excellent from the sensory and nutritional point of view. Chefs with these features work in the kitchens of the best restaurants, or lie in the catering industry research, becoming:
Executive Chef,
Food consultant,
Owner chef restaurateur,
Controller of the supply industry,
Expert Research and Development of Food Preparations,
Teacher of Cuisine and Gastronomic Sciences in private schools.
A practical course of academic and scientific cutting incorporating art and culinary research as proposed by other important international schools; a new course in the world of cooking schools and Italian gastronomy issuing a Bachelor Degree, equivalent to the Italian Laurea Triennale, complemented by an internship of two months in a major restaurant coquis circuit.
Admission Requirements
He graduated high school, hotel school, or High School
motivational interview in the case of different degree
Letter of motivation to study and career in the culinary industry
Study plan
The course Students learn the scientific power bases, the history of the Italian, European and international, combining the knowledge of science in an interdisciplinary way. We study microbiology, chemistry, biochemistry, science of nutrition, but also history, anthropology and sociology of food, addressed theoretical subjects virtually culinary laboratory situations, which makes up about 2/3 of the course hours.
They are provided for educational visits to livestock farms, in dairies with tasting of products, at the major markets of Rome.
The course includes an internship of two months.
The course is conducted in collaboration with Slow Food related aspects territory with FIS (Italian Sommelier Foundation), with the UNIVERSITY 'OF Tor Vergata, for matters relating to food science scientific.
First year
Fundamentals of Food Science, 6 ECTS credits
Anthropology and Anthropology of Food, 4.5
Science of Nutrition and Dietetics, 6
HACCP, Sanitation and Food Security, 3
Laboratory of Culinary Science I: Dynamics, Temperatures and Physical Properties of Dishes, 10.5
Agriculture and Food Production System, 6 ECTS credits
History of Italian Cuisine, 4.5
Science of Taste and Perception, 6
Culinary equipment, ingredients and techniques, 6
Laboratory of Culinary Science II: Principles of Basic Preparations, 7.5
Second year
Laboratory of Culinary Science III: Principles of Complex Preparations, 9 ECTS credits
Functionality of ingredients: Consistency of Development, Stability and Texture Development, Stability, and Outcome of Flavors, 7.5
English Language Applied to the kitchen I, 4.5
Fromagerie: Technical and Production, 4.5
History of European cuisine, 4.5
Oven and Pastry: Principles and Applications, 6
History of the cuisine and Asian American, 4.5
Oenology I: Principles, 4.5
Food Marketing and Applications, 6
Science Laboratory IV Gastronomy: Scientific Evaluation of Traditional Kitchen, 9
Third year
Laboratory of Culinary Science V: Research and Development of preparations, 9
Research on Preparation Temperatures, 6
English Language Applied to the Kitchen II, 4.5
Enology II: Pairing Food and Wine, 4.5
Stage, 6 ECTS credits (two months, eight hours a day, 40 hours per week)
Professional Development Chef, 6
Laboratory of Culinary Science VI: Scientific Assessment of Contemporary Kitchen, 7.5
Menu: Design and Development, 6
Work
Together with Bachelor Degree in any case supported the Thesis, it will be released on HACCP certificate needed to work in the field of gastronomy.
Each course participant has the opportunity to learn during the three-year study linked to enogastronomy professionals coquis, which according to the students' progress can facilitate their entry into the world of work, thanks to "coquis Network" and contacts with sector companies, which consider the University of Italian cuisine a reference point for the search and selection of qualified personnel.
professors
The faculty is composed of professionals in the food and wine sector, academics, professional chefs, Michelin starred chef. The team of teachers is orchestrated by the Director of Studies coquis Angelo Troiani, Chef of the restaurant "Il Convivio Troiani" in Rome.
seat
The theoretical and practical activities are carried out at the headquarters in Via Flaminia 575, 00191 Rome. The seat coquis is equipped with modern technologically equipped classrooms. The workshops are designed like the kitchen of a restaurant, with large desk-work and complete with hot and cold lines.
Last updated Mar 2020
About the School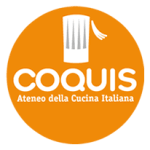 Coquis è l'Ateneo Italiano della Cucina, offre Corsi Professionali di Cucina, Pasticceria, Pizza, Sala e Management per formare i migliori Professionisti del settore. Un percorso di qualità che garant ... Read More
Coquis è l'Ateneo Italiano della Cucina, offre Corsi Professionali di Cucina, Pasticceria, Pizza, Sala e Management per formare i migliori Professionisti del settore. Un percorso di qualità che garantisce l'accesso al mondo del lavoro...
Read less