Specialty Performance Psychology
Program Description
One of the most popular specialties in modern practical psychology. The specialization of the field allows you to train specialists, primarily those focused on solving practical problems, including:
assessment and prediction of the moral and psychological state of the service team during the preparation and implementation of operational-service and service-combat tasks;

selection, preparation, placement and development of personnel of the internal affairs bodies that meet modern requirements of the law enforcement service;

taking measures to weaken the influence of psycho-traumatic factors in official activities, to prevent misinformation and demoralization, and to reduce psychogenic losses.
Entrance tests:
Biology

Maths

Russian language
Field of professional activity:
The field of professional activity of psychologists includes: solving complex tasks of psychological support of management, official activities of personnel and units in the field of law enforcement, defense, security of the individual, society and the state, education, social assistance, organization of work of psychological services that provide services to individuals and organizations, and psychological education.
Objects of professional activity:
Mental processes, properties and conditions of a person, their manifestations in official activities, in interpersonal and social interactions at the level of an individual, group, community.
Areas of professional activity:
psychological services of various government organizations;

HR departments of organizations, firms and enterprises.

educational and scientific institutions;
Types of professional activity:
practical;

research;

organizational and management;

pedagogical;

special.
The bachelor can continue his studies in the magistracy in a related direction: PSYCHOLOGY.
Graduating Department: Department of Psychology and Pedagogy.
Last updated Aug 2019
About the School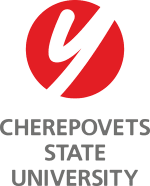 В июне 1996 года по Указу первого Президента Российской Федерации Бориса Николаевича Ельцина Череповецкий государственный индустриальный институт и Череповецкий государственный педагогический институт ... Read More
В июне 1996 года по Указу первого Президента Российской Федерации Бориса Николаевича Ельцина Череповецкий государственный индустриальный институт и Череповецкий государственный педагогический институт объединились. Так в Вологодской области появился единственный классический вуз – Череповецкий государственный университет. Сегодня это крупнейший научный, образовательный и культурный центр.
Read less