Program Description
Direction of Pedagogy
Within the Pedagogy field, which integrates social sciences and the humanities, qualified teachers and educators are prepared, who will also be animators of social life, culture - its dissemination and development in the social environment. This contributes to the creation of new elites and social leaders. Direction prepares to work with people of all ages (children, adolescents, adults, older people), as well as diverse needs, meeting social expectations and pointing to the value of the difference, and the humanistic importance of supporting the weaker and requiring special educational activities. Through individualization, friendly atmosphere and material help, it creates favorable conditions for studying for adolescents and adults, especially those for whom access to large academic centers is impeded or impossible.
Specialties run during the study:
Early school and preschool pedagogy (PWiP)
Pedagogy of caring and resocialization (POiR)
Pedagogic tutoring with geragogy (care for the elderly) (POzG)
Elementary and integration education (EEiI)
tasks for the diploma examination in Pedagogy
Profile of graduate
The graduate of Pedagogy has basic pedagogical, historical-philosophical, sociological and psychological knowledge essential for understanding the socio-cultural context of education, upbringing and caring work and for shaping one's own professional development.
The graduate earns a basic vocational qualification depending on the chosen specialty:
Specialty: PWiP
as a teacher - as a teacher training teacher in kindergartens, elementary schools in grades 1-3, local government educational institutions, school and community centers, jordan gardens, family children's homes and professional foster families, as an assistant family in the municipality.
Specialty: POI
as a child home educator, caregiver, community day care centers, multifunctional care and education centers and institutions such as Youth Education Center, Youth Sickness Center, Juvenile Shelter, Correctional Institution, Detention Center, Criminal Division.
Specialty: POZG
as a pedagogue and school educator, as an educator in educational institutions (day centers, dormitories, dormitories), in subordinate offices of the Minister of National Education (clubs, associations, etc.), in the subordinate offices of the Ministry of Labor and Welfare (24/7 support centers for children as well as in secular, religious, non-governmental, private, home and institutionalized forms of assistance to seniors and their families (day homes, senior clubs, interest groups, self-help groups) .
Specialty: EEiI
as a teacher of classes and integration units in kindergartens, a support teacher in grades 1-3, a teacher of special schools and kindergartens, a teacher of individual education with students with specific educational needs, in educational centers, therapeutic centers, rehabilitation centers, associations, foundations, societies acting for disabled children.
Last updated Mar 2020
About the School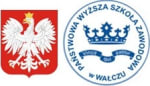 WSZ in Wa?cz has been developing dynamically from the very start and, despite its "young age", has become a leading higher education institution in the region. Our staff members come from renowned uni ... Read More
WSZ in Wa?cz has been developing dynamically from the very start and, despite its "young age", has become a leading higher education institution in the region. Our staff members come from renowned universities and colleges from all around Poland. The college is located in two building complexes; a neo-gothic building from the beginning of the 20th century, and former army barracks spread over an area of 4,6586 hectares. The rector's office, other authorities' offices and administrative offices, as well as the computer lab, some lecture rooms and the aula are located in the historic, neo-gothic building. Most of the regular classes and lectures are held in the former army barracks, which have been modernized and adapted for teaching purposes. The class and lecture rooms are of high standard and are equipped with high quality multimedia facilities. As the quality of teaching is a priority at PWSZ in Wa?cz, labs and classes are taught in small groups and with the use of modern techniques.
Read less