On Campus Bachelor of Science (Civil and Structural Engineering)
Home ›
BSc ›
On Campus Bachelor of Science (Civil and Structural Engineering)
Read more about this program on the school's website
Program Description
In this accredited and prestigious programme you will gain:
Skills and know-how in the latest and developing technologies in civil and structural engineering
Practical guidance and feedback from civil and structural experts from around the world
Knowledge from the extensive experience of expert lecturers, rather than from just theoretical information
Global networking contacts in the industry
A valuable and accredited Bachelor of Science (Civil and Structural Engineering) qualification
One of the oldest forms of engineering is civil and structural engineering, which involves the design, construction, and maintenance of the built environment. Engineers in this field are responsible for ensuring that the infrastructure around us, gets developed, is safe, meets our needs and improves our quality of life. This includes buildings, bridges, railways, tunnels, water distribution and waste management networks. As a civil engineer you could be involved in sustainable urban development, environmental protection, conservation of energy and water resources, or even geotechnical, hydraulic or transport engineering. You could even specialize in fields such as earthquake and blast-resistant technologies.
Course at a Glance
Code: BCSOC
Course Length: 3 years, full-time
Course taught in English
CRICOS Provider Code: 03567C | CRICOS Course Code: 095812M
Professional Recognition
Like all Australian higher education providers and universities, EIT programs are accredited by the exacting standards of the Australian Government's Tertiary Education Quality and Standards Agency (TEQSA). This bachelor's degree is provisionally accredited by Engineers Australia under the Sydney Accord. It is internationally recognized under the International Engineering Alliance (IEA) accords and the various signatories.
Presentation Format
EIT on-campus programmes include tutorial and lecture sessions, practical lab exercises, class/group discussions and personal study time. EIT uses a blended model of learning with industry experts and academics based locally and streamed in from around the world.
Our students have access to a personalized student portal where all course materials are available 24/7.
Each unit is composed of 10 hours of study per week. Full-time on-campus students will study 4 – 4.5 units per semester and are required to be on campus for a minimum of 20 hours per week for the tutorial, lecture, lab/workshop and self-study sessions.
Practical Exercises, Remote Labs and Assignments
All EIT programmes provide access to remote laboratories and cutting-edge simulation software. Hands-on laboratory practicals are an essential component of EIT's programmes to ensure our students put theory into practice. These hands-on workshops cover the major discipline-specific applied skills required for competency in engineering practice.
Learning Support
Remote and on-campus students need support, encouragement and a go-to person. Our students are supported by dedicated Learning Support Officers (LSOs) and Course Coordinators for the duration of their studies, giving them a greater chance of success. Students studying our degrees will have a committed LSO for each unit of study.
Entry Requirements
A Year 12 Australian Senior Certificate of Education (or equivalent for International Students), completed within the past 2 years, with adequate achievement in Maths (contact EIT for more details). Applicants who have completed Year 12 (or equivalent for International Students) more than 2 years ago will also need to show relevant work experience in the field of study applied for; OR
A relevant (to the sub-discipline) Engineering AQF Diploma, Advanced Diploma, Associate Degree (or higher) with successful completion of all Maths units/modules; OR
An overseas qualification equivalent to Point 2 above from a structured programme of learning that leads to the full or partial achievement of an officially accredited qualification undertaken at a tertiary institution such as a university, government technical college, or government-recognized private college (EIT assesses overseas qualifications using Australian Government guidelines to determine their comparability to qualifications); OR
International Baccalaureate (IB) Completion with a minimum score of 24 including English and Maths completion; OR
Foundation studies or bridging course completion in a relevant discipline with completion of Mathematics and English. e.g. Engineering enabling course; AND
Satisfactory English language proficiency at an English pass level in an Australian Senior Certificate of Education (or equivalent for International Students); OR
A specified level of achievement in a recognized English language test such as IELTS at a score of at least 6.0 (with no individual band score less than 5.5); or equivalent as outlined in the EIT Admissions Policy.
A Maths bridging test/exam (non-proctored/invigilated) needs to be completed by all Higher Education students during orientation week.
An English proficiency test must be completed by all Higher Education students studying on campus. This will be administered during orientation week.
International students who wish to study on campus in Australia will need to have a valid international student visa. For more information please complete the contact form available on this page.
Prior Learning Recognition and Exemptions
EIT can give you credit for units where you can demonstrate substantial prior experience or educational background. An assessment fee may apply.
Testimonials
"I would like to thank you for your support and help during this duration of the programme. EIT has a wonderful support team; thankful for that. I would definitely recommend EIT to my friends. I feel ready to face the real world. Thank you."
Azad Sahib, Canada

"EIT has provided me with the best education experience so far."
Onoriode Akporherhe, Nigeria
Last updated Oct 2020
About the School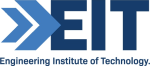 The key objective of the Engineering Institute of Technology (EIT) is to provide an outstanding practical engineering and technology education; from Diplomas through to Masters Degrees. The finest eng ... Read More
The key objective of the Engineering Institute of Technology (EIT) is to provide an outstanding practical engineering and technology education; from Diplomas through to Masters Degrees. The finest engineering lecturers and instructors, with extensive real engineering experience in the industry, are drawn from around the world. The learning is gained through face-to-face classes as well as synchronous, online (eLearning) technologies.
Read less