Master in Business Administration
Program Description
If you are interested in the direction and management of companies , UADE is for you, because it is closely linked to the world of organizations and has always been the reference University in the field of Administration Sciences .
For more than four decades, UADE has offered a permanently updated career, of which more than 7,000 students have graduated, who are now managers and directors of leading companies.
Why study Administration at UADE?
First private university in Argentina to dictate the race.
In UADE Administration ,

students

learn, doing

: our students analyze and solve real business cases, use business simulators, attend companies and receive visits from businessmen and managers in classes.
Double degree with BSEL University (Berlin School of Economics and Law): pursuing an academic year at the university, get two degrees: a

BA

/ a Management Company s UADE and Bachelor in Business Administration

from the University BSEL.
Flexible study plan:

you can complete up to 25% of the Business Administration curriculum in

virtual

or

intensive format

and choose to take the course in any of the three shifts (morning, afternoon or evening).
You can guide your training in other disciplines such as Finance, Human Resources, International Trade or Marketing (Marketing), through the selection of optional subjects such as Investment Portfolio Management, Coaching, Neurolinguistic Programming, Introduction to International Business, Purchase Behavior and Consumption

, among others.
Quick labor insertion

: from the first day you register to the University, you will have access to the

UADE

Employment Portal

that will allow you to apply for one of the more than 2,000 job searches published annually for the Business Administration career.
85% of our students of higher years are working in first class companies.
Exchange programs abroad

: you will have the possibility of studying an academic semester abroad in one of the 105 universities with which we have an agreement.
Once you graduate from the Business Administration career, in one or two additional years you can receive: Public Accountant, Lic. In Marketing (Marketing), Lic. In International Trade, Lic. In Human Resources or Lic. Finance.
Profile and scope
Profile
The race is aimed at training managers capable of efficiently managing scarce resources and managing all types of organizations in markets of complexity, internationalization, interdependence and growing technological change that enables greater labor insertion through the development of a proactive and innovative professional profile, which he does not expect the company to be responsible for his professional career, but rather it is the same student who determines that path by applying for positions and companies in which he will best provide his services.
What are the advantages of studying Business Administration at UADE?
To deepen in the orientation that the student decides to give to his career, selecting electives and participating in exchange programs with foreign universities.
Acquire work experience before graduating , through the internship service offered by the university.
How is this goal achieved?
Providing students with the knowledge and skills that enable them to efficiently and effectively exercise managerial functions in companies and institutions.
Focusing the curriculum to the management of organizational innovation (products, processes and technology), given that an important factor of competitiveness that companies must possess is their ability to innovate . Successful companies know that in order to innovate they need professionals open to new ideas , prepared to accept technological change and actively participate with the contribution of proposals that add value to customers and the company itself.
The development of management functions at all levels requires knowledge of the instruments and systems for the planning , organization and global control of the business, as well as for the definition of policies by functional areas (local and international marketing, finance, accounting, supply , production, HR, systems). However, this knowledge must be complemented with the development of managerial skills that stimulate the ability to analyze and make decisions, leadership and communication , as well as attitudes aimed at innovation and entrepreneurship .
Reaches

Incumbrances:
Any opinion intended to be presented before judicial, administrative or public authorities in matters of management and administration for advice in:
The directive functions of analysis, planning, organization, coordination and control.

The development and implementation of policies, systems, methods and procedures of administration, finance, marketing, budgets, costs and personnel administration.

The definition and description of the structure and functions of the organization.

The application and implementation of data processing systems and other methods in the management information process.

Regarding industrial relations, remuneration systems and other aspects related to the human factor in the company.

Any other question of management or administration in economic and financial matters with reference to the functions that are proper to it.
In judicial matters:
For the functions of liquidator of commercial or civil companies.

As an expert in their field in all jurisdictions, in the ex officio designations for the tasks of administrator at the managerial or managerial level in the judicial interventions, preference will be given to the Administration Graduates, notwithstanding that other antecedents are taken into consideration. relationship with such designations.
Curriculum
First year
Business Administration I

Marketing

Management of People in Organizations

Introduction to Law
Business Statistics I

Business Administration II

Business Mathematics I


Language, Logic and Argumentation

Accounting I

World Economic History

Second year
English I

Business Mathematics II


Obligations and Contracts

Individual Work Law

Global Marketing

Corporate law

Microeconomics

Business Statistics II

Design and Audit of Information Systems

Management accounting
Third year
Financial Calculation

Platforms and WEB Business

operations management

Macroeconomy

Optional (1 Subject)

Intermediate title: Accounting Administrative Analyst
Taxes


Cost System

Operative Programming

Leadership and Negotiation

Optional (1 Subject)

Fourth year
Strategic Management

Corporate Finance I

Integrated Company Information

Innovation in Value

Consultancy

Business Decision Analysis and Decision Making

Business Development

Business Simulations


Final Research Work in Administration

Optional (1 Subject)


Last updated Mar 2020
About the School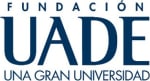 UADE es una institución con 50 años de actividad en la enseñanza universitaria, que se concibe, nace y desarrolla desde una perspectiva de gestión global. Fue creada con el objeto de formar profesiona ... Read More
UADE es una institución con 50 años de actividad en la enseñanza universitaria, que se concibe, nace y desarrolla desde una perspectiva de gestión global. Fue creada con el objeto de formar profesionales que, por medio de carreras innovadoras, se adecuaran a las crecientes necesidades de las diferentes industrias.
Read less