Program Description
Bachelor of Business Administration
Presentation and Professional Profile
The course aims to enable the student to work in the most diverse areas, such as Foreign Trade, Finance, Logistics, Marketing, Production, among others.
General objective
To train higher level professionals with capacity to act in the administrative area, observing ethical principles, that are capable of interacting in the social environment, contributing to the strengthening of the institution, be it in the business or public area, besides contributing to promote the transformations that are processed in society.
Specific objective
As specific objectives of the Course, the main skills that will be developed in the trainees are: - Apply contents that foster innovation and creative ability; - Resolve situations with adaptation and flexibility; - Develop logical, critical and analytical reasoning; - Understand the administrative whole; - Use interpersonal communication and correct expression in the interpretation of reality; - Develop the capacity to order activities and programs; - Resolve situations that involve the decision by alternatives and dimensioning of risks; - Apply theories in different organizational and social contexts.
Job market
The service sector offers the most opportunities, especially in the business tourism sector. In the general administration, the highlight is Human Resources, Logistics, Finance and Sales. UNIESP Management students learn how to deal with various everyday business challenges, how to avoid and find fault, what are the best postures and attitudes to solve employees' behavioral problems, what their roles and responsibilities are, as administrator and As a citizen, etc.
Main Theoretical and Practical Disciplines
The first two years are occupied by basic subjects such as Mathematics, Statistics, Law, Sociology, Accounting and Computer Science. Starting in the third year, specific subjects such as Logistics, Finance, Marketing and Human Resources start.
Supervised internship
The internship is a moment of fundamental importance in the vocational training process. We, at UNIESP, conduct a training that enables the student to experience what is being learned in the Faculty, with the function of integrating the numerous disciplines that make up the academic curriculum, giving them a structural unity and testing them the level of consistency and the degree of Entation.
Last updated Mar 2020
About the School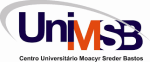 Tudo começou há mais de sete décadas no bairro de Campo Grande com o Colégio Afonso Celso, projeto educacional comprometido com os ideais, as necessidades e a cultura da Zona Oeste carioca. A primeira ... Read More
Tudo começou há mais de sete décadas no bairro de Campo Grande com o Colégio Afonso Celso, projeto educacional comprometido com os ideais, as necessidades e a cultura da Zona Oeste carioca. A primeira unidade de ensino universitário, criada em 1969, foi a faculdade de Ciências Econômicas, Contábeis e Administrativas Moacyr Sreder Bastos. Ao longo desses anos, aprendemos que a imagem de uma universidade é a imagem de cada um de seus alunos - sua formação, seus conhecimentos, sua visão de mundo, sua capacidade de enfrentar obstáculos. E, acima de tudo, a sua consciência de cidadania. O aluno é o nosso maior patrimônio, nosso espelho. Por isso jamais permitimos que a visão puramente mercadológica do ensino se sobreponha aos valores éticos. Tradição e modernidade, qualidade acadêmica de excelência e pioneirismo, competência e credibilidade, avanço tecnológico e a melhor infraestrutura da Zona Oeste do Rio de Janeiro/RJ. Todas estas características definem o Centro Universitário Moacyr Sreder Bastos, que forma não apenas bons profissionais preparados para enfrentar o mercado de trabalho, mas sobretudo bons cidadãos. Nossa missão sempre foi contribuir para a construção e a disseminação do conhecimento, capacitando o cidadão para a transformação dos meios social e profissional. E o desejo de atingir a estes objetivo, a partir do momento em que passamos a integrar o grupo Educacional UNIESP, se tornou ainda mais forte dentro de cada um de nós.
Read less