Program Description
The course of Directors of Celso Lisboa offers a comprehensive training, allowing the trainee performance in the areas of Human Resources, Marketing, Finance or Operations in services or industry.
The profession is the most popular in the country, highlighting the importance of the administrator in the national socio-economic scenario.
PROFESSIONAL MARKET:
The Administrator formed by Celso Lisboa can act in various areas companies:
Hospitality - the management of hotels, hotels, theme parks, taking care of the operation of the establishment of their services and their maintenance.
Financial - in the coordination of financial institutions activities, dealing with assets, working capital, budgets and cash flow analysis.
Human resources - in the care of relations between employees and company, coordinating the selection and admission, career plans and salaries and incentive programs, training and development of people.
Hospital - in the management of hospitals, clinics, emergency rooms and health care facilities, as well as be able to work together to plan and health insurance.
Production - in the areas of production planning and control, quality control, distribution and logistics.
Third Sector - in the planning and coordination of activities of nonprofit organizations, managing fundraising and its application in environmental projects, educational, professional or community.
Marketing - the definition of business performance plans, studying customer needs, developing products and services to meet them.
Education - in educational institutions, taking care of the planning and management of resources required for educational activities.
DURATION: 8 semesters
Schedule: Morning and Night
Start of Classes: 02/22/2016
Last updated Mar 2020
About the School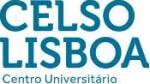 Celso Lisboa nasceu na cidade do Rio de Janeiro no início do século 20.
Celso Lisboa nasceu na cidade do Rio de Janeiro no início do século 20.
Read less