International Undergraduate Program (IUP) in International Relations
Home ›
Bachelor ›
International Undergraduate Program (IUP) in International Relations
Program Description
The IUP program offers a cutting-edge curriculum with a strong emphasis on three foci of study: Global Politics and Security, Peace and Conflicts Studies, and International Political Economy and Development.
Upon completing their study at IUP in International Relation, graduates are expected not only to be the members of global society, but also to inspire and bring about changes to the existing political, economic, and social conditions, and to lead their transformations to build a better world.
The program envisions and endeavors toward a just, peaceful, and civilized society. The courses offered in the program reflect this vision and are structured along two main threads. First, the courses contain a set of studies on various objects related to international relations. Second, they also contain discussions about the way international relations are portrayed and explore the views about how the future of international relations should be. To this end, students will not only be equipped with mere knowledge and skills, but also with a critical attitude toward the existing conditions in international relations, such as injustice, inequality, poverty, environmental degradation and violence to master the following competencies, i.e. Diplomacy, Transnational Affairs, Research and Academics, and Journalism.
Vision
To be a program that is committed to developing education and serving the community based on research in the field of International Relations, with a commitment towards a just, peaceful and civilized global society.
Mission
To execute research and study that is theoretically oriented or is aimed at solving practical issues.
To organize a process of education that is both innovative and collaborative.
To advocate for the values of justice and civility, peace through action, reflection, and emancipation.
To establish educational, research, and community service facilities in accordance with technological advances.
To create an environment that encourages the academic achievement of students and faculty.
To implement good university governance.
Expected Learning Outcomes/Competencies
At the end of the program, students are expected to have seven competencies, specified into the following knowledge, attitudes, and skills:
Explain peace, justice, and civility.
Appraise basic concepts and recent developments in the field of IR (specifically in the subfields of Global Politics and Security, Peace and Conflict Studies, or International Political Economy and Development, as well as in the area studies of AMEURO, AFROMEAS, and/or ASPAC).
Develop critical thinking and determination to learn beyond the classroom.
Develop awareness, solidarity, creativity, and nonviolent activism as responses to social, political, economic, and cultural issues affected by international relations.
Formulate ideas eloquently in written, oral, and multimedia formats.
Participate and take leadership in multicultural interactions, including in foreign political, social, economic, and cultural systems.
Perform diplomacy, negotiation, mediation, and facilitation.
Graduation Criteria
Completion of a minimum of 144 credits, including Student Community Service (Kuliah Kerja Nyata or KKN) and Undergraduate Thesis.
Minimum cumulative GPA of 2.00.
Completed all compulsory courses with grades no lower than C.
Total D grades received does not exceed 10% of the total grades received.
Received no E grades.
Passed the undergraduate thesis defense.
Curriculum
Following UGM's requirements, each student must complete, in no more than five years, 144 credits. Of these, 12 credits are fulfilled through university-mandated courses (including community service) and another 12 through faculty-mandated courses. This means that there are 120 credits taken at the program level, consisting 54 credits of compulsory courses (including 6 credits of undergraduate thesis) and 66 credits of elective courses (including 6 credits that can be taken from other departments or faculties).
During the first year, students must complete the required courses from both the faculty and the department. These include courses that introduce students to the three concentrations and the three area studies.
Having gained basic knowledge, attitudes, and skills from the introductory courses, in the second year, students must choose one out of three concentrations: (1) Global Politics and Security, (2) Peace and Conflict Studies, or (3) International Economy and Political Development, taking as block nine concentration courses. It is also mandatory for every student to complete five out of seventeen area studies courses.
In the third year, students start to take cross-concentration and cross-departmental courses. They must choose at least six out of eighteen courses offered by a concentration outside of their focus and are allowed to take a maximum of two cross-departmental courses. During this year, students taking the international program to participate in student exchange, double degree program, or study abroad in one of UPIR UGM's partner universities. In addition, this year students compose a thesis proposal while taking the Independent Study course.
Students are expected to complete community service (Kuliah Kerja Nyata/KKN) and Undergraduate Thesis in their fourth and/or fifth year.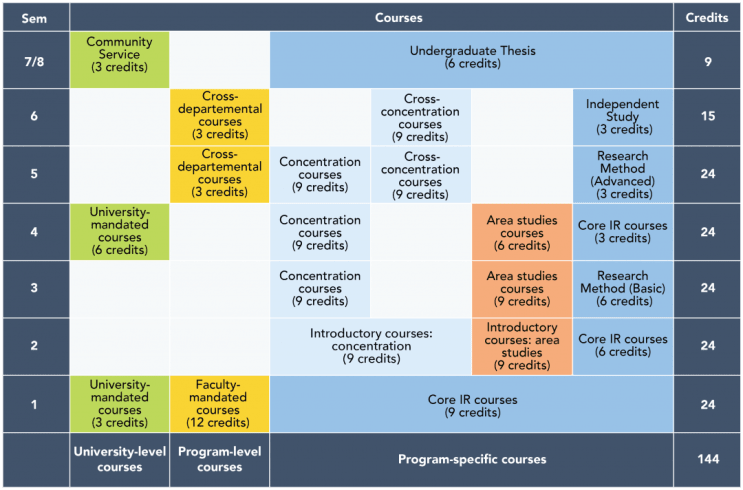 Admission Requirements
Completion of Senior High School or an equivalent level of education.
Passed SNMPTN (National Selection for Entry into State University), SBMPTN (Joint Selection for the Entry into State University), Seleksi Jalur Prestasi, UTUL UGM (UGM written test), or Seleksi Program Internasional(International Undergraduate Program selection).
Admission Procedures
Sign up for an application account.
Complete the online application form and upload the necessary documents (Minimum 150 KB and maximum 200 KB).
Pay a non-refundable application fee via Multi-Payment System of Bank Mandiri, BNI, BRI, BSM, or BTN as requested.
Print application form. If you encounter any problem printing the application, please feel free to contact us.
Admission Card can be printed on the day as mentioned in your application account.
Prospective Career Options
The graduates of UPIR UGM shall be competent to hold a profession in at least one of the following fields:
Diplomatic affairs
Academia
Transnational affairs
Journalism
Last updated Oct 2019
About the School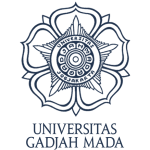 Considered one of the oldest universities in Indonesia, Universitas Gadjah Mada serves as a pillar of educational awakening in Indonesia and purports to be a defender and disseminator of Pancasila.
Considered one of the oldest universities in Indonesia, Universitas Gadjah Mada serves as a pillar of educational awakening in Indonesia and purports to be a defender and disseminator of Pancasila.
Read less