International Business in Food and Flowers (BBA)
Home ›
BBA ›
International Business in Food and Flowers (BBA)
Program Description
In the world of International Food and Flowers, the Dutch Agro -Food system is famous. The Netherlands is entrepreneurial, innovative and leading in sustainability. It is the second-largest exporter of food and flower products in the world. International knowledge and experience are key concepts of the Bachelor Business Administration (BBA): International Business in Food and Flowers. This study program meets the needs of high school students with international ambition, with, for example, international marketing skills. If you can picture yourself working in the bustling economic area of Food and Flowers, full of intense exchanges, loud negotiations, and on-the-spot decision-making, then this study program is the right fit for you! The program blends courses in business, management, finance and marketing with specific knowledge of the Food and Flower sector. You learn how to manage a business, projects and acquire the essential knowledge of food and flower products, inside as well as outside of the international classroom, both nationally and internationally. You will be leading innovations, such as sustainability in this field of the international economy.
Food and Flower chains
Food and Flower chains are at the heart of this Bachelor, International Business in Food and Flowers (BBA) program. You get an insight into the entire production and supply chain, from producer to consumer, and all the stages in between. You learn about trade, management, and consultancy activities of businesses that are involved in horticulture and food chains. Also, you gain knowledge about the branding of products. The added value of machinery and (project) consultancy on the periphery of the sector is challenging to learn about. As a business manager in the field of Food and Flowers, you will know that special attention has to be paid to the marketing, the continuity of innovativeness and quality management of products, systems and, perhaps most importantly, the sustainability of food and flower chains. As the scale of the global economy increases, organizing and regulating international trade becomes increasingly complex - especially in the Food and Flower sector, where major changes are now taking place. This is a fascinating sector, where you consistently have to ensure the best possible match between products and target groups.
With a diploma in International Business in Food and Flowers in your pocket, you will be able to choose from numerous career opportunities at home and abroad.
Enter the international world of trading food and flowers
The world is your workplace! In this dynamic, fast-paced world, entrepreneurial spirit, professionalism, and communication skills are a must. The Netherlands has an excellent reputation regarding the agricultural trade of food and flowers. Therefore, you specialize in a dynamic and innovative professional field during your BBA course at VHL: International Business in Food and Flowers.
In order to be successful in the international trade of food and flowers, you need a comprehensive overview of the entire chain, from producer to consumer. You also need to know the network of suppliers, consultant and project organizations. These international cross-border businesses, chains, networks, and organizations are asking for knowledge of business, logistics, trade, entrepreneurship, international marketing, financial management, innovation, and socially responsible business. Are you interested in working in the exciting world of Food and Flowers? Then this professional field is the right choice for you!
In year two, you will do a work placement. In year three, you will spend several months on a practical placement in food, feed and/or flower trade company of your choice. It is recommended that you do your placement outside the Netherlands. You might, for example, work as an assistant for an importer or exporter, a logistics or purchasing manager. For your thesis assignment, you will research market opportunities, market entry strategies, logistic optimizations, and financial planning. One of the options could be that you focus on the development of your own business. Entrepreneurship is one of the key concepts of our BBA.
Study abroad
If you want to study abroad there are many things to take into account. For instance your tuition fee and funding, application and registration, your degree and living in the Netherlands. Here is a list of a few things to consider. Often there are different rules for European students (EEA students) and non-European students, so please note which information applies to you.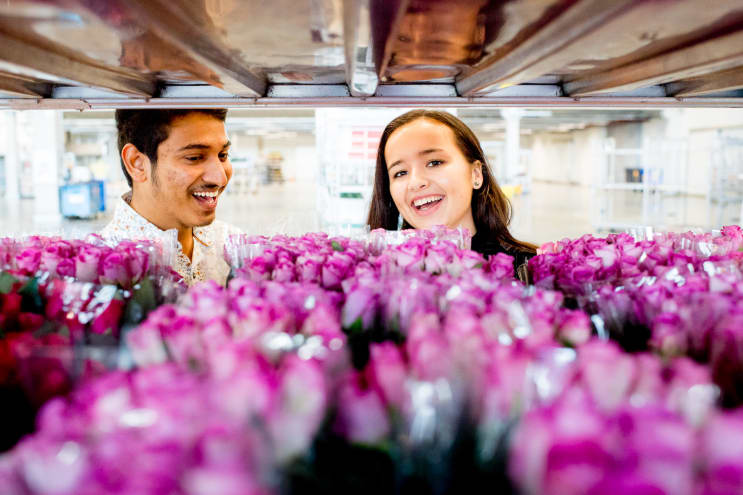 Practical Information
Tuition fee and funding
In the Netherlands, everybody has to pay a tuition fee. The height of this fee depends on whether you are a European (EEA) student or a non-European student. There are different possibilities to fund your studies, for example by applying for a scholarship or grant.
Application and registration
Before applying for a course at Van Hall Larenstein you need to register through Studielink (Dutch registration system).
Degrees
When you successfully graduate from International Business you will have obtained a Bachelor of Business Administration (BBA) degree.
Specialization
International Business in Food and Flowers
International Food and Flowers professionals are known as traders with the knowledge of the world of doing business in the food and flower economic area and are, therefore, in high demand on the job market. Our graduates feel confident working in international environments as traders, commercial and marketing managers, import and export managers, or account and sales managers. A good starting position is to become a junior import-export manager for a company importing and exporting flowers to the Far East. You might also become an account manager at a food-processing company in Spain, or conduct market research for a soft drinks company in Eastern Europe. Investment analysis in New York or developing an import unit in Tokyo is within reach. Later in your career, you are likely to become a senior manager or use your knowledge and experience to set up your own company. You might become the owner-manager of a company exporting exotic fruits to Europe, or work as a senior advisor in the cut-flower sector. The world will be your workplace!
The Agribusiness sector supplies raw materials and other compounds for the Food, Flower and pharmaceutical industries. As a specialist in International Business in Food and Flowers, you are ready for staff, management and advisory positions in the networks and business of the different value chains and enterprises. Your unique selling point is the ability to have a role in both supply and demand chains all over the world. You have insights into the business process knowledge of food and flower products and into international markets. You can have a leading position in innovation. Graduates are prepared for work in a competitive environment within various cultural settings. After finishing their studies, most students work for an international company abroad or in the Netherlands. You may work in Asia, Brazil, Africa or North America, or you could be active in the Netherlands. You might become an international marketing manager, a project or financial consultant or a sustainability manager for a seed business in Tanzania. An international manager or consultant in New York or Tokyo for a tropical fruit trade company could also be an option.
Career opportunities
Answering the need for professionals in the agricultural sector
Thanks to our multidisciplinary BBA International Business in Food And Flowers, you will have plenty of job opportunities in the Food and Flower sector. The bachelor is also challenging if you have entrepreneurial ambitions. Our entrepreneur programs offer you real opportunities.
There are a lot of organizations in which you can start working after your studies. There are many exciting positions, including an international marketing manager at a multinational food company, a sustainability consultant, and value chain advisor, or a logistics manager for a large supermarket chain, financial consultant or project development. This Bachelor study program was designed to answer the need of the international agribusiness sector for graduates with credible innovative knowledge of the Food and Flower sector as well as marketing, trade, leadership, import, and export. Quality managers, procurers at an international trading company, retail-marketing managers of fruit and vegetables, and sales and trade managers of food producers are in high demand.
A degree in Agribusiness Business Administration is broad, yet specialized enough to give you access to the cutting-edge on the agribusiness job market. Depending on your specialization and ambition, there are many more interesting positions available to international agribusiness graduates.
Join the online open day and choose your study programme!
Our digital doors are open to welcome you.
Videos: watch presentations from any programme, listen to student stories, and get to know our university of applied sciences.
Live chat: address your questions to students and lecturers.
Information: student life, admission and enrolment.
Register now for the online open day. Choose VHL.
Saturday November 7th 2020
Saturday February 6th 2021
Last updated Oct 2020
About the School

Are you interested in an English-taught Bachelor or Master's program with a practical approach? Come and study at Van Hall Larenstein, the most sustainable University of Applied Sciences in Holland! ... Read More
Are you interested in an English-taught Bachelor or Master's program with a practical approach? Come and study at Van Hall Larenstein, the most sustainable University of Applied Sciences in Holland! At Van Hall Larenstein we train ambitious and innovative students who want to contribute to a more sustainable world. Our programs focus on the domains of Food and Dairy and Animals and Business. During your study, you will work on several international projects and internships at companies where you apply the theory in practice. Right from the start, you will develop a professional network of students and colleagues from all over the world.
Read less