International Business, Bachelor
Program Description
Reimagining Tomorrow for a Better World
A degree in International Business can give you a career in general management and strategy and with additional training, you can move to more specialized areas like human resources, financial management, accounting, operations management, global supply chain management, marketing, sales management, MIS or even work as an economic/policy advisor. Students of International Business find jobs in multinational organizations, businesses that manage foreign trade (export and imports), businesses that manage people or knowledge across borders (airline, tourism, consulting, education, etc.), government sector, public institutions and non-government organizations. Some of the companies our Karls alumni have worked for are: Mercedes-Benz, Daimler AG, Opel AG, BMW Group, Robert Bosch, Deutsche Telecom, Lufthansa, Henkel Group, Jung von Matt, CDP, Accenture and KPMG for example.


(Re-)Thinking Management & Society
Our International Business program looks behind the economic numbers at people. We view economy as a cultural and linguistic phenomenon. We believe management needs to have a human perspective and be guided by clear values because the decisions you take at an organizational level can directly influence the economy, culture and social norms of societies and nations. At the Karls, you will acquire the ability to identify differences within and between cultures and to act with confidence at an international level.
We are looking for problem solvers who are not afraid to take a risk to make the world a better place. You will become part of our community of trendsetters and achievers. You are challenged to break conventional norms and borrow best practices, learning from around the world. Our international business program has a strong focus on practice and through specially designed courses, company projects and your internship you will get a chance to apply what you learn.
Pylyp Samoilenko, an Alumnus says: "This university instills a forward-looking vision of the future and inspires you to take action. Most of the professors are experienced professionals in their respective fields who often came to the university from real-world business. Thus, the classes are conducted in a very interactive way which makes them much more interesting."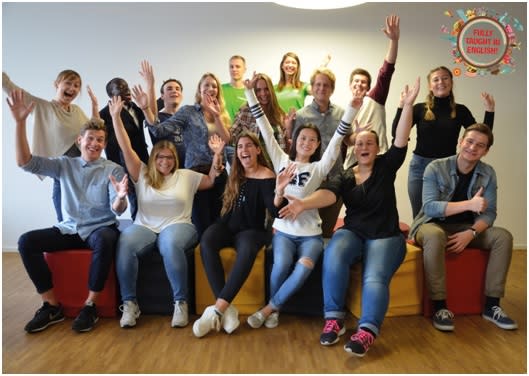 The Karls - A Heart for Diversity
Experiencing interculturality and a diversity of ideas is a natural part of everyday life at the Karls. Our community is composed of students, faculty and staff from more than 50 countries from around the world. More than 55% of our cohort is international and we welcome a similar number of exchange students per semester. This program is taught in English but over the 6 semesters you will get a chance to pick up another language and practice your language skills during your semester abroad. We have partnerships with over 100 universities across the world. At the Karls, we see ourselves as an international and intercultural hub for collaborative experiences. We embrace diversity and are socially inclusive.
Pascal Stullier, an Alumnus and Co-Founder of startup Mangowerk, says, "The high proportion of international students and teaching staff also gave me direct insights into other cultures – and my language skills improved almost without having to really think about it! I believe the teaching here is something really special. We really do not have the feeling we're sitting in purely theoretical lessons. Instead, it is more like enjoyable teamwork with a close relevance to our later professional lives when one of the main skills I will need is to be able to communicate with people and work in teams to develop joint solutions."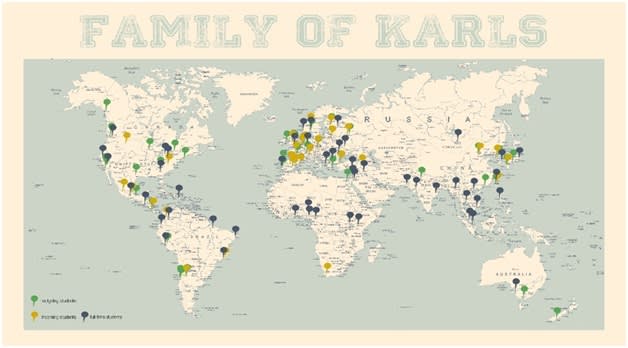 Thinking beyond the 'Box'
At the Karls, we do not spoon-feed you with mere factual knowledge or a 'universal truth'. Instead, our students learn to think critically about today's realities, seek responsibility and find disruptive solutions to complex problems. We take interdisciplinary perspectives on management and structure real-life practice and problem-solving into all our programs. Our students are chosen because they want to co-create sustainable change, are willing to assume responsibility and believe leadership is an opportunity to serve others and society. We have signed the Principles for Responsible Management Education, which was launched at the 2007 UN Global Compact Leaders' Summit.
The following is a testimonial from past student Nadège Ducottet on how Karl's helped her "Think out of the Box" -
"The Karlshochschule is a place in which every student is encouraged to believe in their dreams and ambitions, no matter their cultural or academic background. As a student there, I was given the keys and confidence I needed to realize my dream of traveling the world while succeeding professionally, by being taught that no dream was too big or too high and constantly being challenged to reconsider my ways of perceiving the world around me, which is what some people would call "Think out of the Box". But in order to think out of the box, you first need to think and fully understand the content of the box itself. Through high-quality course material, case studies, Karls-discussions and team activities, the Karlshochschule allows students from all around the world to gain the critical reasoning abilities that they will later need to succeed in the professional world."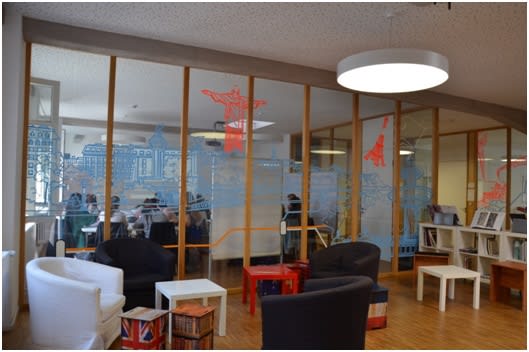 The Karls Family
The Karls is characterized by small classes (20-30 students), and supported by the strong network of our professors, lecturers and staff from various industries and academic fields. The Karls is an active supporter of the startup community in the City and our alumni are working successfully in supporting their family businesses or setting up their own. We contribute to the German Mittelstand. Some of the companies our Karls alumni have worked for are: Mercedes-Benz, Daimler AG, Opel AG, BMW Group, Robert Bosch, Deutsche Telecom, Lufthansa, Henkel Group, Jung von Matt, CDP, Accenture and KPMG for example.


Heart of Europe: Karlsruhe, Germany
Located right in the center of Karlsruhe, a young, vibrant, multi-cultural student city in the South of Germany, you will find your new home in the warmest city in Germany, also known as its internet capital with a vivid start-up community. We are at the pulse of European quality of life: culture, economy, urban lifestyle and nature. Travelling around is fast and easy and there is a lot to explore all around Europe.
Did you know Germany was the third most sought international study destination after the USA and UK? After successfully completing your degree in our program, you will automatically be eligible to stay in the country for up to 18 months on a job-seeking visa. And since you have the opportunity to learn German as part of your studies at the Karls, the Bachelor program really gives you the chance to take a crucial step towards a job in Germany afterwards.


Ready to apply? Requirements and Admission
Do you see yourself as a part of the Karls community? Do you want to make a difference – for yourself and others? Are in the process of transforming yourself and need help? We would love to hear from you! The general study requirements for our Bachelor's program are:
German university entrance qualification or international equivalent (more information)
To start in an English-speaking program, we do not require knowledge of German; your English proficiency should correspond to a level of C1 or above according to the Common European Framework of Reference for Languages (C.E.F.R.) which is equivalent to an IELTS of 6.5+ or an Internet-based TOEFL score of 100+ points. If English your native language you do not need to prove your proficiency.
You can find all details regarding the application, required documents and the admission process on our website. The application deadline for non-EU students is April 15 and for EU students is August 31. Admission is only possible for the winter semester in September. Our number of slots are limited so do not hesitate, so apply now and save your spot!


Want to know more about the Bachelor of Arts at the Karls, go to our website: bachelor.karlshochschule.de
Can't wait to join us? Send us an e-mail: admissions@karlshochschule.de
Last updated Apr 2019
About the School

Karlshochschule International University (or as we call it: the Karls) is a foundation-owned, private, non-profit university. It is accredited by the Wissenschaftsministerium (Ministry of Science) of ... Read More
Karlshochschule International University (or as we call it: the Karls) is a foundation-owned, private, non-profit university. It is accredited by the Wissenschaftsministerium (Ministry of Science) of the Baden-Württemberg state and also has a Foundation for International Business Administration Accreditation (FIBAA) Systems Accreditation.
Read less