Program Description
Presentation
The civil engineer works in the construction and industrial installation sectors. It is the professional that designs, manages and analyzes works in homes, buildings, highways, railways, airports, water supply systems and sanitation, ports, rivers, canals, dams, dikes, drainage, irrigation, bridges and other structures. His performance also includes analysis of soil and subsoil, audits and inspections, budgets, study insulation, ventilation and type setting foundations.
Given this range of possibilities, the Civil Engineering Course of FEAMIG seeks to establish a strong foundation in mathematics and basic sciences, engineering tools, project management and production, and application of civil engineering technology. Plus a wide basic training, the course offers the possibility of concentration of studies in topography, geocoding and construction in general.
Course Objectives
The Civil Engineering Course of FEAMIG aims at training the Civil Engineer by working with knowledge. This training process has two components: one refers to the technical and scientific training, which is distinguished by the management and the development of knowledge, to the professional become capable of analyzing the reality, design and practice creative solutions; another is the socio-political training component inherent in the work process knowledge as a historical building, characterized by a humanistic and ecological orientation towards professional become able to participate and intervene in society.
In order to achieve this purpose, the training pathway proposed aims:
training in scientific fields of mathematics, physics and chemistry, with a view to a solid basic training on which is based the technology training in Civil Engineering;
an overview of Engineering, which allows the professional to contextualize the problems addressed and situate their actions as well as identify specific training among the different types of engineering;
the formation of specific Civil Engineer skills, with emphasis on topography, geocoding and construction in general;
the incorporation of new information technologies and communication, with special attention to its use in Civil Engineering;
social and ethical education of the civil engineer, so that it is able to combine science and technology, proposing ways to intervene in reality in order to ensure sustainable human development.
Course Duration / Shifts
The course is organized in six-month regimen of which is divided into 10 academic periods, semester, with total workload of 3840 hours of useful time-clock. Operating shifts are the day and the night and can be used in the event of need, other times. The night shift also includes the daytime on Saturdays.
Last updated Mar 2020
About the School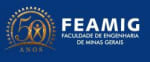 Criada em 1962, a Faculdade de Engenharia de Minas Gerais - FEAMIG - é referência nacional no ensino das engenharias.
Criada em 1962, a Faculdade de Engenharia de Minas Gerais - FEAMIG - é referência nacional no ensino das engenharias.
Read less