Graduation in Graphic and Digital Design
Program Description
THIS COURSE IS TEACHED IN THE PORTUGUESE LANGUAGE.


BECAUSE?
A pioneering course in uniting the graphic and digital areas, enhancing the field of action of the student and building the formation of a more strategic vision in the elaboration of projects for different platforms and their convergences, from Design.
FOR WHOM?
For creative young people, who want to project the future and explore different languages ​​and techniques in graphic and digital projects. Students, constantly challenged on paper or on screens, in physical or virtual environments, will be ready to innovate.
HOW IS IT?
Visual identity, Editorial design, Design of interfaces: desktop and mobile devices (web, applications and games), Signaling systems for public and private spaces, Art direction, Illustration, Animation, Social and public utility design. There are several possibilities offered by the course, integrating creativity, technique and methodology to idealize and execute design projects.
WHY GRAPH AND DIGITAL DESIGN IN IED?
What will the world be like in 2020 when you graduate? How will people communicate and interact? Do you believe that you can participate in building the future and think of incredible and innovative content and experiences? If you see yourself like this in 2020, your place in the next three years is here with us, taking a bachelor's degree in Graphic and Digital Design from IED São Paulo.
The graduation in Graphic and Digital Design from IED São Paulo emphasizes the convergence of visual, graphic and digital communication platforms. It was designed to expand your field of professional activity, enabling you to respond promptly to the challenges of the 21st century.
In 3 years' training, you learn content and design for editorial design, visual identity, web design, interface design and usability for applications, motion graphics, video, photography, typography, among others.
The course presents an interdisciplinary character, valuing the integration of the areas of Design and the culture of the project through research, technique and creativity. You have direct contact with experts from different fields of knowledge and with renowned national and international professionals.
At IED, faculty 100% design, you also interact with Fashion Design and Design courses, sharing some disciplines and laboratories and deepening an interdisciplinary training.
HOW IS THE COURSE?
The flexible and interdisciplinary curriculum enables the future designer to act, preparing you to problematize, reflect and generate creative and innovative solutions for society.
You exercise your creativity in challenging projects, developed from methodologies and using different languages, platforms and technologies, also participating in competitions and partnerships. In this way, you have been building your portfolio since the first half.
International Faculty?
IED encourages you to conduct international exchange and holiday courses at one of the 9 IED locations in Italy and Spain. The great goal is for you to be prepared for a global career and connected with the most advanced features.
What else only the IED has?
One of the great differentials of the Istituto Europeo di Design - IED São Paulo is to offer you, each semester, two workshops with invited professionals working in the labor market, in order to promote the complementation of content with current topics of great relevance.
How are teachers and classes?
The Bachelor's Degree in Graphic and Digital Design at IED São Paulo has as its strong point the faculty, formed by professors with great expression in the academic and market environments, with whom you will have close contact, in small groups and who share the same interests .
What if I want to study interaction, branding, editorial etc.?
At the end of your undergraduate course, you can choose to deepen in areas such as Interaction Design, Editorial Design and Infography, Branding Experience, Strategic Design and Innovation, among other possibilities that only IED São Paulo offers.
WHAT MAKES A GRAPHIC AND DIGITAL DESIGNER?
A designer revolutionizes the world.
You, as a graphic and digital designer from IED São Paulo, will be versatile and able to develop experiences and transformative content on multiple platforms. With a creative and innovative training, it will be able to meet the demands of the current and future market, contemplating both printed and digital interfaces.
The course allows you to develop the necessary skills and abilities and acquire the essential knowledge for a successful career in the economics of creativity and its creative industries.
You can work in the following areas: Editorial Design; Signaling of internal and external environments; Art direction; Illustration; Design of interfaces, including applications and web design; Visual identity; Branding, whether as an entrepreneur, in large companies or agencies of design and advertising, publishing houses, animation studio, creation and communication.
Last updated Mar 2020
About the School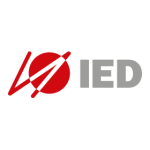 IED São Paulo very presence contributes to positioning this metropolis as Latin America fashion capital and to Brazilian design's emancipation from foreign cultural influences.
IED São Paulo very presence contributes to positioning this metropolis as Latin America fashion capital and to Brazilian design's emancipation from foreign cultural influences.
Read less