Program Description
THIS COURSE IS TEACHED IN THE PORTUGUESE LANGUAGE.


BECAUSE?
The entire Fashion System addressed in depth a course that prepares the student to act in the competitive global market - consumers, identities and trends, creation and development of products, image and communication of Fashion and its businesses.
FOR WHOM?
For young people who are passionate about Fashion, who want to discover the various possibilities of acting in this market, to live in practice, to develop their creations, to build a solid formation and a conscious, realizing and innovative vision for new times.
HOW IS IT?
Think, create and make Fashion from the contemporary approach to Design, which involves people, products and markets. Design collections for diverse audiences and take care of every detail to become a complete professional or launch your own brand.
WHY FASHION DESIGN IN IED? Do you believe that fashion is a powerful way to communicate who you are? Have you thought about being part of the fashion world and being able to create and build new patterns with new materials and technologies? If you see yourself accomplishing all this, your place in the next three years is taking the new Bachelor of Fashion Design from IED São Paulo.
This graduation course aims to train you, future fashion designer, so that you are prepared to face the current and future challenges of a market that is constantly changing and with many opportunities.
The course encourages you to experience all stages of the collection development process, from the project culture (central to the Design approach), meeting the real needs of the production chain, the Fashion business and its consumers, thinking about different audiences - feminine, masculine, infantile, pet, inclusive fashion, among others.
Each project that you undertake in the graduation of IED must be thought from the market demands and trends to the making, from a comprehensive research of materials, drawing, textile modeling, moulage techniques, modeling, sewing and finishing, which ends in the communication of your collection. In IED, Fashion is not restricted to the creation of the product. It is practiced end to end marketing and brand management and business.
Recognized and well evaluated by MEC, the IED São Paulo Fashion Design degree is recommended by experts and opinion makers and is one of the best Brazilian training courses in the area.
HOW IS THE COURSE?
With a flexible and interdisciplinary curriculum, you get ready to understand Fashion and its production chain in a broad way, while exercising your creativity in challenging projects in the laboratories, also participating in challenges and competitions. This way, you have built your portfolio since the first half.
The course's training course allows you to contemplate your personal interests by defining project themes and choosing optional subjects. IED is the only 100% Design and Fashion College in Brazil. Because of this, we operate in all fields, and we offer you this flexibility.
International Faculty?
IED encourages you to conduct international exchange and holiday courses at one of the 9 IED locations in Italy and Spain. The great goal is for you to be prepared for a global career and connected with the most advanced features.
What else only the IED has?
One of the great differentials of the Istituto Europeo di Design - IED São Paulo is to offer you, every semester, two workshops with invited professionals working in the labor market, with the purpose of promoting experiences and discussions on current topics of great relevance, stimulating the dialogue between academic training and what happens in the reality of Fashion.
How are teachers and classes?
The Bachelor of Fashion Design of IED São Paulo has as its strong point the faculty, formed by professors with great expression in the academic environment and in the market. You will receive individualized attention in small groups with people who share the same interests. With the support of experienced and specialized technicians, you receive all the necessary support in the workshops for the realization of the projects, inside and outside the class period.
What if I want to study jewelry, mv, styling, interiors etc.?
At the end of your undergraduate course, after discovering your interests in practice, you can choose to deepen in areas such as Fashion Business, Marketing and Fashion Communication, Jewelry and Accessories, Footwear and Bags, Styling, Retail Design and Visual Merchandising or Interior Design, among other possibilities that only IED São Paulo offers.
WHAT MAKES A FASHION DESIGNER?
A Fashion designer revolutionizes the world.
You, as a Fashion designer from IED São Paulo, will be able to dialogue with all the tips of the Fashion Industry, being able to seek a prominent position in renowned brands or national or multinational corporations or to undertake, launching their own brand and their own collections , if desired.
You will be a professional with the skills and abilities to connect the internal and external areas of the entire production chain, being able to target your creation, product and service development, modeling, management, marketing, communication, consulting, research, style, editorial or production.
Among our alumni, there are renowned stylists, textile designers, illustrators of stamping, entrepreneurs, executives, stylists, fashion producers, photographers, communication professionals, coolhunters etc.
Last updated Mar 2020
About the School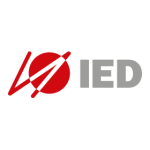 IED São Paulo very presence contributes to positioning this metropolis as Latin America fashion capital and to Brazilian design's emancipation from foreign cultural influences.
IED São Paulo very presence contributes to positioning this metropolis as Latin America fashion capital and to Brazilian design's emancipation from foreign cultural influences.
Read less