Program Description
Developing the world of food, marketing, and technology
Could chewing gum with chocolate flavor, healthy crisps or sugar-free biscuits be one of your ideas? Do you believe it is important that food is safe and of high quality? Then this is the ideal educational program for you! Use your ideas and enroll in the Food Technology program. We educate you to become a quality manager, consultant or the creator of the latest, most successful food product of the future! You will combine technology, product development, and marketing. In addition, you will be communicating with clients, suppliers and supermarkets. You will think from the perspective of the consumer in terms of health, safety, marketing, product, and quality. A fantastic challenge for 'foodies' with a technological and creative mindset, with a focus on the requirements of consumers and producers.
By studying Food Technology, you will learn how to analyze food with subjects such as chemistry and microbiology, how to apply this knowledge in innovative solutions and how to sell them to consumers. Drop by for a visit some time to see what else we do in the Food Technology program!
You can specialize in:
Food Innovation Management
Food Safety and Health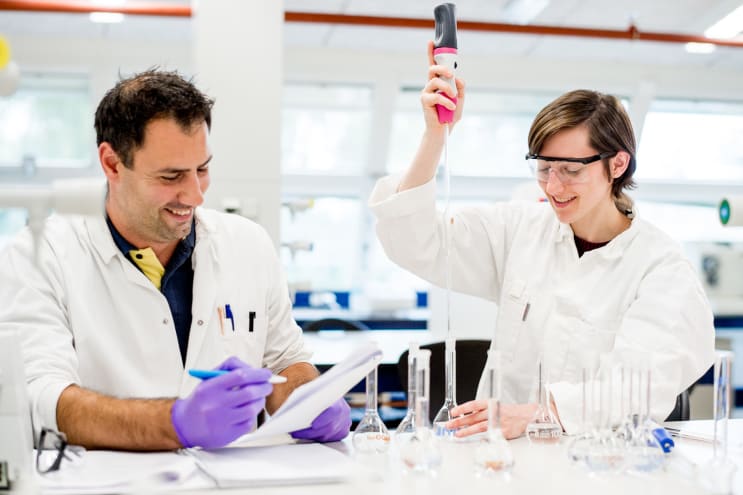 Food Innovation Management
Try pouring some orange juice into a bowl of milk and let it sit for an hour or so. It will clot. It will not look very appetizing and no one will want to buy it. But these days you can buy a drink in the shops that consist of precisely these ingredients. It does not clot, and it is a great commercial success. There is an enormous demand for new, sometimes unlikely products. Putting them all together takes a combination of skills - in food technology, management, and marketing, which explains why "nutrition plus" is at the heart of Van Hall Larenstein's program focusing on food innovation. Consumers want an ever-increasing variety. Luckily for them, the technical potential for satisfying their desires is growing fast. So while our program starts by looking at the consumer, it then goes on to look at everything else: not just the market and the product, but quality, management, and operational issues as well. But at no point does it ever forget the reason for being in this business: your customers' satisfied expressions when they have enjoyed your product.
Food Safety and Health
The food industry is in constant development: new products and production processes go hand in hand with the ever-increasing risks and dangers of the modern world. In order to improve public health, food production companies must adhere to the laws and regulations imposed by food safety authorities. For the final consumer, food safety concerns both short-term illnesses, such as food poisoning and longterm ones, which can be life-threatening conditions such as diabetes and cardiovascular diseases.
The intersection of all these factors creates the need for specialized professionals in the field of food safety, quality and health. They will develop their understanding and knowledge of key quality and safety issues, as well as gain an insight into the increasingly complex relationship between food and health. If you choose to specialize in Food Safety and Health, you will be challenged to develop your social, political and ethical skills to the fullest, while you will also acquire the basic knowledge of microbiology and technology which will help you to succeed in this field.
Content Program
You will be following objective specific courses, doing practical periods and preparing an exciting graduation assignment. The program is competency-based: each theoretical subject supports workgroup situations in which students tackle practical problems and explore workable solutions. This means that you will be active from day one, learning to work independently as you collaborate with others. The program culminates in practical placements and a thesis project conducted in an international setting.
Career opportunities
Potential professions:
Product developer
Quality manager
Marketing/sales manager
Advisor on food health and safety
Sensory (taste) researcher
The world lies at your feet when you are a graduate student in Food Technology. You can work in the national and international market after your studies.
Join the online open day and choose your study programme!
Our digital doors are open to welcome you.
Videos: watch presentations from any programme, listen to student stories, and get to know our university of applied sciences.
Live chat: address your questions to students and lecturers.
Information: student life, admission and enrolment.
Register now for the online open day. Choose VHL.
Saturday November 7th 2020
Saturday February 6th 2021
More information?
Would you like to meet us on Skype or join a webinar for more information? Please check our website.
Last updated Oct 2020
About the School

Are you interested in an English-taught Bachelor or Master's program with a practical approach? Come and study at Van Hall Larenstein, the most sustainable University of Applied Sciences in Holland! ... Read More
Are you interested in an English-taught Bachelor or Master's program with a practical approach? Come and study at Van Hall Larenstein, the most sustainable University of Applied Sciences in Holland! At Van Hall Larenstein we train ambitious and innovative students who want to contribute to a more sustainable world. Our programs focus on the domains of Food and Dairy and Animals and Business. During your study, you will work on several international projects and internships at companies where you apply the theory in practice. Right from the start, you will develop a professional network of students and colleagues from all over the world.
Read less