ESSEC Global BBA Bachelor of Business Administration
Home ›
BBA ›
ESSEC Global BBA Bachelor of Business Administration
Program Description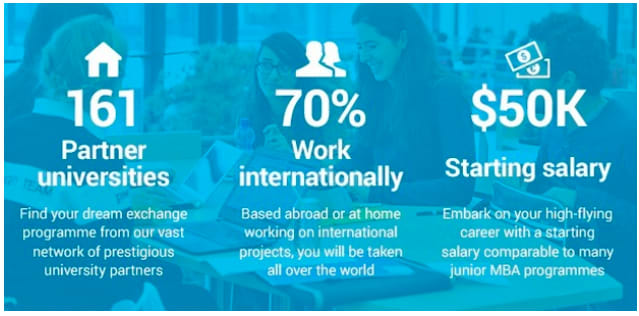 Years 1 and 2
You can choose whether to start the program at our ESSEC France campus, the ESSEC Asia-Pacific campus (Singapore), or the ESSEC Africa-Atlantic campus (Morocco).
Courses
Courses are taught entirely in English on the Asia-Pacific campus, in French on the Atlantic-Africa campus, and in English or in French on the France campus. They cover the same subject matter with a strong focus on the geographical environment.
Acquire knowledge in all the fundamentals of management such as marketing, finance, economics, law, productive behaviour etc.;
Open up your international horizons with courses on geopolitics, international trade, etc.;
Become truly multilingual by learning 3 languages: French and English are compulsory foreign languages for non-native speakers.
Professional experience
Carry out summer internships anywhere in the world and gain varied and valuable experience for both your personal and career development.
a 3-month internship gives you a real first taste of company life and an operational experience in a junior-level position
a 1-month humanitarian or social work project gives you hands-on field experience and opens you up to new challenges and way of thinking
IBEA Track
The International Business Education Alliance "IBEA" is an academic program in joint cooperation between ESSEC and 3 prestigious partner universities:
University of Mannheim, Germany
Fundacao Getulio Vargas - Rio de Janeiro, Brazil
University of South Carolina, USA
At the end of the 1st year, students from each school can apply to be part of the program and only ten students from each are selected. Students admitted in the IBEA-track that started in Singapore or Morocco can choose to do their first semester of the second year in both France and Singapore. The second semester of the second year will be back at the campus where they started. At the end of the 2nd year, admitted students will spend one semester at each of our partner schools. This is the perfect opportunity to spend time at some of the most prestigious business schools around the world, meet and interact with people from all different backgrounds and nationalities, study in several environments and by the time you obtain your degree, you will have the truly international profile sought after by employers.
Years 3 and 4
Whichever campus you choose to begin your studies, all students now, except students in the IBEA track, come together to choose to continue the program in one of three tracks, all of which focus on providing you with opportunities for more international exposure and professional experience.
Courses
You have hundreds of electives to choose from so whether you wish to stay an all-rounder and test and try many different fields or whether you may prefer to specialise in one chosen area, you will be able to do so.Examples of courses and seminars include:
Management, Marketing Accounting, Economics, Human Resources, Information Systems, Financial Mathematics, Business Law, Operations, Entrepreneurship, Statistics, etc.
Exchanges
Whatever track you choose to follow, you will do a university exchange abroad. This will not only open you up culturally to a new country, way of life, way of thinking etc. but will improve your linguistic skills as the choice is often linked to the foreign languages you learnt in the first two years.
This unforgettable experience will contribute to making you a more open and flexible manager, able to work in multicultural and multilingual teams and companies.
The good news is that you are not limited to 1 or 2 possibilities for your exchange but potentially have to choose from the 150+ Global BBA partners. Whatever your personal interests and links, whatever your future career goals, you are sure to find the right exchange for you!
Professional Experience
Complete your first longer internship or apprenticeship to really have an advantage in the workplace as a young graduate.
the final 6-month decision-making internship will see you take on a position with greater responsibilities where you can dedicate yourself to concrete projects
a 2-year apprenticeship contract means that you will be employed by a company and alternate between study and work
In addition to acting as a powerful career booster, it is an attractive financing solution as interns and apprentices are paid a salary and with apprenticeships, the company also covers the 2 years' tuition.
iMagination Week
A transition from the first to the second half of your studies.Formerly known as iXperience week, the iMagination week welcomes students from Singapore, Morocco and Mauritius to the Cergy campus at the beginning of the third year. In this introduction week, our international students learn about our campus in France and are encouraged to blend in, to develop, and to think outside the box.
Exchanges
The ESSEC Global BBA has an international exchange network of 161 partner universities in 44 different countries across 5 continents so you are sure to find what you are looking for!
From your 3d year in the programme, depending on the track you choose, you will enrich your international experience further by going on an exchange for 1 or 2 semesters.
ESSEC has been awarded the Eramus Charter for Higher Education for 2014-2020.
Double degrees
In your 4th year, you will have the opportunity to follow a double degree programme with one of the following universities:
• EBAPE / FGV - Fundação Getulio Vargas, Brazil
• ESA Business School, Beirut, Lebanon
• ESIC Business & Marketing School in Madrid, Spain
• Fachhochschule Dortmund University of Applied Sciences and Arts, Germany
• Faculty of Business and Commerce, Keio University, Japan
• Plekhanov Russian University of Economics in Moscow, Russia
• Shanghai Jiao Tong University, China
• Tongji University in Shanghai, China
We are proud to inform you that as of now there is a double degree option available with the Yonsei University in Séoul, South-Korea. The Yonsei School of Business and ESSEC Business School have exchanged students before in the past, but this is the first time Yonsei University has signed a Double Degree agreement at the Bachelor Level.
There are a limited number of places on each exchange programme. Certain eligibility criteria may apply such as having studied and passed the foreign language classes of the partner university in question during your first cycle of studies at ESSEC.
IBEA International Business Education Alliance
At the end of your 1st year, you can apply to take part in the IBEA programme which will see you spend the three first semesters at the ESSEC campus where you began your studies, a semester at our ESSEC Asia Pacific campus in Singapore, then one semester at each at each of the following universities:
• University of Mannheim, Germany
• University of South Carolina, Darla Moore School of Business, USA
• EBAPE / FGV - Fundação Getulio Vargas, Brazil
Where our alumni are now
44% enter the job market
88% of students find a job within 4 months of graduation
70% work in an international environment
Average starting salary of €37,000
Major sectors where our graduates work: ICT, Luxury, Audit & Consulting, Business & Distribution, Food Processing, and Finance.
52% pursue a Master's degree
At ESSEC in the MSc in Management or the Advanced Master's programmes
Or in the most prestigious universities worldwide i.e. London Business School, London School of Economics, Bocconi University, ESADE Business School, HSG St Gallen, Stanford University, University of Sydney, etc.
4% create their own companies
ESSEC Ventures and Antropia business incubators on the French campuses house start-ups and provide support in terms of coaching and resources.
Our alumni with entrepreneurial talents include:
Corinne Vigreux, Class of 1987, Founder of "Tom-Tom"
Patrick Dalsace, Class of 1999, Creator of "La Fourchette"
Nicolas Wolfovski, Class of 2009, Creator of "La Fabrique du Sur-Mesure"
Louis Bataille and Guillaume Caffin, Class of 2011, Creators of "Les Deux Gourmands"
Last updated Mar 2019
About the School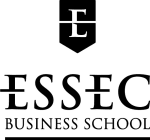 Innovative, involved and international; ESSEC Business School, one of the leading institutions in Europe for business education, offers a unique learning experience that trains responsible leaders who ... Read More
Innovative, involved and international; ESSEC Business School, one of the leading institutions in Europe for business education, offers a unique learning experience that trains responsible leaders who are able to reinvent business. Accredited by AACSB, EQUIS, and AMBA, ESSEC maintains a superior level of academic excellence that is recognized worldwide.
Read less