Degree in Tourism Management
Program Description
Official title: Graduate in Tourism Management
Branch of knowledge: Social and Legal Sciences
Center: University School of Education and Tourism of Ávila
Type of teaching: On-site
Language: Spanish, English
Duration: 4 academic courses
ECTS credits: 240
Places of new entry 2019-20: 50
Presentation
The Degree in Tourism Management begins to be taught at the USAL in the academic year 2017-2018, once the verification process has been passed (from ACSUCyL and from the Council of Universities), and it replaces the Degree in Tourism that has been taught uninterruptedly in the USAL from the 2010-2011 USAL year. The complete implementation of this new degree will be progressive, course by academic year (in 2017-18 it is implemented first, in 2018-19 it is implemented second and so on) and, in the same way, courses of the previous grade will no longer be given progressively. For more information, see the implementation schedule and equivalence tables in the "Adaptation of previous lessons" section of this website.
The new Degree in Tourism Management enables management decision making in companies and institutions of the sector, reinforces the role of languages by enabling students to communicate in the field of tourism in at least two languages, with the possibility of to train in a third party, incorporates new professional areas such as transportation and logistics or restoration .; It offers students the possibility of staying at other universities, both national and international (France, Germany, Italy, Sweden, Portugal, etc.).
These studies last 4 years and are organized in subjects of basic training (60 ECTS), compulsory (123 ECTS), electives (36 ECTS), External Practices (18 ECTS) and the Final Degree Project (6 ECTS).
Students carry out internships in a variety of companies and institutions (hotels, travel agencies, consultancy, tourist information offices, tourist guides and reservation centers) in which they are trained not only in conventional tourism areas (travel agencies , hotels ...), but in other services that consumers demand today: ecotourism, adventure tourism, archaeological tourism, accessible tourism, gastronomic tourism, religious tourism, family tourism or tourism of congresses and events, etc.
The USAL offers the possibility of studying the Double Degree in Geology of Tourism and Management of Small and Medium Enterprises.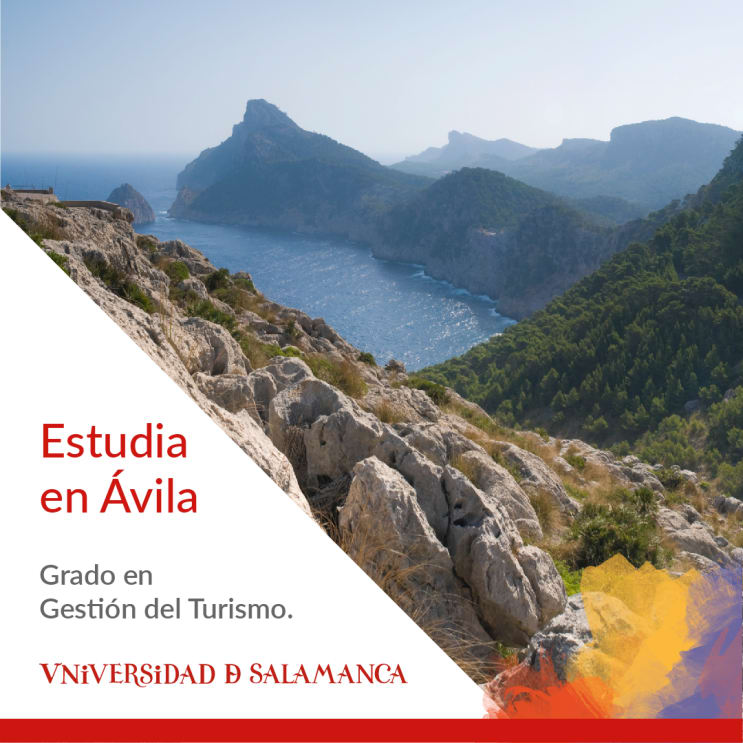 Competencies
Basic skills
That students have demonstrated to possess and understand knowledge in the area / s of study that starts from the base of general secondary education, and is usually found at a level, that although it is supported by advanced textbooks, it also includes some aspects that imply knowledge coming from the vanguard of their field of study.
That students know how to apply their knowledge to their work or vocation in a professional manner and possess the skills that are usually demonstrated through the elaboration and defense of arguments and problem solving within their area of study.
That students have the ability to gather and interpret relevant data (usually within their area of study to make judgments that include a reflection on relevant issues of social, scientific or ethical nature.
That students can transmit information, ideas, problems and solutions to a specialized and non-specialized public.
That the students have developed those learning skills necessary to undertake further studies with a high degree of autonomy.
General Competences
Oral and written communication in Spanish.
Teamwork.
Ethical commitment
Adaptation to new situations.
Creativity.
Initiative and entrepreneurial spirit.
Motivation for quality.
I work in different sociocultural media.
Application of information and communication technologies.
Respect for diversity and human rights.
Promotion of innovation and research.
Specific Competences
Understand the principles of tourism in its different dimensions.
Analyze the economic dimension of tourism and its management.
Understand the dynamic and evolutive nature of tourism and the new leisure society and its implications for the proper management of tourism.
Know the main political-administrative tourist structures.
Have a strong customer service orientation.
Recognize the main tourist and cultural agents.
Evaluate the tourism potentials and the prospective analysis of their exploitation and management.
Analyze, synthesize and critically summarize the economic-patrimonial information of tourism organizations.
Manage financial resources in companies and tourism institutions.
Define objectives, strategies and commercial policies aimed at an adequate management of tourism.
Manage and manage the different types of tourism entities.
Manage communication techniques that facilitate and improve tourism management.
Understand the legal framework that regulates tourism activities and the problems of their management.
Work in English as a foreign language in tourism management and companies related to the sector.
Communicate orally and in writing in a second foreign language in the field of tourism and its management.
Know the operating procedure of the management of hosting companies.
Identify and manage spaces, tourist and leisure destinations in accordance with the principles of sustainability.
Know the operating procedures of the management of intermediation and distribution companies.
Use and analyze information and communication technologies in the different areas of tourism management. Use information and communication technologies in the management of tourism companies and institutions
Plan and manage the human resources of tourism organizations.
Understand the functioning of the management of destinations, tourist structures and their business sectors in the world.
Understand the characteristics and main initiatives of cultural heritage management in relation to tourism.
Analyze the impacts generated by tourism and establish policies for proper management.
Know the objectives, strategy and public instruments of tourism planning and management.
Know the main initiatives and alternatives of cultural and natural heritage management.
Detect needs for technical planning of infrastructures and tourist facilities that contribute to an adequate management of tourism. Detect needs for technical and technological planning of infrastructures and tourist facilities that contribute to an adequate management of tourism.
Understand the importance of public tourism management.
Apply technological innovations for the analysis of tourism in its dimensions, social, cultural, economic and territorial.
Know the application of new technologies in the interpretation, valuation and conservation of heritage.
Apply knowledge in English to other areas of the degree.
Admission profile
The Degree in Tourism Management has a marked multidisciplinary character and although it is not required to study additional knowledge to those obtained in pre-university education, it is recommended that students have a good knowledge base of humanities and social sciences, knowledge of the English language at B1 level (according to the European Reference Framework for Languages, MCCER) and basic computer skills. Similarly, it would be interesting to have previously studied economics and a second language.
In the case of being a foreign student, he / she must master the Spanish language, since this is the predominant language of interaction.
On the other hand, the student must be able to face the studies assuming that these are of a university nature and demonstrate responsibility, curiosity and receptivity.
In addition to the above, it is convenient that future students have the following characteristics:
Attitude to solve problems and justify their actions.
Collaboration capacity to exchange with others the information and knowledge necessary to make decisions.
Ability to relate facts of various kinds, as well as to understand the complexity of social and economic realities.
Ethics and scientific capacity to interpret and generate information accurately and objectively.
Attitude for criticism and responsible commitment, which allows awareness of the risks and consequences of their actions on society as a whole and the environment.
Access, Pre-registration, Admission and Registration
To access the Degree in Tourism Management, no specific test or special condition other than the general access to the official university degree programs that are regulated by state regulations is foreseen.
In this Degree other languages besides Spanish are used. In English, the level set by the Spanish educational authorities for the last year of the baccalaureate is established as the desired access requirement. In the case of the second language (initially French and German), no levels are established for access to the degree.
Foreign students must prove knowledge of Spanish.
Academic and Professional Exits
Academic Outputs
Once you finish the Degree in Tourism Management, we suggest you study one of the following University Master's degrees at the USAL , if you opt for a greater specialization:
Evaluation and Management of Cultural Heritage
Advanced English Studies: Languages and Cultures in Contact
Translation and Intercultural Mediation
ESO and Baccalaureate Teacher, Vocational Training and Language Teaching
Professional outings
The graduate in Tourism Management can practice their profession in the following areas :
Destination management and planning
Product design and management of tourism activities
Organization and management of events and conferences
Distribution and intermediation
Transport and logistics
Management of hosting companies
Management of residences and wellness centers
Teaching, research and consulting
Management of culture and cultural spaces
Management of leisure activities and spaces
In accordance with the aforementioned areas, the professional outputs of a Graduate in Tourism Management are the following:
Head of tourism projects in large cities
Director of the destination promotion campaign
Public Administration Management Technician
Tourism business manager
Visitor service coordinator
Leisure spaces manager
Tourist destinations manager
Cultural manager
Tourist group manager
Heritage guide and interpreter
Responsible for marketing in tourism companies
Program manager of the dynamization plan
Technician in digital tools and tourist cartography
Head of the tourist and cultural animation department
Cultural Tourism Manager
Wine Tourism Manager
Dynamics of cultural tourism
Tourist guide
Organizer of congresses, events and incentives
Congress technician
Responsible for booking
MICE Planner
Consultant and / or travel agent
Project manager
Tourist consultant
teacher
Corporate trainer
Audit manager
Director or deputy director of the hotel
Director of the accommodation area
Revenue manager
Head of reception
Head of the administration department
Head of the department of quality and development
Creator and manager of tourism products, events and services
Heritage promoter
The USAL facilitates your professional insertion. Links of interest:
Professional orientation.
Training for employment.
Employment exchange.
Advice on business creation.
Practices for students.
Practices for graduates.
Last updated Mar 2020
About the School

The University of Salamanca (Spanish: Universidad de Salamanca) is a Spanish higher education institution, located in the town of Salamanca, west of Madrid, in the autonomous community of Castile and ... Read More
The University of Salamanca (Spanish: Universidad de Salamanca) is a Spanish higher education institution, located in the town of Salamanca, west of Madrid, in the autonomous community of Castile and León. It was founded in 1134 and given the Royal charter of foundation by King Alfonso IX in 1218. It is the oldest founded university in Spain and the fourth oldest European university in continuous operations. The formal title of...
Read less