Degree in Global Communication
Program Description
International organizations have by definition a global perspective and a frequent exchange activity with companies based in different countries and continents. Therefore, the planning and implementation of communication actions in this type of organizations requires professionals with specific training, which allows them to develop a strategic and global vision based on the analysis and interpretation of the different cultures of the countries.
The Bachelor in Global Communication aims to train professionals capable of creating and managing strategic communication plans for multinational organizations, applying an innovative vision that allows them to achieve the proposed objectives.
For this purpose, the curriculum has been designed taking into account different areas that contribute to the integral formation of the Bachelor in Global Communication: Public Relations, Global Business and Institutional Communication.
The curriculum includes several subjects taught in English, in order to strengthen the mastery of this language, which is essential for professional performance in the area. Courses in some subjects will also be promoted in foreign universities with which the Universidad Argentina de la Empresa has exchange agreements.
International practices
The second year students of Global Communication carried out internships in Santiago de Chile.
They were received by the authorities of the Universidad del Pacífico of Chile, visited companies and consultants, such as the consultants Extender and Azerta Comunicación.
Profile and scope
Graduate profile
The graduate will be able to:
Analyze and interpret the interests and needs of the strategic publics with which the organization is linked in the international and multicultural field.

Prepare an institutional communication plan for an international organization in all its stages, both internally and externally, and define guidelines for its follow-up and control, meeting the objectives set, the times, resources and budgets available.

Make the situational diagnosis of the communication of an international organization contemplating the national and international context, selecting the most appropriate methodologies and techniques.

Apply methodologies and techniques to analyze the results of an institutional communication plan, considering a global strategic vision of communication and its application in different countries.

Elaborate institutional key messages for different strategic publics of an organization, considering the cultural diversities that can occur in institutions with presence in different countries, selecting and using the most appropriate media and supports.

Design audits of institutional image for an organization, applying the specific methodology and prepare reports to communicate the conclusions of the diagnoses.

Prepare plans for events that respond to the communication strategy of a multinational company or an international organization and define criteria for its evaluation.

Interpret ceremonial and protocol norms and their application in a globalized context.

Develop social responsibility programs for organizations based on the analysis of the needs of the global context and the objectives of the organization.
Scope of the title
The Degree in Global Communication qualifies for the following functions:
Design, coordinate and evaluate plans and programs of global strategic communication in different types of international organizations, applying communication strategies and tactics based on the proposed objectives.

Advise executives and main authorities of the organization on the implementation of institutional communication policies and their respective implementation in order to achieve strategic links with different audiences in a global context.

Schedule, coordinate and evaluate the integral organization of events for institutional purposes, for international organizations, considering the cultural diversity of the places where the institution has a presence; on the basis of the resources and budgets allocated.

Conduct studies on the institutional communication strategies of organizations with presence in international markets, implementing specific methodologies of the discipline.

Audit the different formal and informal channels of communication in international organizations considering the social and cultural differences of the publics of the countries in which it operates.

Design and implement corporate social responsibility campaigns and sustainability policies of international organizations that strengthen their links in a global context.

Project, implement and evaluate advertising and publicity campaigns, linked to the communication of the institutional image of international organizations, that allow to fulfill the strategic communication objectives.
Curriculum
First year
Business Management

Elements of Psychology

Language, Logic and Argumentation

Introduction to Global Strategic Communication

Context of International Business

Writing workshop

Theory of Public Relations
Elements of Sociology
Contemporary Cultures and Societies
Optional

(1 Subject)




Second year
Graphic and Audiovisual Media


Elements of Economy and Finance

Public relations I

Communication theory

Speech and Debate


Advertising

Public Relations II

Digital media


Marketing

Global Management of Human Talent

Third year
Introduction to statistics

Ceremonial and protocol

Media and Public Opinion

Leadership and International Negotiation

Optional (1 Subject)

Methodology of Communication Research

Semiotics

Public Relations III

Integral Management of Corporate Events

International Economic History


Fourth year
Strategic Direction of Global Communication

Image Audit Workshop

Management of Corporate Social Responsibility

Optional (3 subjects)


Contemporary Politics

Final Project in Global Communication

Management of Digital Communications

Optional (1 Subject)


Last updated Mar 2020
About the School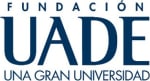 UADE es una institución con 50 años de actividad en la enseñanza universitaria, que se concibe, nace y desarrolla desde una perspectiva de gestión global. Fue creada con el objeto de formar profesiona ... Read More
UADE es una institución con 50 años de actividad en la enseñanza universitaria, que se concibe, nace y desarrolla desde una perspectiva de gestión global. Fue creada con el objeto de formar profesionales que, por medio de carreras innovadoras, se adecuaran a las crecientes necesidades de las diferentes industrias.
Read less