Degree of engineering in telecommunication systems - classroom
Home ›
Bachelor ›
Degree of engineering in telecommunication systems - classroom
Program Description
General information
Faculty : Escuela Politécnica Superior
Modality : face-to-face
Language : English
Duration : 4 courses
ECTS : 240
Student profile
For the student who decides to Degree in Telecommunications It is important to have maximum interest in New Technologies, skills in Mathematics, Physics and Languages, space vision, practical and methodical sense, capacity for observation and attention, creativity, ability to work, teamwork.
In addition, to aspire to be a telecommunications engineer must be innovative and creative spirit, be a dynamic and active person, with the need to help facilitate society day by day through alternatives based on progress.
Why UCAM?
This University with Engineering in Telecommunication Systems Offers you facilities with the latest technology where you can develop knowledge. In addition, we are a dynamic and restless institution with the spirit of growing together with our students with real projects with which together with theory you will receive a comprehensive training with the objective that you get an academic base to achieve your job dreams.
Career prospects
Technicians of Local, Autonomic, Central or Community Administration.
Manufacturers of telecommunications equipment.
Network operators and telecommunication services.
Designer of communications networks.
Director of technological systems and equipment projects.
Hardware developer.
Telecommunication systems consultant.
Director of ICT projects.
Software designer of telecommunication products.
CURRICULUM
First course
Programming Fundamentals
Calculation I
Physics I
Algebra
Theology I
Technical English
Physics II
Calculus II
Analysis and Synthesis of Circuits I
Fundamental Ethics
Programation advance
Digital electronic
Second course
Probability and Random Models
Signals and Systems
Theology II
Basics of Telematics
Electromagnetic fields
Analysis and Synthesis of Circuits II
Foundations of Admón. And Organization of Companies
Electronic components
Numerical analysis
Communications Networks and Services I
Applied Ethics and Bioethics
Communication theory
Third course
Communications Networks and Services II
Lines of transmission
Radiocommunication
Digital Signal Processing
Social doctrine of the church
Fundamentals of Acoustics
Multimedia Processing
Electronic systems
Mobile and Wireless Communications
Optical Communications
Humanities
Optional 1
Fourth grade
Telecommunications Systems
Antennas
Microwave
Optional 2
Optativa 3
Final Grade Work
Telecommunications Policies and Legislation
Fundamentals of Technical Office and Project Management
Electrical Engineering and Energy
Optional 4
Electives
Communications Instrumentation
Common Telecommunications Infrastructures
Broadband and Digital Home Infrastructures
Development of Applications for Digital TV
Application Development for Mobile Devices
Remote sensing
Radiodetermination
Space Telecommunication
Architectural Acoustics
Electroacoustics
Audio and Video Basics
Business practice
Placements
Studying Telecommunications at UCAM allows you to Actual practices in large companies Of the sector where you can Complete your training Becoming a great professional trained for the real world.
Entry Requirements
Bachiller LOGSE with selectivity, training cycles of higher grade or FP 2nd degree, access test for over 25 years, access for over 40 years with professional experience, university degree and own access tests.
Testimony
Salvador Zaragoza, Student Degree in Engineering in Telecommunication Systems. "Teleco apart from the classes it offers you have facilities quite Competent how is he Electronics laboratory, image and sound laboratory, MAC rooms and even a renewable energy laboratory. "
Last updated Mar 2020
About the School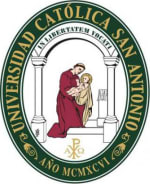 La Universidad Católica San Antonio - UCAM, como universidad católica, se caracteriza por ofrecer a sus alumnos una formación integral, basada en los conocimientos teóricos y técnicos específicos de c ... Read More
La Universidad Católica San Antonio - UCAM, como universidad católica, se caracteriza por ofrecer a sus alumnos una formación integral, basada en los conocimientos teóricos y técnicos específicos de cada titulación más la formación humana anclada en los principios del humanismo cristiano, a esta labor se dedican un claustro docente de reconocido prestigio y un equipo de tutores personales,
Read less