Program Description
General information
Faculty : Juridical and Company Sciences
Modality : face-to-face
Language : English
Duration : 4 courses
ECTS : 240
Student profile
Belonging to the branch of Legal and Business Sciences, the Degree in Tourism encompasses a wide field of knowledge that defines the skills, competencies, skills and aspirations that future professionals have to meet. It is advisable that the student who chooses our degree has a sensitivity for the environmental, social, cultural and economically sustainable development, aptitude for interpersonal relationships and contacts, ability to communicate, reasoning and verbal comprehension, analysis and negotiation skills, flexibility and Critical sense, adaptability to change and the environment and spatial mobility. Thus we indicate that Tourism is a solidarity activity, an open encounter of cultures and therefore, the profile of the student of Degree in Tourism must also be a person with a generous, cooperative, creative, enterprising and dynamic character.
Why UCAM?
The UCAM, University with a Degree in Tourism, Offers you studies based on innovation and technology as the key component of competitiveness so that you become a complete professional, prepared for the world of work and able to opt for Wide exits of tourism. In addition, teachers are 100% involved in your training and from the institution we give you the possibility to do international Studies With scholarships in our more than 140 partner universities.
Career prospects
Graduate studies in Tourism open up new professional horizons. In the current labor market, there can be a multitude of professional profiles linked to these studies:
Accommodation area
Commercial boss
Public Relations
Turistic animator
Scope of Restoration
Director of Banquets and Conventions
Commercial Restoration
Field of Intermediation
OPC (Professional Congress Organization)
Product Manager
Responsible for Product Quality
Scope of Transport and Logistics
Customer Service Technician
Commercial director
Relationship Manager
Scope of Planning and Public Management of Destinations
Technician or Manager of a Public Promotion Institution or Director
Director or Technician of a Product Dynamizing Institution
Product Scope and Activities
Technical Event Management Advisor
Commercial director
Responsible for Promotion and Marketing
Product Manager
Field of Teaching and Research
Scope of the Consulting
Scope of Cooperation for Development
CURRICULUM
First course
(BSC) Structure of Tourist Markets (6)
(BSC) Introduction to Theory of Communication (6)
(OBL) Tourist English (6)
(OBL) Fundamentals of Accounting (4,5)
(OBL) Law and Tourism Legislation (4,5)
(OBL) Theology I (3)
(BSC) Organization and Management of Companies (6)
(BSC) Geography of Resources and Tourist Destinations (6)
(OBL) Commercial Law (4,5)
(OBL) Consumer Behavior (4,5)
(OBL) Fundamental Ethics (3)
(OBL) Second Language I (French / German) (6)
Second course
(BSC) Fundamentals of Marketing (6)
(BSC) Fundamentals of Economics (6)
(BSC) Planning and Management of Sustainable Tourism Spaces (6)
(OBL) Business English (6)
(OBL) Written Communication (6)
(BSC) Structure of the Communication Industries (6)
(BSC) Artistic Foundations of Communication (6)
(BSC) Business Management and Marketing (6)
(OBL) Second Language (French / German) (6)
(OBL) Applied Ethics and Bioethics (3)
(OBL) Theology II (3)
Third course
(OBL) Advertising and Interactive Tourist Communication (4,5)
(OBL) Tourism and Cooperation for Local Development (4,5)
(OBL) Organization of Congresses, Events and Protocols (6)
(OBL) Statistics Applied to Tourism (6)
(OBL) Advertising and Public Relations (6)
(OBL) Social Doctrine of the Church (3)
(OBL) Leadership Leadership and Emotional Intelligence (4,5)
(OBL) Humanities (3)
(OBL) Communication and Image Management (6)
(OBL) Market Research & Techniques (6)
(OBL) Cultural Heritage Management (4,5)
(OPT) Optional I (6) (to choose between):

Creativity in Communication *
Management of Active Tourism, Leisure and Leisure
International marketing**
Fourth grade
(OBL) Sales Management (4,5)
(OBL) Hotel and Catering Management (6)
(OBL) Tourism Consulting and Research (4,5)
(OBL) Public Management of Tourist Destinations (4,5)
(OBL) Quality Management and Tourism Innovation (4,5)
(OPT) Optional II (6) (to choose between):

Advertising Design Applied to Tourism *
Airport Management and Management **

(OBL) Advertising Communication Strategy (6)
(OBL) Tourist Distribution Channels (6)
(OPT) Optional III (6) (to choose between):

Financial analysis**
Public Relations Strategies *

(PE) External Internships (6)
(TFG) End of Grade Work (6)
* Mention in Direction of Publicitaria and RRPP.
** Mention in Commercial and Marketing Management
Mentions
Mention in Advertising Direction and Public Relations.
Mention in Commercial Management and Marketing.
Placements
Studying Tourism at the UCAM in person gives you the possibility to carry out Practices in leading companies As the chain of NH Hotels. You will have a Complete training For your future thanks to direct contact with the sector.
Entry Requirements
Bachiller LOGSE with selectivity, training cycles of higher grade or FP 2nd degree, access test for over 25 years, access for over 40 years with professional experience, university degree and own access tests.
Testimony
Laly García, Exalumna Degree in Tourism. "Without the knowledge Acquired in the UCAM had not Professionally grown The way I have done it, and it would not have been so Easy to find work. "
Last updated Mar 2020
About the School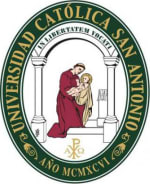 La Universidad Católica San Antonio - UCAM, como universidad católica, se caracteriza por ofrecer a sus alumnos una formación integral, basada en los conocimientos teóricos y técnicos específicos de c ... Read More
La Universidad Católica San Antonio - UCAM, como universidad católica, se caracteriza por ofrecer a sus alumnos una formación integral, basada en los conocimientos teóricos y técnicos específicos de cada titulación más la formación humana anclada en los principios del humanismo cristiano, a esta labor se dedican un claustro docente de reconocido prestigio y un equipo de tutores personales,
Read less