Degree in early childhood education
Program Description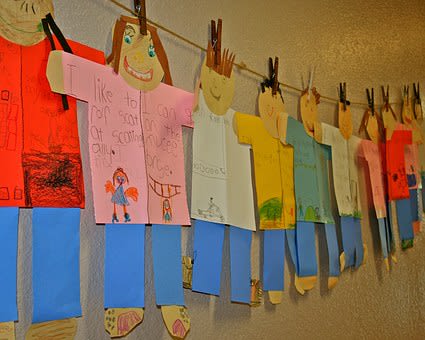 Introduction
The Degree in Early Childhood Education Is a title of the Faculty of Education Sciences. It belongs to the area of ​​Social and Legal Sciences, with a duration of four years and 240 ECTS credits in its entirety.
The studies of Teaching have a long academic tradition. With the current reform there is an important advance: its equation with the rest of the university degrees.
Why study the degree
This title is regulated by the State and responds to a basic social need: training teachers that will allow the satisfaction of the right of all citizens to education, in this case child. It is, therefore, an eminently professional title.
The scientific disciplines that converge in this field are diverse: Pedagogy, Specific Didactics, Psychology, Sociology, among others. In fact, a good part of the psychopedagogical research carried out in Spain in the last two centuries is directly linked to the training of teaching staff in primary and secondary education.
What is learned
Graduates in Early Childhood Education will learn to have the knowledge, skills and attitudes (know to be and be) necessary to exercise their professional activity, learn to solve problems autonomously, actively and critically , At the same time they will have the capacity to collaborate with the educational centers and with its outline. Although the competences that the students must acquire, in essence, should be considered in an integrated way, the University of A Coruña opted for a classification model that is specified below, to be able to do an analysis of its components.
Structure of the Study
1st Course
Theory of Education
Curriculum Design, Development and Evaluation
Sociology of Education
Developmental Psychology 0 to 6 Years
Information and Communication Technologies in Education
Education History
Psychology of Learning in Educational Contexts
Values ​​and Education for Equality
Child Clinical Psychology
Research and Evaluation of the Quality of Educational Projects
2nd Course
Inclusive and Multicultural Education
Organization and Evaluation of Educational Institutions
Design of Learning Environments, Materials and Didactic Resources
Mathematics Education
Didactics of the Galician Language
Orientation and tutorial
Psychological Intervention in the Family Context
Didactics of the Spanish Language
Teaching of the Sciences of the Nature
Didactics of Body Expression
3rd Course
Design of Educational Projects from 0 to 3 Years
Psychological Intervention and Prevention of Learning Difficulties
Didactics of Musical Expression
Children's Literature and its Didactics
Social and Cultural Environment and its Didactics
Didactics of the Foreign Language
Didactics of Plastic Expression
Practicum I
Historical and Geographical History of Galicia and its Didactics
Motor Games
Mathematics and Game
Teaching of the Human Body and Healthy Habits
Early attention
Teaching Bases of Inclusive Special Education
4th Course
Practicum II
Pedagogy of Musical Expression
Children, TV and other Screens
Cognitive Processes in Intellectual Disability
Psychomotor Education and Motor Skills
Mathematics in Life
Didactics of Environmental Education and for Sustainability
Didactics of Dramatization and Children's Theater
Audiovisual Languages ​​and Artistic Education
Religion, Culture and Values
Final Project
Professional and academic outputs
Professional environment in which it is located
Educational field.
Professional and academic outputs
The Degree in Early Childhood Education qualifies for the regulated profession of teacher in Early Childhood Education.
Teaching in public and private primary and secondary schools.
Teaching in Public and Private Children's Schools.
Sociocultural dynamization in other centers of attention to children such as toy libraries and play rooms that carry out recreational activities or in NGOs, associations and cultural foundations.
Elaboration of materials in editorials related to Early Childhood Education.
Design of educational projects for children's leisure and / or development. For example extracurricular activities in educational center (Luditarde).
Stores specializing in the sale of materials and services for children.
Animator in institutions of cultural diffusion specialized in small children like for example the museums.
Multimedia companies and ICT dedicated to children's world.
There are other academic exits that allow students to continue their studies in the Faculty of Education Sciences:
* Master's Degree in Advanced Studies on Communication, Language and Pathologies.
* Master's Degree in Innovation, Orientation and Educational Evaluation.
* University Master in Training of Teachers of ESO and Bachillerato, Professional Training and Teaching of Languages.
* University Master's Degree in Applied Psychology.
Recommended profile
People with vocation and motivation to acquire the proper knowledge of the educational action throughout the career, through self-learning and group learning.
With capacity to understand the psychological, social, political, cultural, scientific and educational processes and reflect on their role in the transformation of these processes.
With oral and written communication skills, analysis and synthesis, interest in reading and attitudes of respect, responsibility, tolerance and empathy.
Common access requirements
In order to request a place, one of the following access requirements established in art. 2 of RD 1892/2008:
To be in possession of the title of Bachillerato, or equivalent, and to pass the Test of Access to the University (PAU)
Comply with the requirements for access to the university in the educational systems of member states of the European Union or other states with which Spain has signed international agreements in this area.
Have passed the University Access Test for over 25 years, or have it passed, in the University System of Galicia, according to previous regulations.
Have passed the university entrance test for those over 45 years.
Possess a title of superior technician of professional formation, teachings of plastic arts and design or superior technical technician, or equivalent titles.
Possess an official university degree, a degree from correspondents to the previous order of university education (graduate, graduate, engineer, etc.) or equivalent degrees.
To be able to access the university according to educational orders prior to that established by Royal Decree 1892/2008, of November 14, not contemplated in the previous sections.
Last updated Mar 2020
About the School
The University of A Coruña is a public institution whose primary objective is the generation, management and dissemination of culture and scientific, technological and professional knowledge through t ... Read More
The University of A Coruña is a public institution whose primary objective is the generation, management and dissemination of culture and scientific, technological and professional knowledge through the development of research and teaching.
Read less
A Coruña ,
A Coruña ,
A Coruña ,
A Coruña ,
A Coruña ,
A Coruña ,
A Coruña ,
A Coruña ,
Ferrol ,
Ferrol
+ 9 More
Less