Program Description
University Degree
diploma Bachelor of Science in Business Administration recognized by Florida Department of Education - Commission for Independent Education.
professional development
better manage your own business or evolve in the managerial career. Develop professional communication skills, teamwork, critical thinking, decision making and ethics; plus background in accounting (American and Brazilian), finance, economics, entrepreneurship and legal aspects that influence business.
costs
Tuition of $ 266.00 US dollars. Graduation time: 5 years. 8 subjects per year.
DURATION
The course consists of 40 courses and graduation time will depend on how many subjects the student obtains approval quarter. Each quarter the student can enroll in up to 3 disciplines, ie up to 12 courses per year.
modalities
To meet the different learning styles and personal availability, Ambra offer teaching in 3 modes: face, blended and online. All follow the rigorous standards of academic quality prevalent in the United States.
Last updated Sep 2016
About the School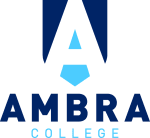 "A faculdade americana que fala Português"
"A faculdade americana que fala Português"
Read less