Program Description
Computing Degree
(Option: Computer Science of Management and Networks and Telecommunications)
The Faculty of Sciences of the UCB has existed since 2003 and had at first only the Department of Computer Science. The opening of the Department at that time was an unprecedented need to provide large-scale university personnel in the computer field in Greater Kivu and its surroundings. In recent years, UCB's strategic managers have been aware of the need to gradually consolidate this Department of Informatics, whose importance is constantly increasing while diversifying the training offer in the light of the needs of the Company.
From the beginning of the academic year 2015-2016, the new Department of Environmental Sciences and the Networks and Telecommunication option that coexists with the Computer Science of Management in the Bachelor's Degree in Sciences computing. This momentum of consolidation of the existing doubled with the opening of new horizons is only at its beginning because in the medium term, the opening of new Departments (reflections already advanced in favor of Architecture and Construction, software engineering) will allow many families to stop sending their daughters and sons to remote areas and presenting multiform risks for formations that are generally expensive and costly to discuss.
In the current phase of its evolution, our faculty therefore contains within it the Department of Computer Science, which trains computer engineers and environmental scientists (again in its first year), which will equip Kivu and the whole Region of its very first generation of scientists trained for the coupling of studies and actions on the environment.
Pending the effectiveness of national efforts to successfully link our education system to the LMD system, UCB training lasts another five (5) years, including three (3) years of Graduate and two (2) years of License.
To date, the Faculty of Science has already produced 225 computer engineers and patiently awaited the necessary slow maturation of its future first experts in Environmental Sciences.
II. MISSION
Our mission is to gradually fill the gaps in the Kivu Region, the whole of Congo and its surroundings in highly qualified scientific frameworks with a view to its harmonious development and respecting ethical and environmental values.
III. VISION
Our Faculty has experienced a palpable dynamism for some years. It intends to conquer, in the medium term, national and international recognition as a framework of excellence for training for development.
It will open the Department of Architecture and Urban Planning as well as the Software Engineering option in the near future. The gradual expansion of its training offer, which involves enormous modeling and other quantitative training needs in quantitative methods, we are already conducting a study on the feasibility of an Applied Mathematics Department comprising a general graduate with an emphasis on statistics and modeling in Licensing.
Such a Department will also meet the daily needs of Teachings throughout the university given the cross-curricular nature of Mathematical Sciences while expressing the signs of a certain maturation of our Faculty.
IV. DEPARTMENTS
1. Department of Computer Science
Option:
Computer Science
Networks and Telecommunication
2. Department of Environmental Sciences
V. PERSONNEL
The faculty office consists of:
A Dean of the Faculty
A Teacher
An administrative secretary
In order to better support students in their research, two units have been set up: internship and research.
The permanent academic and scientific body consists of twelve (12)
members of which three (3) professors appointed and nine (9) assistants among whom four (4) are in doctoral training. This relatively limited permanent team is greatly assisted by the commitment and collaboration of several highly qualified Visiting Professors who come from all corners of the globe (UNILU, UNIKIN, UNIKIS, UB-Burundi, UCAC, Yaoundé 1, MIT-Boston, UCL, ULB, ...).
VI. MATERIAL RESOURCES
Since the theoretical courses proposed in the various branches of the Faculty of Science require practical complements, the Faculty of Sciences has a modern laboratory with a capacity of more than 150 students and an internet connection.
For the Department of Environmental Sciences, several partnerships exist between the Faculty and the actors involved in the promotion of the environment (Ecological Museum of South Kivu, CRSN-Lwiro, INERA-Mulungu, etc.).
PROFILE OF CANDIDATES AT ENTRY:
Be a holder of a state degree (whatever the option);
PROFILE OF CANDIDATES AT THE EXIT
Programmers' analysts;
Network and telecommunications experts;
Experts in environmental sciences (environmental impact assessment, design of environmental projects in the general sense).
Last updated Mar 2020
Keystone scholarship
Discover the options our scholarship can give you
About the School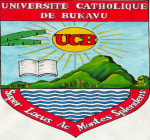 L'Université Catholique de Bukavu (UCB) Asbl, est l'une de grandes universités que compte la République démocratique du Congo. Située dans le chef-lieu de la province du Sud-Kivu, une région Est du pa ... Read More
L'Université Catholique de Bukavu (UCB) Asbl, est l'une de grandes universités que compte la République démocratique du Congo. Située dans le chef-lieu de la province du Sud-Kivu, une région Est du pays de Patrice Emery Lumumba, cette institution d'enseignement universitaire de droit privé fut créée le 21 novembre 1989 par décret de Son Excellence Monseigneur Aloys MULINDWA Mutabesha, Archevêque de Bukavu.
Read less