Program Description
Communication Arts and Design
As our world changes, so do our modes of communication. Our Communication Arts and Design program is based upon the concept of "convergence," bringing together creativity, practical skill, and technological expertise. These elements are blended into a unified curriculum that is broad while maintaining a depth of focus on major communication fields.
All Communication Arts and Design majors are required to take courses in various media to obtain versatility in their chosen field. Each student will be provided with a strong core foundation. From there, students can choose between three distinct concentrations to further refine skills within their chosen area of interest.
The Communication Arts and Design program prepares students for future careers by offering a challenging classroom environment with the one-on-one instruction that adapts to our ever-changing world.
Fast facts
All faculty members possess terminal degrees in fields such as film production, studio arts, web design, journalism and digital design.
For the past six years, 85% of Communication Arts & Design graduates have gotten jobs in their area within six months of graduation.
What You'll Study
What you study in our program is all up to you. We are a versatile program formulated for creative people. We are not a traditional fine arts major or communications major; here we have combined studio arts, digital design and communications into a single program where you get a well-rounded foundation and the ability to choose your area of focus.
You will start with our diverse foundation's courses, which include theory, digital design, and studio courses. They will give you an opportunity to explore history, culture, techniques, and materials encompassed in the world of Art and Design. As a student within our program, you get to choose which creative track is right for you. We offer concentrations in Communication Arts, Creative Marketing, and Studio Arts.
Communication Arts Concentration: The Communication Arts concentration takes a little bit from each of the main areas. Here we have combine studio art, digital design, professional writing, and video production. This is for the student who has an interest in going into advertising and graphic arts.
Creative Marketing Concentration: Our Creative Marketing concentration is half communication arts and half business. We have designed this for the student who wants to work with businesses or corporations. Through the skills learned in this concentration, our students have worked as liaison's between marketing/adverting and business teams, as media designers, and as small business managers.
Studio Arts Concentration: The Studio Arts concentration combines traditional studio techniques with new media, where the past meets the future. You will learn a variety of skills and techniques ranging from drawing to digital design. This concentration is designed for those who are interested in fine or visual arts.
Beyond the Classroom
The faculty in the Communication Arts and Design program hold your educational experience to a high level. All hold a terminal degree and practice their profession outside of the classroom, bringing those experiences to you
The program requires at least one internship, but we encourage you to seek out others to broaden your experience and prepare you for your post-graduation plans.
After Graduation
Common Career Areas
Advertising (digital designer, graphic designer, web designer, journalism, photography, photojournalism)
Fine arts (studio artist, gallery assistant, education)
Creative marketing (small business, e-marketing, art/business liaison)
Alumni Success
Freelance Designer Nike
Personal Cruise Consultant Carnival Cruise and Holland American Lines
Writer and Research SCAD
Graphic Designer HED Bicycles
Assistant Art Director LOGOnation
Print Shop Assistant Weaverville, NC
Art Director Carrol Leather
Graphic Design Intern Flat Top Brewing Co.
Digital Intern Visit Sarasota County
Last updated Feb 2018
About the School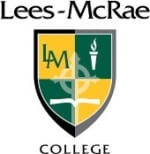 We have one mission. Lees-McRae educates and inspires students to approach life and work from a creative, collaborative, and critical perspective in preparation for diverse careers and environments.
We have one mission. Lees-McRae educates and inspires students to approach life and work from a creative, collaborative, and critical perspective in preparation for diverse careers and environments.
Read less