Program Description
Bachelor of Civil Engineering
Presentation and Professional Profile
It is the branch of engineering that designs, manages and executes works such as houses, buildings, bridges, viaducts, roads, dams, canals, ports, etc. The civil engineer designs, manages and monitors all stages of a construction or renovation. Its work includes the analysis of soil characteristics, the study of the insolation and the ventilation of the site and the definition of the types of foundation. Based on these data, it develops the project, specifying the networks of electrical, hydraulic and sanitation facilities of the building and defining the material that will be used. At the construction site, he manages the work teams, supervising deadlines, costs, quality and safety standards. He is responsible for ensuring the stability and safety of the building.
Job market
The market for the engineer is warm all over the country, and the expectation is to improve further in the coming years, since we will have two major events in Brazil: the 2014 World Cup and the 2016 Olympic Games. Civil construction is the sector that most absorbs this bachelor. The heating of the real estate market in recent years continues influencing the great demand for this engineer. Architecture offices also usually hire the professional to act in the planning of projects.
Main Theoretical and Practical Disciplines
Mathematics, physics, statistics, design and logic are the strength of the curriculum. So, get ready to exercise your skills in calculus. There are laboratory activities and business and economics topics that teach project and team management techniques and methods. In the final three years, you study subjects related to the areas of specialization chosen: structures, civil construction, hydraulics and sanitation, transport or geotechnics. To obtain the diploma, the internship is compulsory, as is a course completion work.
Supervised internship
The internship is a moment of fundamental importance in the vocational training process. We, from UNIESP, carry out training that enables the student to experience what is being learned in the Faculty, with the function of integrating the numerous disciplines that make up the academic curriculum, giving them structural unity and testing them the level of consistency and the degree of integration .
Last updated Mar 2020
About the School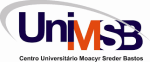 Tudo começou há mais de sete décadas no bairro de Campo Grande com o Colégio Afonso Celso, projeto educacional comprometido com os ideais, as necessidades e a cultura da Zona Oeste carioca. A primeira ... Read More
Tudo começou há mais de sete décadas no bairro de Campo Grande com o Colégio Afonso Celso, projeto educacional comprometido com os ideais, as necessidades e a cultura da Zona Oeste carioca. A primeira unidade de ensino universitário, criada em 1969, foi a faculdade de Ciências Econômicas, Contábeis e Administrativas Moacyr Sreder Bastos. Ao longo desses anos, aprendemos que a imagem de uma universidade é a imagem de cada um de seus alunos - sua formação, seus conhecimentos, sua visão de mundo, sua capacidade de enfrentar obstáculos. E, acima de tudo, a sua consciência de cidadania. O aluno é o nosso maior patrimônio, nosso espelho. Por isso jamais permitimos que a visão puramente mercadológica do ensino se sobreponha aos valores éticos. Tradição e modernidade, qualidade acadêmica de excelência e pioneirismo, competência e credibilidade, avanço tecnológico e a melhor infraestrutura da Zona Oeste do Rio de Janeiro/RJ. Todas estas características definem o Centro Universitário Moacyr Sreder Bastos, que forma não apenas bons profissionais preparados para enfrentar o mercado de trabalho, mas sobretudo bons cidadãos. Nossa missão sempre foi contribuir para a construção e a disseminação do conhecimento, capacitando o cidadão para a transformação dos meios social e profissional. E o desejo de atingir a estes objetivo, a partir do momento em que passamos a integrar o grupo Educacional UNIESP, se tornou ainda mais forte dentro de cada um de nós.
Read less