Program Description
Circus
The Bachelor programme in Circus at D.O.C.H. uses the skills and the artistic traditions as a foundation on which to build high level technical and artistic competences in new practices. It offers knowledge about, and an understanding of, the many forms of expression in circus. It also initiates innovative processes in methods of working and of expressing oneself in close relationship to choreography and the performing arts. Upon graduating, the student can use his/her artistry to contribute to the development of the circus movement vocabulary and in turn may even perhaps redefine the art form itself.
In the BA programme, this is done on two levels simultaneously, first and foremost through the core group of discipline teachers who interact with the students on a daily basis throughout the duration of the programme, bringing a wealth of experience both technically and artistically through their unique pedagogical approaches. In conjunction with this, we establish strong and enduring collaborations with numerous individuals and networks of individuals both within the national and international circus arena. These teachers, prominent artists and researchers, are highly present in the student's daily practice. Through this rich environment, the students are continuously given tools that facilitate the ability to relate to one's own activities within an artistic and social context.
We do not train people for the demands of today, but rather we aim at that which will come. Our students and their visions will challenge the present and change the world!
Please note that the Bachelor Programme in Circus has admissions every other year. The next programme start will be in the autumn of 2013. All information and dates regarding the application will be published on D.O.C.H.s website at the latest December 15th of 2012.
Last updated Feb 2018
About the School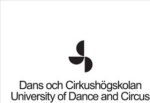 Our curiosity makes the world change. Expectation and longing turn our vision forward. The prerequisite for all artistic work and research is this wish to look beyond what is already known. Coming to ... Read More
Our curiosity makes the world change. Expectation and longing turn our vision forward. The prerequisite for all artistic work and research is this wish to look beyond what is already known. Coming to DOCH must be a challenging, enterprising, stimulating, sometimes boring, more often entertaining experience in a caring environment where everything is possible and new frontiers are opened. DOCH is not a static room, but a well-organized chaos in continuous movement, with the kind of critical curiosity-driven research needed to make the world a better place and reality into something resembling our dreams. DOCH is the only educational institution of its kind for dance and circus in Sweden's system of higher education. This prestigious institution has sole responsibility for instructing an expanding student body in a broad range of circus- and dance-related fields: Choreography, Circus, Dance Pedagogy and Dance Performance. DOCH is also the place for those who are already in the profession and want to expand their competence and we offer research education for artists. It is a dynamic and creative environment where art and research go hand in hand. At DOCH the tradition is challenged by innovation and experiment. It is a meeting place for art, pedagogy, and science, old and new theoretical concepts. Popular traditions gain new meaning and new artistic careers develop to change our ideas about what is known. Each course or programme has its own specific prerequisites; these may include diplomas from earlier studies. Each student that applies has the right to have his/her merits evaluated to see if the informal merits (e.i. non-university studies, work experience) are the equivalent of the formal merits required for entry or as the basis of a degree. Admission tests for the school are comprehensive and differ with each program or course. All education is free of charge for students from the EES countries. We do not educate for the present, but for the future. It is our students and their visions that will move the world!
Read less