Program Description
The BTS and the second and third year of Bachelor in Digital Design are performed in parallel and enable obtaining a double degree, the BTS state diploma awarded by the Ministry of Education and the Bachelor International in Graphic Design, Multimedia option.
This training meets the conceptual and semantic learning related to communication (message quality, relevance means), plastic (composition, typography, graphics, color) and technological (infographic control means, knowledge of printing systems).
It forms digital designer working on digital and interactive design supports: intranet and internet, DVD, mobile applications, creation of animated or 3D ... This training requires a mandatory internship in a professional environment, a minimum of 6 weeks within a communications agency or a graphic design studio designing digital and interactive products.
Formation's goal :
Become a digital designer to control the communication strategy and create products on media and various digital media.
entry requirement: Having already made an Upgrade Applied Arts (Manaa) or a year of training in applied arts.
Prerequisite: Creativity, multidisciplinary technological sensitivity, communication skills, knowledge of the IT environment and software (Illustrator, Photoshop, Indesign), art and contemporary culture.
Trades: independent communication designer for digital broadcasting, employee or consultant as assistant artistic director in advertising agencies, studios or workshops graphic design for digital broadcasting.
Continuing Studies : Alongside the course of the upgrade class and the BTS, Autograf offers validated by equivalence a BA in Digital Design that can be directed towards the Master of Art Director in Graphic Design, Digital creation option, RNCP as Level I (BOE 09/12/2012).
It is also possible to continue his education in the public schools of applied arts, which lead to higher diploma of applied arts (LSS) or joined by an equivalent university courses.
Testimony of a former student in BTS and Bachelor in Digital Design:
Thomas
"After a year of preparation and a failed experiment in BTS visual communication alternately print option in another school, I started working a year and then I wanted to resume my studies in BTS visual communication but with the multimedia option (silly 'hui BTS graphic design and digital media communication option). I hesitated between two schools and I finally chose Autograf because the premises were larger and more suitable to the applied arts. With Jean-Pierre Douté, head of the alternating Autograf, I found a company that hired me professional contract, so I incorporated the alternate class. My guardian had studied in business five years earlier Autograf BTS in visual communication.
I depend on the communication department, I work both on the website and on the catalog, internal communication media, I created flash banners, business cards, a newsletter ... etc. It's a great experience. A Autograf, it evolves into a joyful atmosphere, and it is more professional than academic training, the presence of professional speakers on our side is very formative. The workshops are very interesting, it is autonomous and independent, working as an agency and, when in the first year, benefits from the experience of second grade students. Today, my goal is to integrate the online digital media license at the Gobelins, to further deepen this area. "
Multimedia Workshop Autograf
Workshop a week for Bachelor 2nd and 3rd year Digital Design on the theme of a mobile application around the skateboard.
Last updated Apr 2017
About the School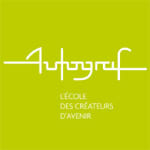 Fondée en 1982 et située au cœur du 20ème arrondissement de Paris, Autograf, école historique dans les domaines du Graphisme, du Digital, du Design d'Espace et du jeu vidéo, propose des formations val ... Read More
Fondée en 1982 et située au cœur du 20ème arrondissement de Paris, Autograf, école historique dans les domaines du Graphisme, du Digital, du Design d'Espace et du jeu vidéo, propose des formations validées par des diplômes d'état ou reconnus par l'état. Ecole à taille humaine, chaque étudiant bénéficie d'un accompagnement individualisé par les professeurs et l'équipe pédagogique.
Read less