Program Description
The Faculty of Theology offers a four-year, full-time Bachelor of Divinity (B.D.) degree program designed to prepare University level candidates for lay and ordained Christian ministry and to advance religious studies in the context of modern Africa.
The Bachelor of Divinity degree is intended for qualified applicants who seek to fulfill a dream of getting a degree in the field of theology and who desire to prepare for ordained ministry or another form of church leadership.

For those in the Honors Program it is possible to concentrate on one of the following areas:


Area 1 Biblical Studies
Old Testament
New Testament

Area 2 Historical Studies
Church History
Ecumenism
Missiology
Wesleyan Studies

Area 3 Practical Theology
Christian Education
Church Administration
Evangelism
Liturgical Studies
Pastoral Care and Counseling

Area 4 Religion and Society
Ethics
Church and Society
World Religions

Area 5 Theology
Philosophy
Theology


Admission requirements

Any candidate who is academically qualified in Arts or Sciences, or a combination of the options, according to the University General Entry Regulations, is academically admissible to the B.D. degree program;
A candidate who holds a diploma in Theology from a recognized theological institution acquired normally in not less than three years of study, plus not less than five subjects at Ordinary Level or equivalent prior to diploma may be admitted, subject to the approval of Senate Admissions Committee;
For those who are ordained or are preparing for ordination, it is essential that they secure the recommendation of their Annual Conference of the United Methodist Church, or of the equivalent ecclesiastical body of the candidate's church.


Program Structure

Year 1 Semester 1
TRP100 Introduction to the Study of Religion (3)
TBS 103 Introduction to Old Testament (3)
TBS104 Introduction to New Testament (3)
HCS101 Communication Skills I (3)
HFR111 French for Beginners I/HPO111 Portuguese for Beginners I/HESL111 English as a Second Language I (3)
HIT100 Introduction to Information Technology (2)


Year 1 Semester 2
TBS102 Jesus and the Gospels (3)
TBS203 Biblical Hebrew 1 (3)
TRP210 Philosophy I (3)
HAS100 African Studies (3)
TCH211 Early Church History (3)
TPT102 Field Education I (1)
HFR112 French for Beginners II/HPO112 Portuguese for Beginners II/HESL112 English as a Second Language II (3)
Year One (36 credit hours)


Year 2 Semester 1
TPT201 Homiletics (3)
TST102 Theology I (3)
TBS205 Biblical Greek I (3)
TPT202 Ministry of Evangelism (3)
TPT209 Field Education II (2)
TPT198 Christian Worship I (3)
TRP201 African Religion (3)


Year 2 Semester 2
TPT206 Preaching Practicum (3)
TPT207 Introduction to Pastoral Care and Counselling (3)
TPT205 Christian Education (3)
TCH212 Medieval Church History (3)
TEV200 Ethics and Christian Values (2)
TST208 Theology II (3)
THC400 Missiology (3)
Year Two (40 Credit Hours)
Year 3 Semester 1
TBS308 Prophets I (3)
TCS301 Church and Social Transformation (3)
TBS306 Pauline Literature (3)
TCH210 Introduction to Methodism/Wesleyan Studies (3)
TPT305 Clinical Pastoral Education (CPE) (3)
TBS311 Biblical Greek II/TBS211 Biblical Hebrew II (3)
TCH213 Reformation Church History (3)


Year 3 Semester 2
TPT214 Christian Worship II (3)
TPT201 Denominational Studies/TPT309. United Methodist Polity and Doctrine (3)
THC302 African Church History (3)
TBS310 Introduction to Wisdom Literature (3)
TST205 Theology and Land Praxis I (3)
Elective (3)
Year Three (39 Credit Hours)


Year 4 Semester 1
TBS309 Prophets II (3)
THC310 Wesleyan Theology (3)
PT306 Church Administration (3)
TCS303 Introduction to Ministry in the HIV and AIDS Context (3)
TST305 African Christian Theology (3)
TBS319 Biblical Foundations for Leadership, Conflict Transformation, and Peace Building (3)


Year 4 Semester 2
TPT321 Evangelism through the Local Church (3)
THC304 Introduction to the Ecumenical Movement (3)
TCS321 Church and Political Ethics (3)
Elective (6)
Year Four (33 Credit Hours)


Career and Job Opportunities

The degree is designed to prepare university-level candidates for Christian leadership (ordained and lay) and it is also designed for those who want to learn about theology and religious studies on the continent.
Previous graduates have served in Christian ministry as pastors and leaders of church agencies, ecumenical organizations, and other faith-based organizations.


Financial Assistance

Africa University, in its bid to make higher education accessible to youths in Africa, and being aware of the low-income status of the average African family, offers funding to deserving students to assist with payment of their University fees. The University's Financial Aid Committee is responsible for awarding this assistance. The assistance is awarded on the basis of merit, need and character and it falls into two categories: Financial Aid and Scholarships.


Financial Aid
This is normally meant for assistance with payment of tuition fees and it is available to students from second year onwards. The need of the student is assessed based on their application, supporting documents and information from any referees. The student's academic performance as indicated by his/her C.G.P.A is also used to determine the level of assistance. Those students performing very well are awarded more than their counterparts as a way of rewarding their efforts and motivating them to continue aiming for higher academic excellence. Students who get onto the Dean's list will also be assisted with payment of tuition and those whose performance falls below the C.G.P.A. required to graduate will not receive assistance.


Scholarships
Students must apply for scholarships through the Financial Aid Office. Different organizations, churches, and individuals set up scholarships which are awarded to deserving applicants, who must also satisfy any special criteria that may be set by the benefactor.(e.g. it may be required that the recipient is of a specified gender or in a specified Faculty or from a specified country.) Scholarships awarded may cover full fees for the recipient or may be partial, covering only specified fees. Where a student receives awards from more than one source and the total amount of the awards exceeds the total fees payable no refunds will be made, to the beneficiary. Any such excess is recovered from Financial Aid and awarded to another needy student.


Work Study
All students receiving financial assistance are expected to work in any of the University's units for a specified number of hours a week as a token of appreciation for the award. Currently, those working outdoors are expected to work for two hours a week and those working indoors work for four hours a week.
Last updated Jul 2018
About the School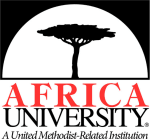 Africa University is the first and only fully-accredited institution of higher learning established on the African continent by the action of the General Conference of The United Methodist Church. Thi ... Read More
Africa University is the first and only fully-accredited institution of higher learning established on the African continent by the action of the General Conference of The United Methodist Church. This amazing institution was founded in response to the call by African Bishops for a university for the whole of Africa to foster intellectual, moral, ethical and spiritual growth in its students.
Read less