Read more about this program on the school's website
Program Description
Ingram School of Engineering
The School has four undergraduate degree programs in specific areas of engineering. The Manufacturing & Industrial Engineering programs were bootstrapped through related existing programs in the Department of Engineering Technology. The Electrical Engineering program (and separately accredited Computer Engineering specialization) were developed "from scratch". The Civil Engineering program is the newest addition to the School's degree programs and is the first program in Texas with a holistic emphasis on technology-enhanced infrastructure (TEI).
The School provides a strong educational experience via theory combined with practice in a class/lab atmosphere. Dedicated faculty and staff are directly involved in classes and labs, and each degree program culminates with a Senior Design or "Capstone" Project which is required for graduation. Senior Design projects emphasize project management, technical deliverables, and multidisciplinary effort in team-oriented, long-term projects.
As a result of the heavy emphasis on practical, applied, and experiential learning, students who graduate from the Ingram School are well-prepared for careers in all aspects of engineering.
ThisisEngineering RAEng / Unsplash
History
The School was officially formed in 2007 via endowments from the Ingram family of Ingram ReadyMix Concrete. These endowments continue to provide scholarships for engineering students as well as funding for student-centered activities, faculty development, and laboratory enhancement.
Endowments
The School maintains endowed and chaired professorships, including:
Ingram Endowed Chair (currently occupied by Dr. John Schemmel, American Concrete Institute Fellow)
Ingram Professorship #1 (currently occupied by Dr. Harold Stern, the founding Director of the Ingram School)
Ingram Professorship #2 (currently occupied by Dr. Vishu Viswanathan, IEEE Fellow, and Texas Instruments Fellow)
The Mission of the Ingram School:
To provide students with an exceptional education in various disciplines of engineering,
To establish, through dedicated faculty, a nationally recognized research program, preparing interested students to achieve excellence in graduate studies and research, and
To serve the State of Texas and the nation by creating highly-skilled, diverse, and motivated professionals capable of technological innovation and dedicated to the improvement of society.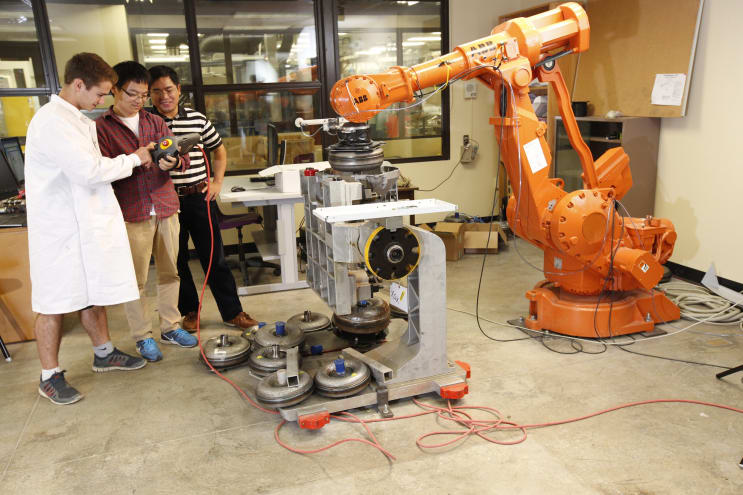 The Vision of the Ingram School:
The Ingram School of Engineering will be a nationally recognized institution of higher education, serving students and employers with a complete set of accredited engineering programs supported by a faculty that maintains high standards of teaching, research, and service. To accomplish this vision, we will:
Engage undergraduate and graduate students with innovative, multidisciplinary, and nationally recognized funded research programs.
Emphasize quality undergraduate and graduate education using a practical, interactive, and contemporary learning environment.
Produce first-generation professional college graduates as part of an HSI-designated university; be recognized for exceptional community service; and create tight bonds with alumni who will serve as professional mentors, sponsors, and advisors.
Promote a student-centered culture based on collegiality, scholarship, enthusiasm, integrity, and mutual respect among diverse faculty, staff, and students.
Last updated Aug 2020
About the School
One is an important number at Texas State. There are thousands of us, but we're united by one shared purpose: to make a positive impact in our world. More than 38,000 undergraduate and graduate studen ... Read More
One is an important number at Texas State. There are thousands of us, but we're united by one shared purpose: to make a positive impact in our world. More than 38,000 undergraduate and graduate students choose from more than 200 bachelor's, master's and doctoral degree programs — from biology to music to business to geography and more. And each student finds the personalized support and opportunities they need to succeed beyond the classroom. One is never a lonely number at Texas State because each one of us has thousands of Bobcats guiding and inspiring us on the way.
Read less