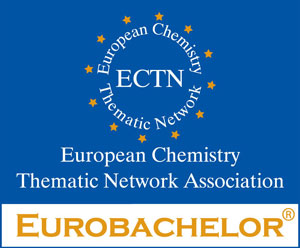 In 2012 the Program has been awarded the label of "Chemistry Eurobachelor" by the Labelling Committee of the European Chemistry Thematic Network Association (ECTNA, Certificate Nr. EB1104, 18.04.2012.)
The study program is aimed at academic studies in Chemistry and preparation of specialists in Chemistry.
Study courses cover the main directions of Chemistry: inorganic, organic, analytical, physical, and biological chemistry, and through electives and research some specialization is available in organic synthesis, in food chemistry, or in practical analytical chemistry. Students acquire also the necessary knowledge in mathematics, biology, and physics.
Students of this program acquire theoretical knowledge and practical skills of the work in laboratories of chemistry and ability to carry out research in one of the branches of chemistry and to summarize the results in the Bachelor thesis.
After graduation students can continue studies on Master level.

Information Leaflet
Program courses
Bachelor's degree program, "Chemistry" curriculum.
Study period and time of classes
The full-time degree program covers three academic years. Classes are mainly from 8.30 am till 6 pm from Monday to Friday.
Career opportunities
Graduates can integrate into the labor market as entry-level chemists.
Admission requirements
1. General secondary high school diploma;
2. English language proficiency.
3. Grades in Mathematics (Algebra and Geometry), Chemistry and Physics must be no less than 4 in a 10 point grading system.
Autumn Intake (application start: 1 Jan 2018; studies start in Sept 2018)
This course is Campus based