Bachelor's degree program Smart Building Engineering and Management
Home ›
BSc ›
Bachelor's degree program Smart Building Engineering and Management
Read more about this program on the school's website
Program Description
Bachelor's degree program Smart Building Engineering and Management

Bachelor of Science
Those who have a variety of interests, do not want to confine themselves to a specific area of study and aspire to a challenging position, are exactly right in the bachelor program Smart Building Engineering and Management (SBM). The degree program offers a broad scientific education at the interface of technology and management with modules in the fields of natural sciences, engineering, information technology, economics, law and architecture.
A report by our graduate Natalia Janzen. Further videos of our graduates Michael Beck, Manuela Höfs and Fabian Hillebrand can be found below.
Smart Buildings are digitally networked, energy-efficient and sustainable buildings, as they are today in many new buildings realized and retrofitted in the modernization and renovation of existing buildings. Smart buildings as a modern type of building are, of course, closely linked to the Internet, as they are connected to conventional gas, water and electricity supply networks.
Processes and services in the development, planning and management of real estate are being supported by information technology to an increasing extent. This ranges from autonomous systems of safety technology to maintenance with automated repair orders, self-optimizing room occupancy, to service robotics, for example, for reception and cleaning services. Largely to completely independent, ie automated workflows are visible expression of an increasingly digitizing real estate industry.
The networking ensures, in particular, optimal heating and cooling as well as usage-adapted ventilation and lighting. Regenerative energy systems, eg plants for solar energy use, can be integrated into the other building services engineering and operated with maximum efficiency. As a result, the smart building will simultaneously become a producer and consumer of energy, ie a "prosumer".
Graduates of the Smart Building Engineering and Management degree program play a leading role in the planning, construction and operation of intelligent buildings, properties and industrial facilities.
Their technical know-how and business knowledge make them increasingly important for the success of companies, because they take care of the basics of the infrastructure with a view to the best possible fulfillment of customer needs. The graduates also ensure that the structural and technical equipment is provided and used cost-effectively and energy-efficiently over the entire life cycle. They act as integrators in all digitization activities and coordinate the specialist areas of specialists. They thus ensure efficiency and sustainability across the entire value chain - from project development to planning to operation and the long-term use of real estate.
The optimization of the economy and value of the buildings and facilities, a smooth operation and thus user-friendly working conditions for the people in the company are important goals of Smart Building Engineering and Management.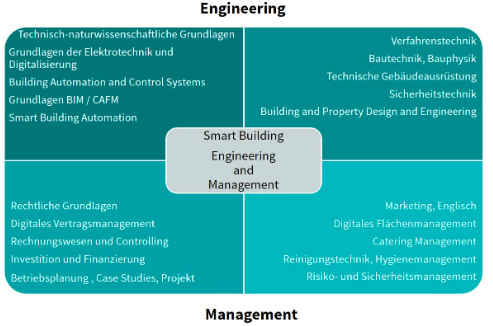 The graduates are all-rounders in many fields of expertise, in which they have sufficient insight to be able to engage in technical exchange with specialists. In addition to expertise in technical building management, they also acquire specialist knowledge and personal skills in commercial building management with operating cost calculations, business plans, controlling and contract management. Data protection and data security as well as the latest planning and management software are also part of the degree program. Building Information Modeling (BIM) creates a continuous, digital image of the building, which is becoming an increasingly important foundation for planning and operating real estate and is practiced with students.
Interdisciplinary application examples, excursions, project work as well as teamwork and presentations accompany the entire course of study and prepare ideally for the challenges in the profession. Of particular importance is the practical study semester, which students can undertake at well-known companies, in particular in metropolitan regions such as Stuttgart, Frankfurt, Munich or Zurich, from which topics often arise for the final theses. Of great advantage here is the excellent network of the university to relevant associations and companies as well as to the graduates, who are active in leading positions in Germany and Switzerland. The opportunity for worldwide stays abroad offers additional perspectives.
requirements
General or subject-related university entrance qualification, Fachhochschulreife
application deadline
15th of July
baseline
winter semester
study period
7 semesters
Studying abroad
Semester abroad at (optional) over 30 partner and host universities worldwide possible
graduation
Bachelor
Faculty
Life Sciences
campus
Campus Sigmaringen
Smart Building Engineering and Management - Course Content
Scientific Basis and Practical Application - Contents in the course Smart Building Engineering and Management
The Smart Building Engineering and Management degree offers the ideal entry into a successful professional life through a broad scientific education with modules in natural sciences, engineering, information, economics, law and architecture.
Smart Building Engineering and Management - Occupational fields
Best job prospects in many industries
As varied as the contents of the degree program are the perspectives that you have after successfully completing your studies.
The graduates are sought-after specialists and executives in a dynamically growing market. They choose innovative, demanding and crisis-proof professional tasks with the potential for rapidly increasing responsibility and personal development.
Professional positions with excellent career opportunities are:
Leading role in international building management service companies or in the building management business of private and public companies (in industry, commerce, healthcare and local communities)
Development of concepts for the planning and operation of smart buildings in engineering offices and consulting firms
Building management as property, real estate or energy manager * in.
Study Program Smart Building Engineering and Management - Advantages
Studying smart building engineering and management - a very good choice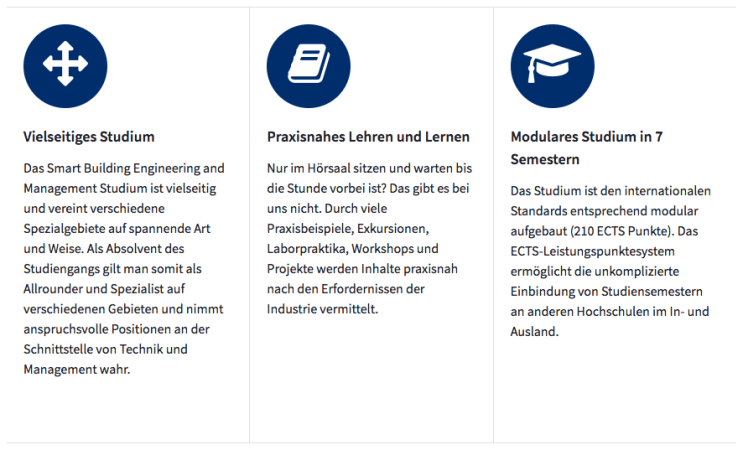 Smart Building Engineering and Management - Study Models
Flexible or even more practical? The right study solution for everyone!
Study part time
You decide how much time you need for your studies. With the FlexiStart you adapt your studies to your needs.
Study International
One semester abroad? Get to know a new culture and gain ECTS credits. Let us advise you on the various options in the International Office of the university.
Student counseling
Not sure yet, what suits you best? Let us advise you about the manifold possibilities at our university.
Smart Building Engineering and Management - Research and Transfer
The work in research and transfer enables the students to scientifically work on topics from the everyday professional life of companies. On the one hand, this strengthens the high practical relevance and benefits the students when starting their careers. On the other hand, companies also profit by systematically and well-founded questions that are relevant to them, which often lacks time and resources in everyday practice.
Last updated Mar 2020
About the School

Moderne Labore, kleine Gruppen, Hilfe bei der Jobsuche, enge Kontakte zu Unternehmen, eine familiäre Atmosphäre und Professoren, die sich Zeit nehmen - das bietet die Hochschule Albstadt-Sigmaringen. ... Read More
Moderne Labore, kleine Gruppen, Hilfe bei der Jobsuche, enge Kontakte zu Unternehmen, eine familiäre Atmosphäre und Professoren, die sich Zeit nehmen - das bietet die Hochschule Albstadt-Sigmaringen.
Read less